Crop innovations take centre stage at Cereals 2014
Crop innovations take centre stage at Cereals 2014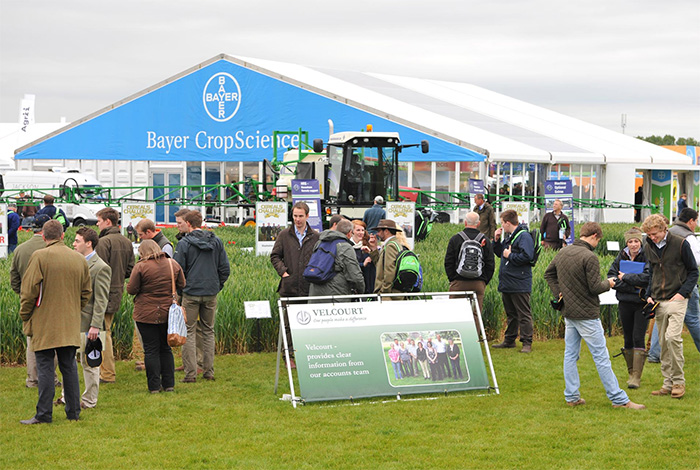 New science and technology that will help deliver better yields and quality and make more efficient use of inputs is in plentiful supply at Cereals 2014.
Many innovations will be demonstrated within the hundreds of crop plots across the event. These provide a practical backdrop that helps makes Cereals unique in the UK farming calendar.
NIAB TAG asks the question "Farming in 2020 – are you ready?" reflecting the organisation's renewed emphasis on research and innovation at farm level. It is addressing issues such as pesticide resistance, yield plateau, loss of triazoles, new disease races, changes in EU legislation and climate change.
The stand includes an insight into how pre-breeding research is developing crops to deal with market and environmental challenges. This includes new lines from its superwheat crossing programme, which introduces more genetic diversity from the wild to help improve yield, drought tolerance, disease resistance and input use efficiency.
New research into soils, rotations and cultivations is illustrated by The Hole Story, which among other things demonstrates the impact of winter compaction on the soil profile.
NIAB TAG's wide-ranging agronomy plots cover disease management, row width and seed rate research, rotations, blackgrass control and yield management.
HGCA's theme is national research to deliver local solutions, which encompasses a host of crop management projects. This includes work that aims to crack the blackgrass resistance code and develop essential new management solutions for problematic UK weeds. The role of cover crops in blackgrass control is also examined.
Along with several other exhibitors at the event, HGCA is examining the implications of the recent neonicotinoid insecticide restrictions. It will highlight new research to help growers protect oilseed rape crops this autumn.
Another area will feature the latest from the 'Auto-N' project which examines whether precision technologies can react to in-field variability and target optimum N rates.
Other topics include herbicide resistance in broad-leaved weeds, fungicide performance plots in wheat, barley and oilseed rape, and assessing the need for micronutrient applications.
Wheat genetics are a key feature on the Velcourt stand. John Innes Centre research into the yield component of the wheat ear, including
grain
width,
grain
length, spikelet number, branched ears, and glume length, is on show. The work could increase winter wheat yields by up to 10%.
Two Cropco hybrid wheats are also featured to see how to maximise wheat yields and capitalise on hybrid vigour to deliver yield in challenging growing conditions.
Stewardship of both triazole and SDHI fungicides will be included in Velcourt's fungicide feature, looking at ways to help retain their efficacy as long as possible. Potential problems from EU legislation that lie ahead for both groups are also being highlighted.
Other displays include variable rate technology, work with Jordans Oats and Ryvita to improve performance in yield, baking, and end-use quality and Velcourt TSB research projects looking at yield, OSR pathogens and spring barley fusarium. Stand tours can be booked in advance or arranged on the day.
Rothamsted Research, the John Innes Centre and BBSRC are demonstrating how UK science is helping to find solutions to increase farming productivity in a sustainable manner. The focus is on disease resistance, crop adaptation to climate change, managing soils and biodiversity.
Rothamsted is also is exhibiting a high performance remote-controlled octocopter drone that will vastly extend capabilities for screening crop trials for performance, nutrition, stress, pathogen and disease responses.
Association of Independent Crop Consultants (AICC) is focusing on how crops can be managed to optimise costs of production, based purely on the technical performance of inputs. Visitors can find out how the stubble burning debate has developed since its launch at Cereals last year following discussions at parliamentary and regulatory levels.
With the suspension of neonicotinoid seed treatments, autumn 2014 will pose the greatest challenge to the establishment of oilseed rape for the past 15 years, says Syngenta. OSR plots and agronomy advice is geared to help get crops growing, with key advice on effective aphid control. A new growth regulator fungicide for OSR is also on show.
In addition, better blackgrass management examines residual herbicide stacking in milling wheat Gallant, which has already shown competitive effects against blackgrass.
Bayer CropScience is highlighting how different timings and growth stages of blackgrass can affect post-emergence spray performance. In addition, a new pre-emergence herbicide is on test, next to available options, against strains of blackgrass with different resistance profiles.
Life after neonicotinoid insecticidal seed treatments in OSR is another key topic, as is their continued use in cereals, including clothianidin's value in slug control where metaldehyde is restricted and for barley yellow dwarf virus control.
Visitors can also discover how biological crop protection and conventional chemistry integrate within potato seed disease control programmes. A focus on Bayer cereal fungicides and current disease control also features.
Dow AgroSciences is highlighting the benefits of using the full range of cultural, rotational and chemical methods to achieve effective control of weeds, notably resistant blackgrass and broad-leaved weeds, in combinable crops.
This whole-farm approach, dubbed LifeCycle, includes data from extensive rotational research and Dow's expertise in herbicide chemistry to provide recommendations.
Yara is demonstrating its precision in-field monitoring tools that allow farmers to tailor fertiliser inputs at an individual field level. The Yara N Tester is a handheld tool that measures nitrogen uptake by assessing leaf chlorophyll content, allowing a more bespoke approach to timing and application rates.
A range of smartphone apps will also be shown, including ImageIT, which assesses OSR canopy size to recommend the optimum rate of N.
GrowHow is focusing on fertiliser choice. Should you stick with ammonium nitrate or switch to a urea-based product? Would liquids be a better bet, especially if you have switched to wider tramline widths? The company highlights the fact that purchasing decisions are all too frequently made on price, when, reliability, cost effectiveness and the ability to make applications at the optimum time should be key.
After a season when crop nutrition problems have been more evident in UK crops, K+S UK and Eire majors on identifying crop deficiency symptoms. Agronomists will give guided talks and advice on preventing, identifying and treating nutrient stress. FACTS CPD points are available.
Frontier Agriculture is displaying its unmanned aerial vehicle (UAV). This state of the art equipment enables the user to look at crops under different wavelengths of light, revealing many aspects of crop growth invisible to the naked eye.
Frontier is also demonstrating its 3D Thinking concept to answer the crop production questions that growers face – Discovery (new developments in crop production), Development (trialling at the company's sites) and Demonstration (where farmers discuss the latest information and view innovations).
Download

No comments posted yet. Be the first to post a comment
Display name

Please enter your name

Email
(optional)
Comment

Please enter your comment

Post Comment


Your comment submitted successfully.Please wait for admin approval.

Some error on your process.Please try one more time.