Cumbrian MPs back national Herdwick project
Cumbrian MPs back national Herdwick project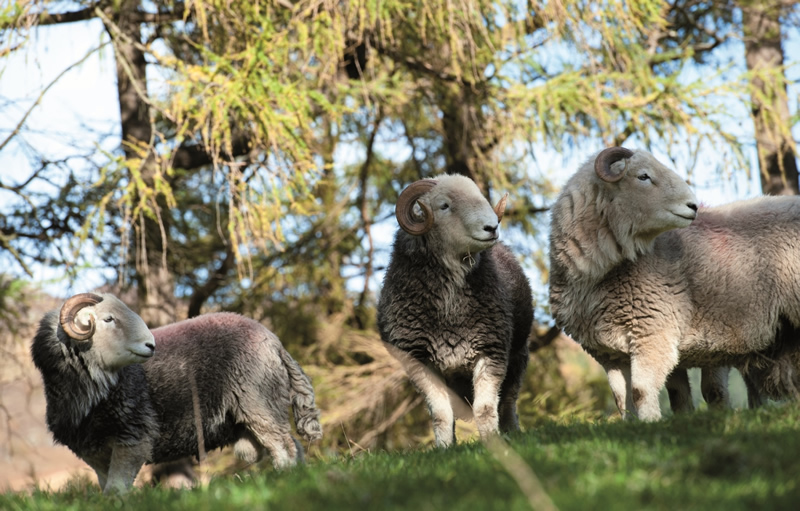 The organisation that fed the Prime Minister Cumbrian delights earlier this year has Parliament in its sights again.

Taste Cumbria, has launched a project promoting Herdwick meat, the iconic produce of Cumbria and a way of farming which shapes the Cumbrian landscape.

All six Cumbrian MPs (Tim Farron, Jamie Reed, Rory Stewart, Tony Cunningham, John Woodcock and John Stephenson) have committed to the project which, in partnership with the Herdwick Sheep Breeders' Association, works with farmers, slaughterhouses, producers, restaurateurs and retailers, to tackle low farming incomes and generate awareness and investment in Herdwick.

Mary Houston, Taste Cumbria Manager, said: "Thanks to funding from The Prince's Countryside Fund, we are planning a series of events to promote Herdwick, including a spectacular event in the Capital. It is great to have the full support of our Cumbrian MPs and I look forward to working with them again. Herdwick is a wonderful product of both farmer and landscape. We need to support the fragile network of specialist Herdwick farmers and shepherds who work as guardians of our unique Fells. Herdwick meat is of outstanding quality and we should be seeing it on the shelves of quality butchers, retailers and on the menu of all reputable restaurants."

Rory Stewart, MP for Penrith and the Border, said: "Herdwick sheep are one of the most beautiful, and important symbols of the uplands. They are a defining mark of Cumbria, and a joy to locals and visitors. They represent with their Viking links, and their presence in poetry and painting, the deep historical and literary heritage of the Lakes. But they are also great symbols of sustainable food production, of hefting, and of farmers. The Herdwick Sheep Breeders Association are doing a fantastic job in protecting this beautiful, hardy native breed, and I am delighted that the Prince's Countryside Fund are supporting them in a project to help capitalise on their recently-awarded PDO status - encouraging exports abroad, and raising the profile of the Cumbrian farmers who raise our Herdwicks in the process. I welcome this especially in terms of highlighting the debate we need to have around the real value of our farms, and why we need to protect them - especially when our farmers are some of the last in the world to have maintained the lineage of rare breeds that, in the case of Herdwick sheep, dates back to the twelfth century. That is why I am supporting this hugely important campaign."

Herdwick sheep are left to roam on the fells on Cumbria, which makes them truly free range. Experts claim it is their hardy way of life which creates such a rich and distinctive superior flavour, above other types of lamb. Indeed in research commissioned by Ministry of Agriculture Fisheries and Food in 1997, experts found the taste of Herdwick lamb to have a "superior" flavour and "high levels of eating quality" when compared to standard commercial lambs.

Herdwick's recent PDO (Protected Designation of Origin) status, granted in 2013, is further recognition of this unique to Cumbria product. The project is now planning a series of events to promote Herdwick, one in the Capital later in 2014.

During an ascent of Swirl How last summer MP John Woodcock had Herdwicks for company when he made his way up the fell – which is the highest point of the Barrow and Furness constituency. He said: "All the hill farmers in the Duddon Valley have Herdwicks: these incredible, hardy sheep have grazed the Lake District fells for almost a thousand years. Herdwicks are a key part of maintaining the unique Cumbrian landscapes and I have lots of admiration for the breeders who sometimes have to overcome atrocious weather conditions in carrying out their work. I gladly give my backing to the Herdwick project, which will tackle low incomes for farmers, support rural communities and help promote the fantastic Herdwick wool and meat."

Tim Farron MP commented: "I'm delighted to be supporting the campaign and I look forward to working with Cumbria's other MP's and farmers to press for more help and support. Our hill farmers are still well below the average UK salary and barely more than minimum wage. Together we need to commit to do everything we possibly can to support our farmers. The significant increase in income seen over that last year is very finely balanced on the price of sheep which is constantly fluctuating and therefore our hill farmers' income could easily suffer from unfair decreases again at any time. I know this campaign will make difference and I support it totally."

Jamie Reed MP added: "Herdwick sheep are a staple feature of the Cumbrian countryside. The Cumbrian farming community and their Herdwicks have helped to shape the Lake District fells for centuries. I am delighted to be supporting this project, which will ensure a better deal for Cumbrian farmers, and help increase awareness of Herdwicks."

Tony Cunningham MP, who also supports the campaign added: "Taste Cumbria's work on promoting Lakeland Herdwick and working with upland farmers to establish better deals and outlets for their product is much needed. Herdwick is a valuable and valued Cumbrian product of which we are all proud. When diners see lamb on the menu and shoppers see lamb on the butcher's counter, we'd like it to be Herdwick, with a seal of quality recognition. I am keen to support the upland farms in my constituency, and work such as this will seek to ensure that this great heritage and product of Cumbria gets the profile it deserves."


Download

No comments posted yet. Be the first to post a comment
Display name

Please enter your name

Email
(optional)
Comment

Please enter your comment

Post Comment


Your comment submitted successfully.Please wait for admin approval.

Some error on your process.Please try one more time.