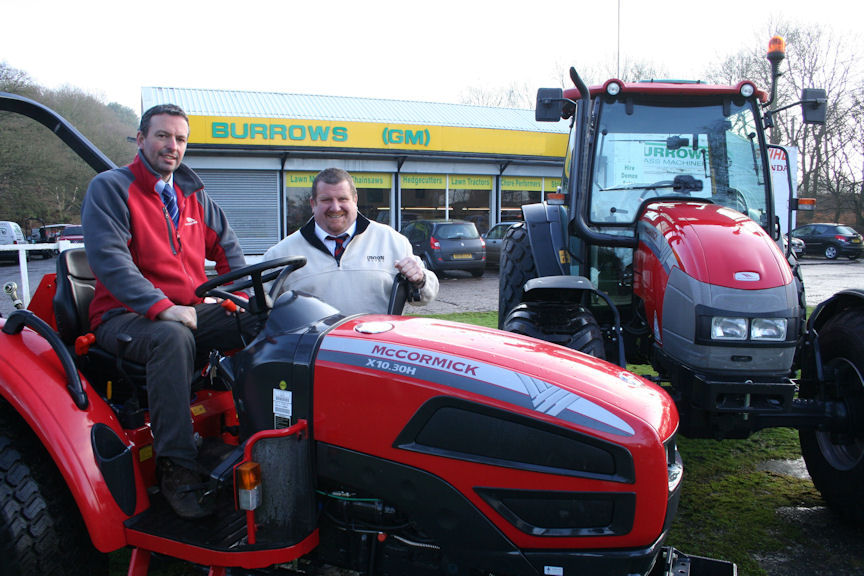 Julian Kearne of Hilton Machinery (left) and Clive Watton of Burrows Grass Machinery – working together to improve service to farming and groundscare customers.
When two businesses have similar interests but complementary skills, locations and product lines it often makes sense to work together.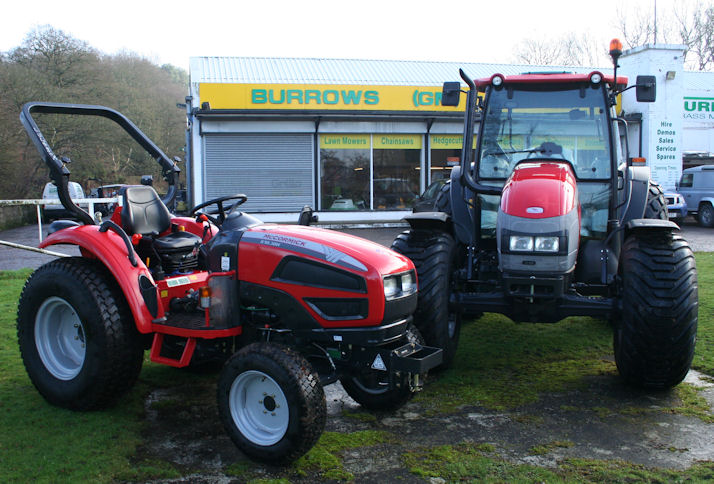 McCormick tractors for farm and groundscare use include the 28hp hydro drive X10.30H (left) and the 92hp C-100 Max.
And that is precisely the scenario that has brought together farm tractor sales and service dealer Hilton Machinery, based at Market Drayton, Shropshire and amenity equipment specialist Burrows Grass Machinery, located between Stafford and Cannock.
"By working with Burrows Grass Machinery, farming customers in the southern area of our territory will have a local source of McCormick parts and a workshop facility for servicing and repairs," explains Julian Kearne of Hilton Machinery. "And as our sub-dealer for McCormick tractors supplied to the groundscare sector, customers will benefit from Burrows' specialist knowledge and experience."
Hilton Machinery was awarded the McCormick sales and service franchise for Staffordshire and parts of Shropshire and Cheshire in 2010, and upgraded its operation the following year by moving into new workshop, parts and retail premises in Market Drayton.
The company has successfully re-introduced the McCormick range into the area, partly thanks to the appeal of the four- and six-cylinder tractors but also by investing in product support. Last year, the company appointed senior service technician Eric Derry to add to the firm's resources for workshop and on-farm repairs and maintenance.
"Eric lives near Cannock only 10 minutes away from Burrows in the southern part of our McCormick territory, so as part of our new arrangement we can pull a tractor into the workshops there for him to work on rather than shipping it across to Market Drayton," notes Julian Kearne. "It means we can look after customers in that part of our territory more easily and efficiently."
Customers in the area will also have access to a stock of McCormick parts held at the Burrows' premises and can pick-up urgent spares orders from there too.
"We have a reciprocal arrangement to supply our farming customers with the mowers and other small equipment sold by Burrows," adds Julian Kearne. "Our arrangement will benefit the customers of both businesses."
The showroom, parts and workshop on the A34 at Bednall between Stafford and Cannock served as an International Harvester dealership for many years. Today, Burrows Grass Machinery, which is part of the Darlaston-based Rubery Owen Group, occupies the premises as a major supplier of professional groundscare equipment to local authorities, contractors and golf courses.
"We have a franchise that gives us compact tractors but there is increasing demand for sturdier 80-120hp machines to handle bigger gang mowers and other vegetation control equipment," says Clive Watton of Burrows. "The McCormick products in this power sector are ideal for our customers, who want a relatively simple, easy to drive tractor, that's reliable and represents good value for money."
The partnership has already resulted in Burrows supplying a pair of 92hp McCormick C-Max tractors to one of the largest groundscare contractors in the area. Cropper Grounds Maintenance provides diverse services to schools and commercial premises from its base in Fenton near Stoke-on-Trent, majoring on grass and hedge cutting, landscaping, tree surgery and weed control.
Comments
No comments posted yet. Be the first to post a comment