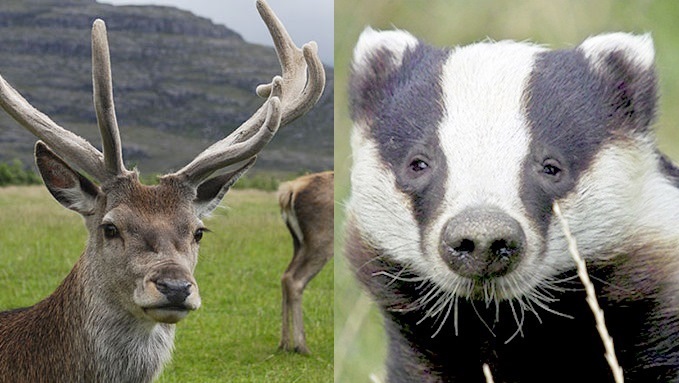 As recent calls have highlighted the dangers of an increasing deer population, the Farmers' Union of Wales have called on scientists to recognise the 'huge damage' being done to cattle herds as a result of a massive rise in badger numbers.
"These researchers have quite rightly highlighted the damaging impact that an expanded deer population in some parts of the UK is having on woodlands, and the knock-on effect on other animals such as woodland birds" said FUW president Emyr Jones who was speaking after a recent council meeting.
A recent study by the University of East Anglia warned that wildlife and the environment could suffer as the UK's deer population increases. Jones said people 'must have the backbone' to apply the same logic to badgers.
Environment Secretary Owen Paterson confirmed two badger cull schemes are to go ahead in the summer to tackle the spread of bovine TB among cattle. The culls will begin in Gloucestershire and Somerset.
"Bovine TB is spreading at an alarming rate and causing real devastation to our beef and dairy industry" the minister said.
Paterson also announced a reserve pilot will also be prepared in Dorset in the event that unforeseen circumstances prevent one of the cull areas from being used.
Jones continued: "Generally deer are not a major problem in most of Wales, but we have a badger population which has grown to unbelievable levels since the 1970s, and badgers are now found living and foraging on mountains and moorland at heights of over 1000ft above sea level – well away from their traditional woodland habitats.
"We know from a variety of sources that badger numbers in Wales have increased many-fold since the 1970s.
"Some farms have seen at least a five-fold increase, and it is pretty obvious that five times more badgers need five times as much food. They don't get that food from the local supermarket; a large proportion of their diet is made up of other animals."
But recent research conducted by Durham University claimed a widespread badger cull will have no impact in solving the problem of tuberculosis in cattle.
Professor Peter Atkins, from Durham University's Institute of Hazard, Risk and Resilience investigated the spread of the disease.
"Badgers almost certainly play a part in spreading the disease, but my conclusion is that their impact over the decades has been far less than suggested" said Atkins.
"Very carefully arranged culling may have a part to play alongside other measures in areas of particular prevalence such as South West England and South Wales, but my research suggests that extending the policy elsewhere may neither be justified nor particularly effective. It certainly won't be a panacea."
However, Paterson said he was determined no further delays are made this year: "The authorisation letters issued today confirming culling can proceed this summer in West Gloucestershire and West Somerset is an important step towards taking the action we need to tackle the spread of this disease in wildlife."
"I am determined that there are no further delays this year. That is why we have taken the sensible step with the farming industry to elect a reserve area that can be called upon should anything happen to prevent culling in Somerset or Gloucester."
But Atkins claimed that 'no one' has yet proved which direction the infection travels between species and that the disease is a 'spillover' from cattle rather than an endemic condition. He also claimed a cull could even 'exacerbate the problem'.
"The Randomised Badger Culling Trial, which ran from 1998-2006 indicated complex, interwoven patterns of infection and concluded badger culling was unlikely to be effective for the future control of bTB."
"When badgers are disturbed, they seem to perceive they are being attacked and move from their original area by a kilometre or more and join other badger groups, which spreads the disease."
FUW president Jones said hedgehogs, slow worms, bumble bees and ground-nesting birds were among just some of the species suffering as a result of high badger numbers, while there was a general scientific consensus that the current cattle TB epidemic could be largely attributed to increased badger numbers and the fact that badgers can carry and pass on TB.
In 2006, Dr Pat Morris warned in 'The New Hedgehog Book' that the implications of the increase in badger numbers for hedgehog survival in the UK "…are serious...ignoring the issue or pretending that badgers exist only by harmless drinking of rainwater doesn't help at all".
"People take a 'hear no evil, see no evil' approach to badgers and place them on a pedestal, and many scientists and politicians are terrified of speaking out and acknowledging the truth.
"That truth is that badgers are decimating our wildlife and decimating our cattle herds, and their numbers should be reduced to acceptable and sustainable levels.
"It is legal to control deer to protect cattle from TB and to protect wildlife from damage, and that principle should be extended to allow the humane control of badgers.
"Scientists should not be intimidated by animal rights extremists into keeping quiet about the decimation caused by badgers to our wildlife and livestock."
Comments
12-03-2013 10:09 AM
| Posted by Cristina Parker
Pesticides are decimating our wildlife, not badgers. I was walking in a field next to one that a farmer had changed from ploughed (with lots of Willow herb and other wild flowes) to grassed. In the field I was in bees were dying in their hundreds, obviously from the effects of the weedkiller the farmer had sprayed. Don't blame the wild animals, blame the farmers.

Hedgehogs and birds and all beneficial pollinating insects have been decimated by the irresponsible farming methods used over the last few decades.
12-03-2013 13:33 PM
| Posted by Clued-Up
"We know from a variety of sources that badger numbers in Wales have increased many-fold since the 1970s".

Jones doesn't name the sources saying there's been a "many-fold" increase in badger numbers so we can't judge whether these claims have ANY credibility. I've read there hasn't been any authoritative, scientifically credible national survey of badger numbers.

Jones doesn't seem to appreciate that badgers are territorial while (at least some)deer species are not. That difference matters because territorial animals are subject to natural control of their population density - they don't need culling.

Jones suggests badgers decimate wildlife. They don't, in the view of most authorities. Badgers mainly eat snails, slugs, earthworms and so on, though they'll enjoy the occasional rat, hedgehog or fledgeling too.

The drop in the number of native ground-nesting birds (eg skylarks) has much more to do with past and current agricultural practices than with badgers. It's possible to say that with conviction because the number of skylarks and other ground-nesting birds has increased where farmers have introduced more wild-life friendly ways of managing their fields.

Hedgehog numbers have been dropping mainly because of human activities (eg the use of poisonous slug and snail pellets in gardens; the vogue for "hard landscaping", low maintenance gardens; and so on).
12-03-2013 13:38 PM
| Posted by Ant
Funny these 'afraid' scientists were not scared to oppose badger cull. Probably because it went against sound science. Scientist tend to object to that.
13-03-2013 11:49 AM
| Posted by beeline
The badgers are responsible for bumble bees now?? Not agricultural methods, pesticides etc.? Like neonicotinoid chemicals for example?
Increasing scientific evidence links this agent with decline in bee populations.