Dutch producer questions sustainability of free range
25 April 2014 11:03:03|
News
Dutch producer questions sustainability of free range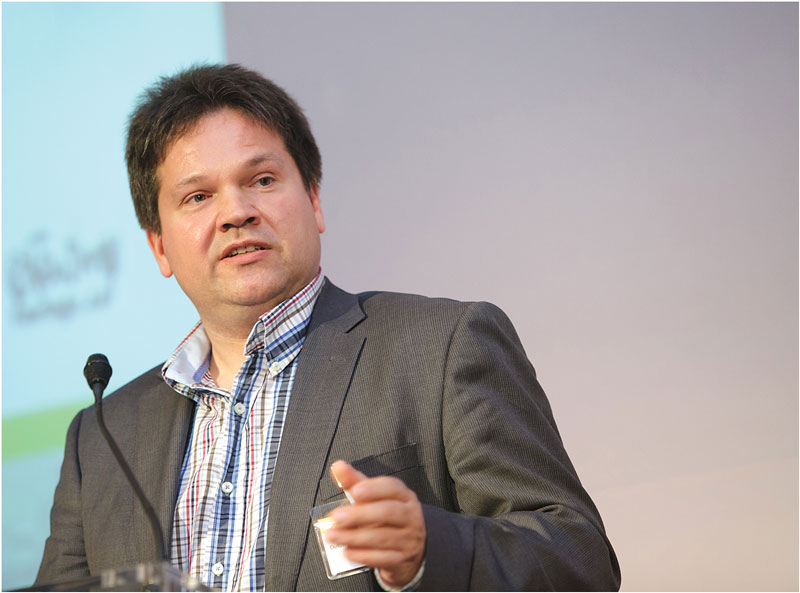 ADutch free range egg producer has publicly questioned whether or not keeping free range layers is sustainable in the long term because of the risks of bird flu.
Eric Hubers, who produces both free range and
barn
eggs
in the Netherlands and who is also chairman of the Dutch Association of Poultry Farmers, says that egg producers in his country are questioning whether outdoor access should be restricted for laying hens in order to control more easily the incidence of avian influenza. But he says that any such move would meet resistance from animal welfare campaigners, who see access to the outdoors for hens as a big issue.
Eric outlined his concerns about bird flu during a speech at the conference of the International Egg Commission (IEC) in Vienna. The Netherlands was hit by a serious outbreak of AI in 2003, and Eric said, "We are pretty sure that it was introduced as a low pathogen virus on a free range farm and mutated into high pathogen bird flu." Blood samples were now taken four times a year on outdoor units in the Netherlands, with the aim of finding low pathogen AI and preventing outbreaks of high pathogen AI. "The fact is we now have a large number of LPAI outbreaks."
Eric said that these outbreaks were almost only on outdoor free range farms, and farmers in the Netherlands had been discussing the possibility of restricting outdoor access in an attempt reduce the numbers. "We have discussed solutions to use only covered outdoor, which most farmers already have, and to limit exit in certain periods of bird migration. Limiting time out during winter time would also be good because we think that is the most high risk period. It is socially acceptable that cows are indoors all winter time. Why can't that be the case for hens?"
Eric also suggested that the outdoor area on a free range unit could be reduced in size. European Union rules stipulate that free range birds must have four square metres per hen - 2,500 birds per hectare. "With bigger free range flocks you need a lot of area," he said. Eric said that the "demand for free range production could be changed so the outdoor area could be a lot smaller. This would lower the chance of an outbreak. I believe that the quality of the outdoor area is more important than the quantity but will we still get the market bonus if we reduce the area? Will it be accepted?"
Eric was asked by one member of the audience how much he would like to see outdoor space reduced for hens. "We should look and see what the hens use and give them a bit more. It's logical," said Eric, who said he had kept free range hens for 14 years, he had 74,000 birds and they only used a small area of the outdoor range. "They make contact with wild birds and bring viruses back. I think it would be better to make the outer area small and protected."
He said that one possible solution to AI in the future would be the use of vaccination, but there was no market vaccine currently available and he wondered whether it would raise other concerns. Would it be acceptable? "Would it be a problem for exports?" The Netherlands is a major exporter of eggs. The country is 300 per cent self sufficient in eggs, meaning that two out of every three
eggs
produced in the Netherlands has to be exported.
Poultry meat is another export product for the Dutch, and Eric said that the problems with AI also impacted on that industry. "Because of the large number of LPAI outbreaks, there is a conflict with other poultry sectors because every time there is an outbreak there is a big problem with the export of poultry meat." And he said that, unlike egg producers, the poultry meat sector did not receive compensation for an AI outbreak. Eric said that the egg industry in the Netherlands had a scheme under which producers paid an annual levy and were compensated for the value of their birds and
eggs
if a flock had to be culled because of AI. "The poultry meat sector is not compensated. The importance of exports to the poultry meat sector is very high, so they have high losses due to market closures," he said.
Eric said the question was whether or not it would be seen as socially acceptable to put in place the outdoor access restrictions that had been discussed in order to tackle avian influenza. "No access to outdoor area is a big issue for animal welfare organisations in our country now." Politicians were reluctant to support the measures because of public feelings, he said.
"We need to ask ourselves, is outdoor poultry keeping long term sustainable?" He said that because of all the monitoring that was now being conducted, a lot of viruses were being found. There was more concern in society about public health and the culling of birds that resulted from an outbreak of AI was very bad for the image of the egg industry.
The egg industry in the Netherlands comprises 900 farms with 30 million hens producing 10 billion eggs. A total of 185 farms are free range and 127 are organic free range, so that free range in all accounts for one third of the country's production units. They produce two billion
eggs
- one fifth of the country's total egg output.
Download

No comments posted yet. Be the first to post a comment
Display name

Please enter your name

Email
(optional)
Comment

Please enter your comment

Post Comment


Your comment submitted successfully.Please wait for admin approval.

Some error on your process.Please try one more time.