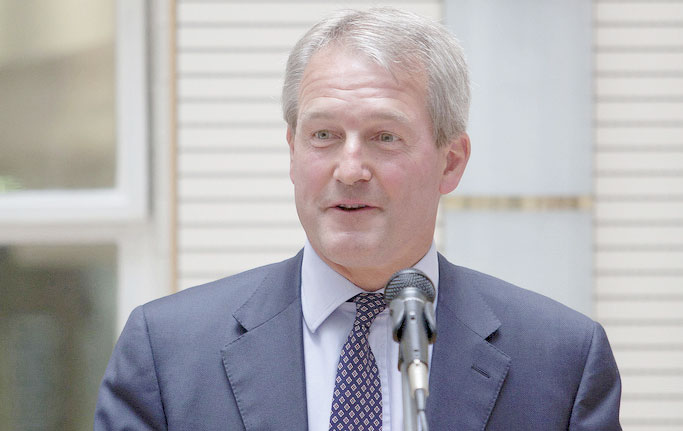 Secretary of State for Environment, Food and Rural Affairs Owen Paterson
The EU Agriculture Council has agreed to the UK's demands for freedom to design its own greening measures and powers to implement CAP regionally to England, Scotland, Northern Ireland and Wales, the Environment Secretary Owen Paterson has announced.
"A one size fits all approach to CAP just doesn't work" said Paterson.
"England, Northern Ireland, Scotland and Wales must be allowed the freedom to deliver outcomes tailored to their own circumstances.
"Working with all the Devolved Administrations and ensuring we spoke with one voice as part of these negotiations has been essential.
"I am delighted that we have successfully secured key changes to address concerns for Northern Ireland, Scotland and Wales on issues such as internal convergence and Areas of Natural Constraint. We will continue to represent the interests of the whole of the UK throughout discussions with European Parliament."
NFU president Peter Kendall said that the outcome of last night's negotiations on the Council of Ministers' position for the future CAP was not great but that he was reassured by Defra's intentions on greening.
"The industry has worked incredibly hard to raise its concerns with the Secretary of State over plans to reform the CAP" he said.
"I am pleased that Mr Paterson's understanding of Article 29 in the Council's text on greening is the same as mine, that farmers will be able to access greening aid by undertaking, as part of a national scheme, the EU's three greening options.
"I am disappointed, however, that coupled support could be increased beyond current levels, that Member States would be allowed to deviate massively from the proposed flat rate payment system by 2019 and that those Member States who have bountiful rural development budgets would have the luxury of paying their farmers twice for doing the same environmental work."
At the start of the negotiations Member States were required to offer the European Commission's greening measures in parallel with their own.
Paterson said England could now avoid the costs and confusion of parallel schemes by greening direct payments entirely through its own national scheme.
This reassurance comes as the largest ever coalition of British farming organisations warned the Government that English farmers could be treated unfairly under new CAP reforms.
In an open letter, the coalition, which included the NFU, the CLA, the Tenant Farmers' Association and 24 other members, declared unity in their call for a fair deal for English farmers.
They said farming and food production in England could be at risk if the Government treats 'English farmers unfairly in the CAP.'
"It seems to me that at a time when consumers are looking to buy more traceable British food, and retailers are looking to farmers here to supply that demand, we also need a government at home that will support our farming industry" NFU chief Peter Kendall said.
"The letter I have sent today will remind MPs of the importance of getting this reform, and its implementation here at home, absolutely right.
"I want Defra ministers to really consider the impact that the political and economic dogma we hear so often from them will have on our farming industry. We need a fair deal for English farmers, the future of our food and farming industry depends on it."
After the historic CAP vote on Wednesday in Strasbourg, several farming unions expressed their concerns over the proposals.
Meurig Raymond, Deputy President of the NFU, who met with MEPs, said he was 'extremely disappointed' that there were not enough MEPs able to support 'the good work farmers are already doing on farms.'
"MEPs failed to support any of the amendments which would have derogated many of our grassland farmers, and all of our farmers who are already undertaking agri-environment commitments, from having to do further greening requirements" he said.
The Country Land and Business Association, which is a part of the coalition, also expressed their 'frustration'.
"We are frustrated by Parliament reversing the progress made on what's known as 'equivalence' in greening. We believe English agri-environment schemes provide at least as much benefit as the Commission's three mandatory proposals, so it seems short-sighted not to include them" said CLA Deputy President Henry Robinson.
NFU President Peter Kendall said: "David Cameron said at our conference in 2008 that: 'We need to create a level playing field with foreign competitors when it comes to regulation. Our government often imposes far more onerous standards on British agriculture than exist elsewhere in the EU. These can have perverse consequences. Instead of driving standards up, they just drive farmers out of business'.
The UK Government said the commission's greening outcomes should be delivered through a simple system, achieving environmental benefits without imposing unnecessary costs on farmers and securing value for taxpayers.
Today's decision will give England the opportunity to achieve these objectives by building on the existing agri-environment schemes.
Discussions with farmers will now begin on how greening should be designed, alongside the next Rural Development Programme.
The Environment Minister continued: "The EU requires all farmers to deliver environmental benefits for 30% of their Pillar One CAP payments.
"The system that emerged from reforms under the previous Government was far too complex and the UK ended up being fined €550 million for not sticking to the rules. I've been absolutely clear that this must not happen again.
"The UK should have the freedom to have a simple, easy to manage system that builds on our well established arrangements. We're now one very important step closer to being able to set our own greening measures, which work for farmers and use taxpayers' money more effectively to deliver real environmental benefits.
The majority of Member States were content to allow farmers to be paid twice under two different budgets for delivering the same environmental benefit.
Despite significant pressure from some Member States to extend sugar beet quotas to 2020, the UK, working with allies, persuaded the Council to agree that they will end in 2017.
"Sugar beet quotas are bad for business and bad for consumers" the Environment Minister said.
"They are driving up the wholesale price of sugar by 35% and adding one per cent to hard pressed families' food bills.
"I'm disappointed that they will continue beyond the date previously set for them to end but we have achieved a compromise and fought off calls for the end to be in 2020.
"Britain's cake, biscuit and confectionary industries support thousands of jobs and turn over billions of pounds each year. The boom in global demand for western-style foods is creating huge opportunities for growth in this sector which we should not hold back. I'm glad that sugar beet quotas will finally be scrapped and I'm determined to work with the Commission to ensure fair treatment for cane sugar refiners."
The EU Council concluded that coupled payments, the proportion of CAP subsidies linked to production, should increase.
Under today's proposals, Member States which have made the most progress in decoupling payments, will be allowed to pay up to seven percent of their direct payment budget as coupled payments.
The remaining Member States will be allowed up to twelve per cent.
Paterson said: "The UK and our allies are clear that coupled payments are part of the past. It's disappointing that the Council proposed they continue, but today`s agreement is still a clear improvement on the European Parliament's proposal for 15% or even 18%. We continue to fight for a common low rate."
The UK Government fought off pressure from some Member States to see extended use of market intervention.
Reducing market intervention has helped to keep Europe on the path towards a more competitive farming sector, rather than one subsidised by taxpayers.
"I'm pressing for further progress towards an open market that makes farmers less dependent on subsidies."
Comments
20-03-2013 08:36 AM
| Posted by George Monbiot
Paterson seems to be grinning sarcastically like a buffoon in every photo. It's easy for him to grin, with his generous public sector pay package and pension. Many smaller farmers don't even have a pension and times are tough. Other European governments support farmers, while their public sector bureaucracies take a profoundly relaxed view of monitoring enforcement, milking the EU for as much cash as possible. Meanwhile in the UK our MP for farming is openly anti-farming and the RPA is run like the Gestapo.