EU agrees extension to derogation for organic pullets and feed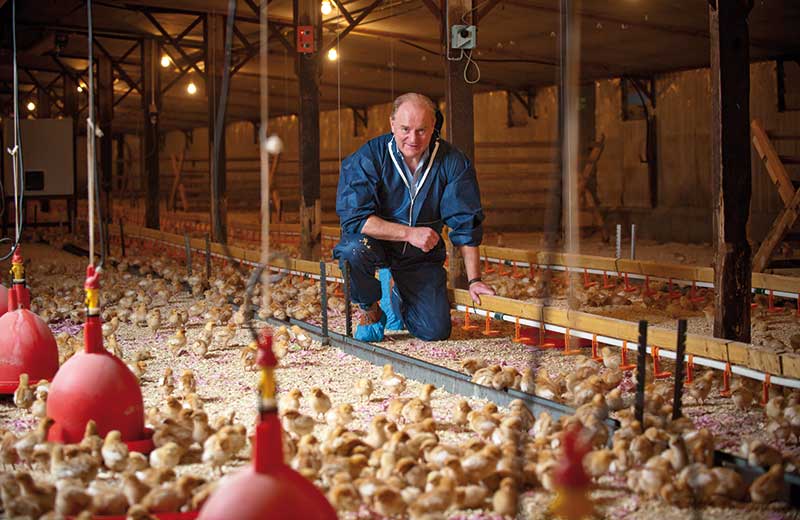 A European Union committee has finally acted to avoid a crisis by agreeing to an extension to the derogation covering organic pullets and feed.It was only last month in the Ranger that John Retson, former chairman of the British Free Range Egg Producers' Association (BFREPA), who is involved in the business of rearing organic pullets, warned of an imminent crisis unless the EU allowed the organic egg sector to continue using non-organic pullets. He said that a decision was needed urgently so that pullet rearers had the confidence to order chicks knowing that they would not be illegal after the end of the year. The derogation allowing the use of non-organic pullets was due to expire on December 31 this year.
John, whose business JSR Services has rearing farms in Perthshire, Stirlingshire, Ayrshire and Lan-arkshire, rearing between 150,000 and 200,000 organic pullets each year, said that any rearer order-ing chicks now would be taking a risk. "I need to be placing orders for chicks now to rear pullets for December. But as things stand, the pullets I reared from the chicks I ordered now could be illegal by December, so to orders those chicks at the moment is to take a risk." He said he would be having to gamble on someone deciding to extend the derogation. "That is a big risk and for some pullet rearers it may be too big a risk to take. They may well decide not to order chicks until they know for sure what the rules will be," said John.Farming leaders have been pressing European Union officials for an early decision to extend the derogation. A farming delegation, it seems, recently received an assurance that the derogation would be extended, but the decision was in the hands of the Standing Committee on Organic Farm-ing (SCOF). The committee met recently and it has now finally agreed to the extension. This was confirmed to the Ranger by a spokeswoman for Agriculture & Rural Development at the European Commission.She said in a written statement, "The SCOF adopted unanimously on 9 July an amendment of the implementing rules to extend the current derogation for use of non-organic pullets until 1 Jan 2017 and to extend the current allowance for 5 per cent non-organic feed until 1 Jan 2017. These rules were due to expire at the end of the year and so it was important to extend them without pre-judging the ongoing discussions with Council and the new European Parliament about longer-term changes to the rules."John Retson told us that he welcomed the decision, but he said that egg industry leaders must now press for new rules to be drawn up as soon as possible. "It is great news that somebody has made a decision to allow the derogation to continue so that we know what we are doing until January 2017. There is a big but, though. Although it is two years away, we need to be urging those people to get together and agree standards so that farmers can prepare for the change."John said that organic production was a niche sector and unless farmers new what they were going to be doing in the years ahead the sector could be damaged. "We need to know the standards by the end of 2014 so that we have time to farm ourselves towards them. Producers need to know what the rules will be so that they have time to make decisions and do the things that need to be done."The committee's decision was welcomed by BFREPA's director of policy Robert Gooch. "It is ex-cellent news. It was common sense for them to do that, so that we don't have to worry now until 2017. But BFREPA will have to sit down and decide how we move forward. There are members who believe that we should be going for 100 per cent organic and others who do not."The derogation was originally due to finish at the end of 2011, with producers expected to use 100 per cent organic feed from January 1, 2012. However, it was extended to the end of 2014 after in-dustry representatives argued that there was insufficient quantity or quality of organic feed to allow producers to feed a 100 per cent organic diet.The industry made its argument on welfare grounds, saying that feeding animals lower quality diets could lead to stress on nutritional requirements, which would significantly impact on animal wel-fare. It said this could potentially damage the organic brand. The European Commission followed the advice of the EU Organic Expert Group in extending the derogation, although the decision was delayed, with the extension having to be applied retrospectively after legislation to continue the derogation was introduced in 2012.
Download

Trending Now
Viewed
Discussed