Edinburgh Prisons chicken loving inmates open 'Henitentiary'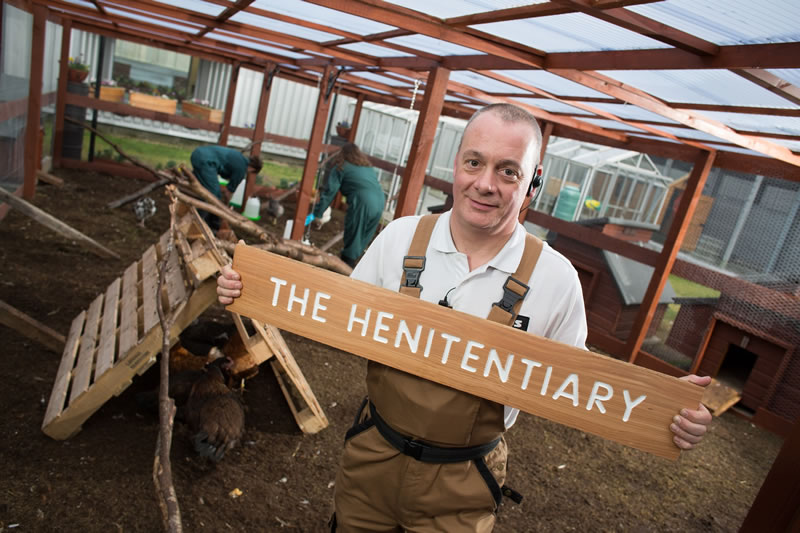 Edinburgh Prison has become the first jail in Scotland to set up its own free range egg production unit.The unit, nicknamed the Henitentiary by chicken loving inmates, is only small at the moment - 19 laying hens and a rooster - but prison officer Alan Jarvis, who was responsible for introducing chickens to the prison, already has one eye on expansion. He said he was keen to introduce a rooster to get involved in breeding and he said he could see a day when there would be enough birds to sustain egg sales from the prison gate."We needed to start small; I didn't want us to rush in with 50 or 60 hens straight away. We need to be able to manage it. But I am very confident in my own ability to be able to expand later," said Alan, who keeps hens at home. He started five years ago with just five hens in his garden and now has 29. "The numbers had just grown and grown before I knew it, but the birds are very easy to manage. It is just a case of getting into a good husbandry routine."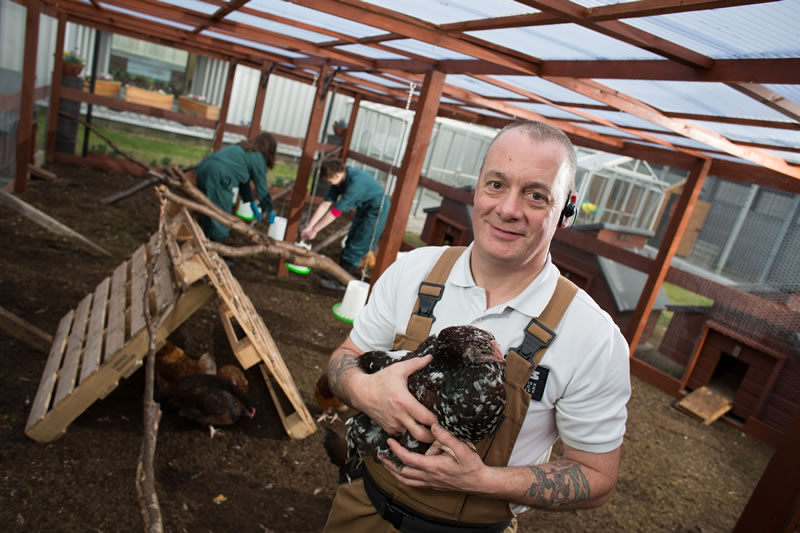 The free range unit at the prison started in October. Birds are cared for by female prisoners - Edinburgh houses both male and female inmates. Alan said he thought female prisoners would be more suited to looking after chickens because he felt they would show some empathy towards the animals. "When I read stories in the papers about animal cruelty, it is usually men who are involved. Women seem to have some empathy and attachment to animals." He said he thought the unit was ideal in being able to provide work suitable for women in an institution that tailored mostly for men in terms of work programmes. "We have between 800 and 900 men in the prison and only 100 women, so you find that most of the work parties are more suited to men. It can be difficult to find women orientated jobs."
He said, "I thought it was an ideal project to introduce in the prison, as it had so many potential benefits for both the prisoners and the establishment at large. We have already seen the positive impact on the wellbeing of the women taking part, and we've had great feedback from visitors to the prison who've noticed the sheds and enquired about our new feathered residents. I'm very keen to expand the project in future to include benefits for the community. For example, by selling the
eggs
through our visitors' centre."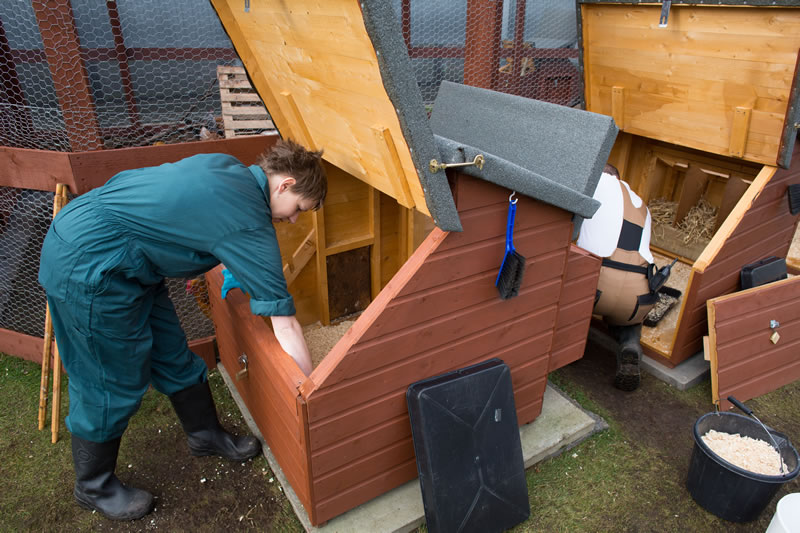 The women assigned to the project had to undergo an interview process to be accepted onto the unit, which offers them the opportunity to gain City and Guild qualifications in animal care as well as providing the mental and physical benefits of engaging in purposeful activity outdoors. It is hoped that the learning experience and skills gained by the women who engage in the project will assist them in finding employment upon release. "Hopefully the qualification may help them find a job working with animals," said Alan.Inmates involved in the unit visit the birds at least three times a day, when they feed the chickens, monitor their health and behaviour and clear out the sheds. Alan said that for one of the prisoners the chickens had given her something to get out of bed for in the morning. "She had a tendency to just lay in bed but this has given her the impetus to get up and do something."The hens are housed in chicken coops that were produced in the prison's carpentry workshops. Prison security required that this part of the programme was planned very carefully. "We looked on the internet to see the kind of units that were being used by other people but I had to be very careful that prisoners would not be able to climb on top of them and use them as a means of escape."The
eggs
produced by the chickens are used in the prison's life skills workshops, where activities include cooking, cleaning and personal hygiene. As the size of the flock grows, it is hoped that there may be enough
eggs
to start sales to prison visitors. "A lot of these people don't have very much money and if we can sell them half a dozen
eggs
for 75 pence or a pound that could help them. All the
eggs
we sold would be fully traceable."The Scottish Prison Service said there were various examples across the United Kingdom and in other countries of animals being used in programmes to promote the rehabilitation and employability of people in custody. A number of examples existed in the Scottish prison system, including the Paws for Progress scheme at HMYOI Polmont. Under this scheme more than 60 young offenders have completed valuable qualifications and 107 dogs have been re-homed. However, this is the first time that chickens have been introduced into a Scottish prison.Prison Governor Teresa Medhurst said, "We are committed to creating diverse learning opportunities for those in our custody at HMP Edinburgh, to encourage them to unlock their potential and transform their lives.?"The introduction of the poultry project is the perfect example of a purposeful activity which teaches skills, empathy and responsibility. The chickens are already a firm favourite in the prison, and I'm hopeful that under Alan's expert supervision the project will continue to spread its wings and benefit the wider community as well." In addition to providing inmates with caring skills and, hopefully, a valuable qualification, the free range egg unit at Edinburgh Prison has also reduced the volume of food waste from the prison going to landfill. It can now be used in the chicken feed to balance the birds' diet. And as chicken droppings are a great natural fertiliser, the gardens within the prison have also benefited from the new arrivals.
Download

Trending Now
Viewed
Discussed