Efficiency is key, UK beef farmers told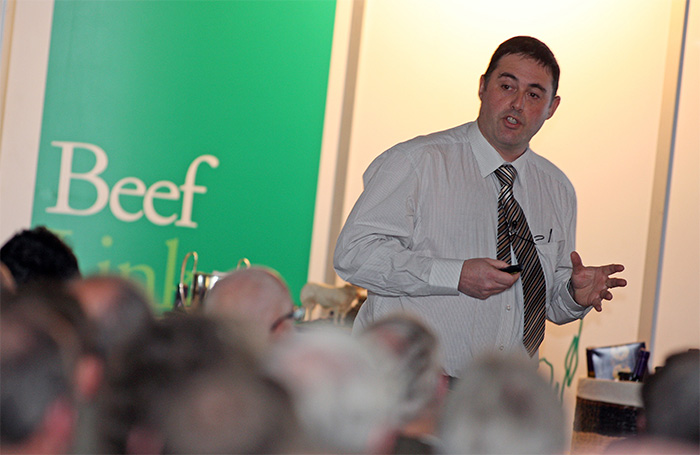 Genetic and feed efficiency will be central to ensuring beef farmers can meet the growing domestic and global demand for British beef, more than 300 farmers heard at a producer group meeting.No matter where in the UK beef is produced it must be done as efficiently as possible, said grassland consultant Charlie Morgan of Grassmaster. "Efficient beef production means getting the most possible from the available resources, principally grazed grass."Morgan said half the potential output in a beef system comes from genetics, the key is having the right genetics and in future that is likely to mean having the right genetics to convert forage to beef rather than feeding cattle on cereals."Grass can be grown for 6.2p/kg of dry matter, or in many cases significantly less, but feeding concentrate feeds increases this significantly by a factor of four and conserved silage increases it by about 2.5 times."However, Mr Morgan told farmers present that these costs would increase significantly if grass was not used correctly. "Poor grazing management can increase costs to 10p/kg of dry matter. This though can be combated through rotational grazing which can increase utilisation and has a significant impact on grass yields, increasing yields by about 20%. "Grass should be grazed at about the same height as the width of the muzzle of the animal eating it, so for beef cattle that means 8-10cm and the key to maximising regrowth is the move cattle on when there is still a bit of grass left. That ensures there are leaves there to photosynthesise and kick start the next growth stage," he explained.But having the right cattle was as essential as growing and grazing grass effectively, said Ballymena, Northern Ireland-based suckler farmer Billy O'Kane. "Since improving my grassland management and investing in the right genetics to use grazed grass I have increased cow numbers by 14%."The simple fact is that larger, Continental cross type cows aren't efficient forage converters and are hungry animals to keep. About 70% of the cost of producing 1kg of beef in a suckler system is the cost of keeping the cow for the year. Reducing those costs is key to improving beef profitability."Mr O'Kane said suckler farmers should look to breed from specialist maternal cow types rather than keeping what he termed 'accidental cows'. "These accidental cows include those bred from the dairy herd and big heavy three quarter and purebred Continental cows. What we need from a beef animal is moderate birth weight, explosive growth, high feed conversion and the ability to digest forage."If you look at the model used by the pig and poultry sectors then crossbreeding is the only way to achieve the outputs required to make beef production profitable. The suckler cow must be of medium size, fertile and efficient. She must wean calves weighing at least 50% of her own bodyweight at 200 days and should calve at two years old," said Mr O'Kane."When you get the cow right you can use any terminal sire on them. In my mind the Stabiliser is the ideal suckler cow. She requires little to no assistance at calving, rears her calf well and gets back in calf easily. What more could you ask for?
Asda's senior red meat trader Jim Viggars told the meeting that Asda would need more British beef than ever before as a result of increasing demand from its customers.Increasing beef production was a challenge facing farmers across the world, added ABP's agricultural manager Stuart Roberts. "Wherever you look in the world beef production struggling. "Comparing current production levels to 2007 the only major beef producing countries showing any increase in production are Brazil and Australia, the USA, Uruguay and Argentina are all producing less beef than in 2007, with the EU also following this trend."Historically the USA was the largest exporter of beef in the world, now it ranks only third, with China now the largest importer of beef. And the UK is far from isolated from these shifts in power, with just two EU countries being net exporters, Eire and Poland. "The UK is a net importer and the likelihood is that UK imports will increase by about 15,000t in the next 12 months," he added.The producer group meeting also saw the prizes awarded in the annual Asda/ABP BeefLink carcass competition run by ABP's Shrewsbury abattoir.The competition's overall championship was won by a carcass from a British Blue cross young bull from N J and M A Paniers, Hampton Hill, Hereford. This carcass weighed in at 331kg and graded E3 having achieved a daily deadweight gain of 0.77kg.ABP's Asda agriculture and sustainability manager Elwyn Pugh said the winning carcass was an excellent example of efficient beef production, being slaughtered at just 14 months, but producing a highly marketable carcass which would produce beef of the type required by Asda shoppers week in week out. "It was a superb carcass, full of meat and with just enough cover to ensure succulence and flavour," he added.xWinning the steer carcass class were Brian and Carole Wilson, Haughton, Stafford, with another British Blue cross, this time a 17 month old bullock which produced an E3 carcass weighing 335.2kg deadweight.And in the heifer class the winner was an 18 month old British Blue cross from M D J Griffiths, Clodock, Herefordshire. This one produced a 351.6kg carcass which also graded E3.Mr Pugh praised all the entrants for producing an excellent show of carcasses suited to the modern retail trade. "In every class there was quality in depth, showcasing the high quality beef the Asda/ABP BeefLink farmers produce for Asda shoppers all year round."

Download

Trending Now
Viewed
Discussed