Egg industry calls for stricter labeling on egg products
Egg industry calls for stricter labeling on egg products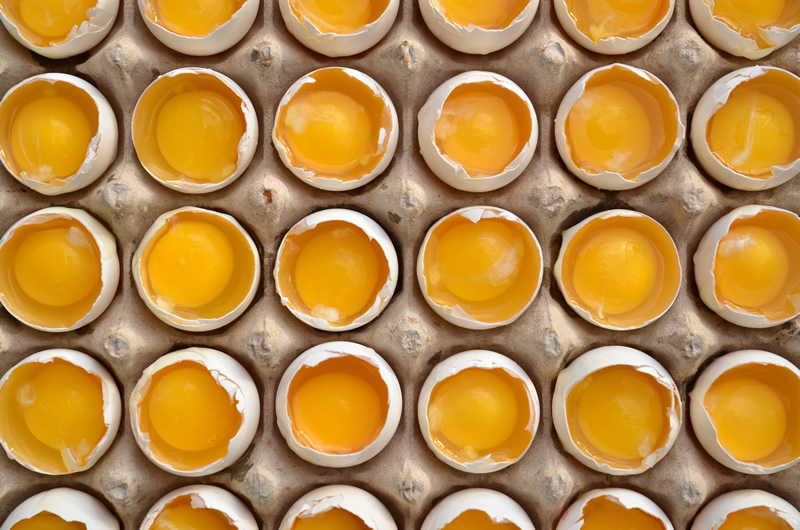 Egg industry leaders in the United Kingdom are calling for the European Union to impose stricter labeling laws on egg products.
Although existing EU regulations require shell
eggs
to be marked with a code showing where they were produced, how they were produced and who produced them, there is no such legislation for egg products. The absence of regulation had potentially resulted in a "yellow river" of untraceable egg being moved around Europe, said one producer-packer when the Ranger looked into the current rules some years ago.
Welfare campaigners have previously called for labeling to be extended to egg products, and they have now been joined in their call by the British Egg Industry Council (BEIC), which has added its voice to the campaign as the European Parliament prepares to consider a European Commission report on labeling. The report, which will go before the European Parliament on December 13 this year, covers country of origin or place of provenance labeling for unprocessed foods, single ingredient products and ingredients that represent more than 50 per cent of a food.
The BEIC is calling for such labeling rules to apply to egg products. It has written to the European Commission to say that more stringent labeling is required to enable consumers to make an informed choice about the food they purchase. Ian Jones, chairman of British Lion egg processors, said, "We hope the Commission will take the BEIC's call for mandatory labeling seriously and, once it is in place, we would then like to extend this to products containing eggs. We know consumers want to know whether the
eggs
in food products, such as quiche and egg sandwiches, are British and this will be the first stage to making this happen," he said.
Consumer research indicates that traceability has become an increasing concern for the public following last year's hose meat scandal. Leading supermarkets had to remove products from shelves when it was found that convenience foods labeled with beef ingredients contained horse meat that had been transported the length and breadth of Europe. The scandal led to assurances of tougher controls and promises that supermarkets would look to source their food locally from assured British suppliers. The BEIC, which has previously expressed concern that illegal cage
eggs
could find their way into the United Kingdom as unlabeled egg product, wants the EU to take action.
"With the anniversary of the horse meat scandal in January, consumers have never been more interested in the provenance of the food they purchase," said Ian Jones. "We believe that mandatory labeling of production method for egg products will allow shoppers to make informed choices based on animal welfare standards and country of origin.
"Many consumers would be surprised and disappointed to find egg products produced to lower standards being trucked into the UK and used instead of British eggs. We're adding our voice to those calling for the country of origin labeling for egg products together with the method of production. It's a step in the right direction for consumers."
Last year the animal welfare group Four Paws launched a 'hidden eggs' campaign in which it claimed that British consumers could be consuming millions of cage
eggs
without knowing it. "Many compassionate consumers up and down the country now choose to buy free range eggs. But, unfortunately many of them may still be unwittingly consuming cage
eggs
in foods such as pasta, cakes and biscuits," said Angelique Davies, head of programmes at Four Paws. "It's completely unacceptable that consumers are unable to make an informed choice." She said she wanted egg in food products to be labeled in the same was as shell eggs.
Although new EU rules outlawing the use of conventional battery
eggs
came into force in January 2012, the European Commission disclosed that 13 member states failed to comply with the new laying hen directive. It subsequently said that 11 of those states had become compliant, but two countries - Italy and Greece - are being hauled before the European Court for continuing to keep hens in banned battery cages. The concern is that
eggs
from those hens could go into egg product or food products and find their way into the United Kingdom without consumers knowing it.
In a separate initiative to root out illegal eggs, the British Free Range Egg Producers' Association (BFREPA) has thrown its weight behind a new testing programme that is able to identify the origin of all eggs. Longhand Isotopes says that the test it uses enables it to identify foreign
eggs
even in food products. The test is based on the fact that isotopes in drinking
water
are different from country to country and from region to region. The
water
drunk by the hen shows up in the egg it produces and using the egg in baked products makes no difference to its identifiable characteristics.
BFREPA members are supplying Longhand with
eggs
to enable it to build a database of UK egg production. That database will enable Longhand to record the individual characteristics of
eggs
produced in different parts of the country and identify
eggs
from elsewhere with a simple test. BFREPA director of policy Robert Gooch said, "By providing the samples we will make the database more accurate and that will give British producers some reassurance that if a retailer claims the
eggs
are from Yorkshire or another part of this country they were not produced in Italy or Germany."
The call to introduce stricter labeling on egg products seeks to add another level of assurance to consumers about the food they are buying. The BEIC says that whilst country of origin and production method labeling of shell
eggs
produced in the EU has already been introduced to great effect consumers are still largely unaware of the method of egg production and country of origin of food containing egg products.
Download

No comments posted yet. Be the first to post a comment
Display name

Please enter your name

Email
(optional)
Comment

Please enter your comment

Post Comment


Your comment submitted successfully.Please wait for admin approval.

Some error on your process.Please try one more time.