Embrace GM crops campaigner tells consumers
Embrace GM crops, campaigner tells consumers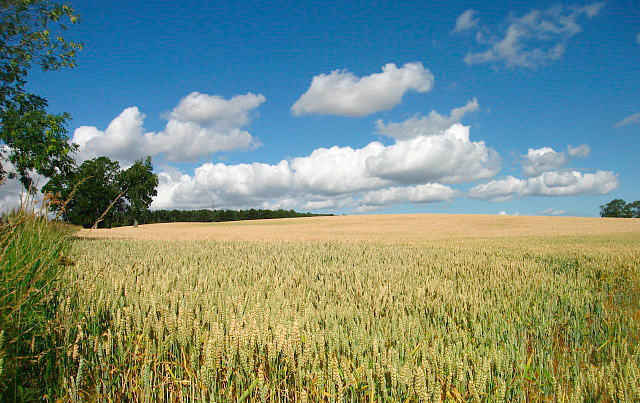 A former campaigner against genetically modified crops has called for politicians and the public to embrace GM food in order to feed the world's growing population.
Author and environmental campaigner Mark Lynas told an audience of farmers and business people that consumers and regulators need to leave behind their concerns over genetically modified organisms (GMOs).
"GM reduces use of pesticides, increases food production in developing countries and increases marine biodiversity," he told listeners at two events organised in Rutland and Woodhall Spa by chartered accountants Duncan & Toplis and agricultural consultants Brown & Co.
"There is an increasing gap between the population and level of food production," he said.
"Either half the population will die or we need to double food production.
"To achieve this we need a green revolution and we need to continue to innovate."
Environment Secretary Owen Paterson gave his support to genetically modified (GM) food production in the UK.
Paterson said GM crops, which are currently only produced small-scale and not available commercially, would have 'real environmental benefits' and dismissed criticism as 'nonsense'.
Critics of GM said Paterson's statements were 'factually inaccurate and ignores the UK Government's own data from feed trials that showed GM crops harm wildlife'.
"Mr Paterson seems to be formulating policy from an evidence base provided by the agri-biotech industry and ignoring the Government's own data showing GM harms wildlife" said Pete Riley of GM Freeze.
"He needs to consult more widely with people who understand the evidence."
But Mark Lynas added: "People are against GM because they don't understand the benefits. They want their food to be natural, and they don't understand that not spraying it is better for you."
Mark Lynas is the author of several books on the environment and a frequent speaker around the world on climate change, biotechnology and nuclear power.
A Visiting Fellow at Cornell University and a Visiting Research Associate at Oxford University's School of Geography and the Environment, he caused controversy in January when he apologised to the Oxford Farming Conference for his years of campaigning against GM crops.
In his address he said: "I am sorry that I helped to start the anti-GM movement back in the mid-1990s, and that I thereby assisted in demonising an important technological option which can be used to benefit the environment.
"As an environmentalist, and someone who believes that everyone in this world has a right to a healthy and nutritious diet of their choosing, I could not have chosen a more counter-productive path."
Over 200 people attended the two Harvesting Opportunities events staged yesterday at Greetham Valley Golf Club near Oakham and the Petwood Hotel in Woodhall Spa.
The sustainable intensification of agriculture is essential if Europe is to produce more food and impact less on the environment, the EU's first ever chief scientific advisor has told the NFU in an exclusive interview.
But Professor Anne Glover said Europe could only achieve sustainable intensification if we become more open-minded.
Professor Glover was previously chief scientific advisor for Scotland before she took her post as the EU's chief scientific advisor in January last year.
"What we do now will shape what happens in 2050," said Professor Glover. "We do need to improve crop yields and we need to improve wastage before harvest. Farming needs to have less chemical and
water
input. This has to be achievable and we will achieve it, but we need to be more open minded about how we achieve it."
Professor Glover referred specifically to European attitudes towards GM technology.
"If we just looked at the evidence base, we would have GM in the EU without a doubt. GM crops are subject to more scrutiny than any other type of agriculture," she said, adding: "There is no substantiated evidence that I have ever seen that GM crops are harmful to the environment, animals or people".
Professor Glover also said Europe must have a more strategic approach to pesticides which were expensive both in terms of cost to the farmer and their impact on the environment.
"We are not going to say goodbye to pesticides in the near future, but farming in 20-25 years will be quite different in terms of how we use chemicals. We need to think about resistant varieties, other types of organic planting and using agricultural management – there are genetically modified crops which would be pesticide resistant."
She cited an example in China where the growth of GM cotton had reduced pesticide use by 50 per cent.
"If society wants no pesticides in food or water, we have to think about how we deliver it," she said.
The NFU, which was part of a strong lobby that called for an EU chief scientific advisor, said Prof Glover's comments were a breath of fresh air.
Andrea Graham, the NFU chief scientific advisor said: "We have often criticised the European Union for pushing agricultural policies that are emotive and based on the precautionary principle rather than evidence-based and practical. We are encouraged by Professor Glover's common sense approach to policy making and hope the European Commission will listen to her sound advice."
Critics have highlighted the problems of herbicide intolerance, superbugs and wildlife threats. Those against the introduction of GM production say pesticide use in the US is higher than before GM.
But Paterson dismissed the criticisms. He said GM crops were already being used worldwide on a large scale and people were already eating GM food unwittingly.
"I'm very clear it would be a good thing," he said.
"So you'd discuss it within government, you'd discuss it at a European level and you'd need to persuade the public."
Download
07-02-2014 13:50 PM | Posted by: Jonathon Harrington
I do hope that all interested parties will listen and take note of what is being said here; all too often the media ignore 'news' like this but the 'Good Word' need to be spread far and wide so we can ALL take advantage of this technology.
08-02-2014 22:53 PM | Posted by: Art
Catherine Austin Fitts who worked for the Bush administration, recently referred to people in Tennessee who consumed GM since 1995 as being seriously damaged by same.My own view is that it degrades what it is to be human.Furthermore creating more food will just increase the world population and more hungry people to go with this.
09-02-2014 01:04 AM | Posted by: L Hart
Mark Lynas exhibits a staggering naivety if he thinks GM companies are interested in anything but profits. All the butter,meat and milk mountains in Europe were never distributed to the world's hungry populations so why will this be different? Look at what happened to small farmers in India & the huge increase in suicides when their livelihoods were destroyed by not being able to collect their own seed.
Display name

Please enter your name

Email
(optional)
Comment

Please enter your comment

Post Comment


Your comment submitted successfully.Please wait for admin approval.

Some error on your process.Please try one more time.