Emergency fund set up for flood stricken farmers
Emergency fund set up for flood-stricken farmers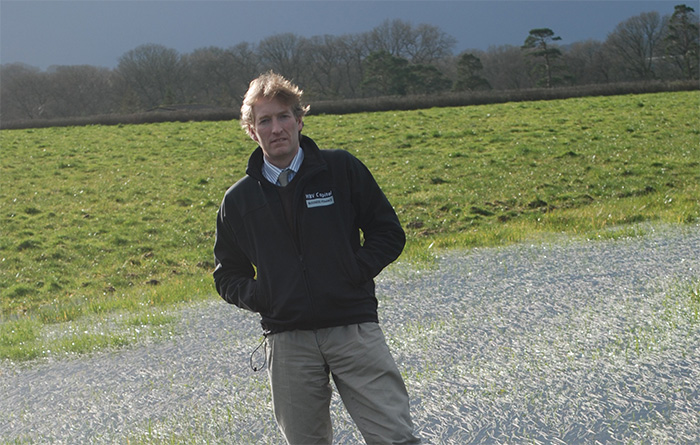 An emergency fund has been set up by Hitachi Capital to support flood stricken farmers in meeting unforeseen costs.
"The feedback from our approved brokers and vendors is that farmers are going to need financial support through this tough and challenging time," said Gavin Wraith-Carter, Head of Risk at Hitachi Capital.
"We are very aware that cash flow is king for many farmers, and we want to offer help and support to the industry in funding unforeseen capital expenditure needs."
With this in mind, Hitachi have allocated £4 million of short term funding at zero percent interest to assist farmers who need to replace or invest in equipment that may be required as a result of the flooding.
"The full cost of the interest during this period will be covered by Hitachi Capital," Gavin adds.
"In the short term we are also able to provide immediate financial assistance where cash flow issues have arisen through a number of solutions, including three month repayment holidays where required. In these situations all normal fees will be waived.
Michael Alsop, Vaderstad Managing Director - one of Hitachi's key vendors - believes that demand for support of this kind is extremely welcomed by the industry in overcoming cash flow concerns.
"With 80 per cent of all farm machinery bought on some form of finance, the burden of extra costs in dealing with the crisis situation, and latterly tackling the necessary remedial work to fields once the flood
water
subsides will inevitably create financial strain.
"It may take a full growing season for some farmers to recover from this."
Armed forces personnel have been working closely with silver and gold command operators in the local authorities, to help those whose lives have been affected by the floods.
Over 1,000 military personnel have been busy filling and distributing sandbags, as well as carrying out a variety of tasks, in 6 different locations in the Thames Valley area.
Personnel from the Royal Navy, Army and Royal Air Force continue to provide support in areas affected by floods as part of cross-government and multi-agency relief efforts. A total of 1,407 personnel are now committed to tasks with further personnel on standby to deploy as required.
The Defence Secretary, Philip Hammond, has offered the services of military personnel to assist flood relief efforts in any affected area, and the Prime Minister has made clear that money is no object when it comes to the provision of support. In order to achieve coordinated and effective assistance, military assets must be deployed in consultation with the civil authorities, which remain in the lead on relief efforts.
The flooding is causing many diverse and negative impacts, explains Robert Joy of HBV Capital, an Independent Broker and farmer based in mid Devon, who has worked with Hitachi for a number of years.
"I am seeing farmers who are – understandably - becoming increasingly negative as their confidence and attitudes are badly affected. I have clients on the Somerset levels and in the West Country who are under extreme stress from the pressure the floods are putting on their businesses.
"Farmers are very adaptable and resilient, but these are very challenging times."
Joy concludes, "The key advice to farmers in this situation is to adopt a proactive approach and monitor your situation to foresee any cash flow problems early, and hopefully prevent any further implications."
Members of agricultural purchasing group Anglia Farmers (AF) have donated more than £4,500 in just 24 hours to help pay for deliveries of forage to flood-hit farmers in the south west.
An appeal was issued to AF members Tuesday afternoon asking for donations towards a delivery of a load of fodder beet to Sedgemoor Livestock Market to help farmers in Somerset.
Within hours the amount needed for a single load was exceeded, and now more than £4,500 has been donated.
The donations will be used to fund up to three loads of fodder beet, one load of sugar beet pulp pellets and four loads of straw.
A number of AF members and suppliers have generously offered haulage to deliver the forage, including Jonny Wyatt of Pearn Wyatt & Son, Foulgers, Clive Sansom, Belchamp Farm Services and Mautby Farms.
A further two loads of fodder beet have also been donated by AF members Graham Shingfield, of E F Shingfield in Hingham and Mr Chapman of Chapman and Sons, Caston.
AF Biomass Limited, which is a wholly-owned subsidiary of AF, will also use its lorry to deliver straw.
Weather observers at the University of Oxford have confirmed that January 2014 was the wettest since their records began in the 1760s.
Dr Ian Ashpole, Radcliffe Meteorological Observer based in the University's School of Geography and the Environment, said: "This January has had a very high number of "very wet" days rather than a few "monster" ones. People who live in the Oxford area endured consistently wet weather all January this year, with only one rain-free day."
The CLA said it was vital the government recognised the economic importance of agricultural land if they wanted to achieve food security.
CLA President Henry Robinson said: "The Government says it values food security but we are never going to maintain it if prime areas of agricultural land are at horrendous risk of flooding.
"In the current economic climate there is a need to cut public expenditure but Defra and the Environment Agency must review their priorities if we are to maintain and improve our ability to feed ourselves.
"The Government must also make it easier for landowners to maintain those defences the Environment Agency can no longer look after.
"In some cases individual landowners are willing to take on the responsibility for defences but they become frustrated by huge amount of red tape and cost involved."
The CLA said the Government needs to look at Internal Drainage Boards which have a track record of managing flood risks efficiently and effectively.
Robinson added: "They work because they are run by people with a direct interest in preventing flooding.
"They are a perfect example of local decision-making that works and we need more of them. The Government must do all it can to encourage their creation in areas where they do not already exist."
The records show that this January was the wettest ever of any of the three winter months (December to February), beating the previous high of 143.3mm in December 1914. The most recent December and January combined total of 244.6mm of rainfall was also higher than for any other December–January period recorded by the Observatory.
In the 45 days following 18 December, more rain was recorded at the Radcliffe than for any other 45-day winter period in its history, with total rainfall at 231.3mm. This is way ahead of the next highest total of 209.4mm from 1 December 1914 to 14 January 1915, according to records of nearly 9,000 such periods.
January 2014 had 23 days with 2mm or higher rainfall in a day; 14 days with more than 5mm of rain recorded; and four days with more than 10mm of rainfall. It rained every day apart from 11 January. The five previous wettest Januarys were in 1852, with 138.7mm; 1995, with 131.4mm; 1948, with 127.3mm; 1877, with 115.1mm; and 1939, with 112.8mm of rainfall recorded.
The Radcliffe Meteorological Station at Oxford University has the longest series of temperature and rainfall records for any one site in Britain. The records are continuous from January 1815, with irregular observations of rainfall, cloud and temperature from 1767.
Download

No comments posted yet. Be the first to post a comment
Display name

Please enter your name

Email
(optional)
Comment

Please enter your comment

Post Comment


Your comment submitted successfully.Please wait for admin approval.

Some error on your process.Please try one more time.