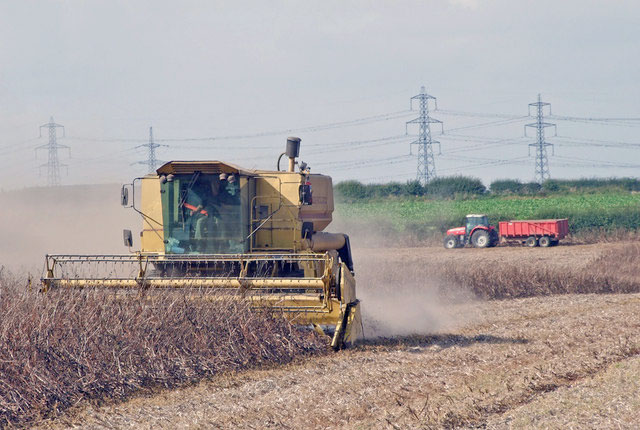 The largest ever coalition of British farming organisations has today warned the Government that English farmers could be treated unfairly under new CAP reforms.
In an open letter, the coalition, which includes the NFU, the CLA, the Tenant Farmers' Association and 24 other members, have declared unity in their call for a fair deal for English farmers.
They said farming and food production in England could be at risk if the Government treats 'English farmers unfairly in the CAP.'
The CAP is a direct form of subsidy payment for farmers in the European Union and the coalition said English farmers 'already receive payments that are lower than their major European competitors'; it said it was worried over potential further disadvantages by the way Defra chooses to implement the reforms in the UK.
"It seems to me that at a time when consumers are looking to buy more traceable British food, and retailers are looking to farmers here to supply that demand, we also need a government at home that will support our farming industry" NFU chief Peter Kendall said.
"The letter I have sent today will remind MPs of the importance of getting this reform, and its implementation here at home, absolutely right.
"I want Defra ministers to really consider the impact that the political and economic dogma we hear so often from them will have on our farming industry. We need a fair deal for English farmers, the future of our food and farming industry depends on it."
After the historic CAP vote on Wednesday in Strasbourg, several farming unions expressed their concerns over the proposals.
Meurig Raymond, Deputy President of the NFU, who met with MEPs in Strasbourg this week, said he was 'extremely disappointed' that there were not enough MEPs able to support 'the good work farmers are already doing on farms.'
"MEPs failed to support any of the amendments which would have derogated many of our grassland farmers, and all of our farmers who are already undertaking agri-environment commitments, from having to do further greening requirements" he said.
The Country Land and Business Association, which is a part of the coalition, also expressed their 'frustration'.
"We are frustrated by Parliament reversing the progress made on what's known as 'equivalence' in greening. We believe English agri-environment schemes provide at least as much benefit as the Commission's three mandatory proposals, so it seems short-sighted not to include them" said CLA Deputy President Henry Robinson.
The NFU has written to MPs in rural England laying out the concerns of the coalition.
Their call to arms is simple. It asks for MPs to raise concerns with Defra and government ministers based on two threats from our own government which would disadvantage farmers here compared to those in Europe:
More costly and demanding forms of "greening" for English farmers than will be required from farmers in the rest of Europe.
And increased rates of "voluntary modulation" (moving money from direct payments for farmers to rural development schemes).
"CAP reform has never been about the money for us," said Kendall.
"It's about fairness and making sure English farmers are not disadvantaged by our own Government.
"David Cameron said at our conference in 2008 that: 'We need to create a level playing field with foreign competitors when it comes to regulation. Our government often imposes far more onerous standards on British agriculture than exist elsewhere in the EU. These can have perverse consequences. Instead of driving standards up, they just drive farmers out of business'.
"What we need is for this Government to deliver on that. What we don't need is convenient amnesia on what was promised when Mr Cameron was in opposition."
The CLA will raise its concerns with Environment Secretary Owen Paterson, the UK's representative on the Agriculture Council, as the process enters its next stage with the European Parliament and the Council trying to reconcile their positions on CAP reform.
MEPs agreed that 30% of national budgets for direct payments should be made conditional upon compliance with mandatory greening measures, but they stressed that these measures must be made more flexible and gradual.
The three key measures - crop diversification, maintaining permanent pasture and grassland and creating "ecologically-focused areas", would remain but with certain exceptions, e.g. to reflect the size of the farm.
"We are somewhat relieved to see the Commission's ludicrous proposal to set-aside seven per cent of land for 'Ecological Focus Areas' slashed to three per cent by MEPs and that farm level restrictions on ploughing of permanent grassland will not be brought in, in the first instance" Raymond said.
MEPs also supported extending coupled aid to a maximum of 15 per cent of the member state envelope.
"We are deeply disappointed that MEPs have taken a step back in time by supporting increased amounts of coupled support which will lead to market distortions and reduces the industry's market orientation."
MEPs said they wanted the levels of payments to farmers to be 'rebalanced among member states slightly faster than originally proposed' by the Commission.
Parliament agreed that member states with direct payments per hectare below 70% of the EU average (down from the Commission proposal of 90%) should see the shortfall reduced by 30%.
In member states with direct payments amounting to 70% - 80% of the EU average, the shortfall should be reduced by 25% and in those with over 80% of the EU average, by 10%.
This measure should ensure that farmers in no member state receive less than 55% of the EU average in 2014 and 75% in 2019.
By contrast, to achieve greater consistency and convergence of direct payment rates within member states, Parliament slightly relaxed the rules to balance payments among farmers within any given one.
As of 2019, payments received by all farmers in any given member state are to be based on a uniform unit value, as proposed by the Commission, but could nonetheless in some cases deviate from the average by up to 20% so as to avoid sudden sharp falls in support, said MEPs.
Comments
No comments posted yet. Be the first to post a comment