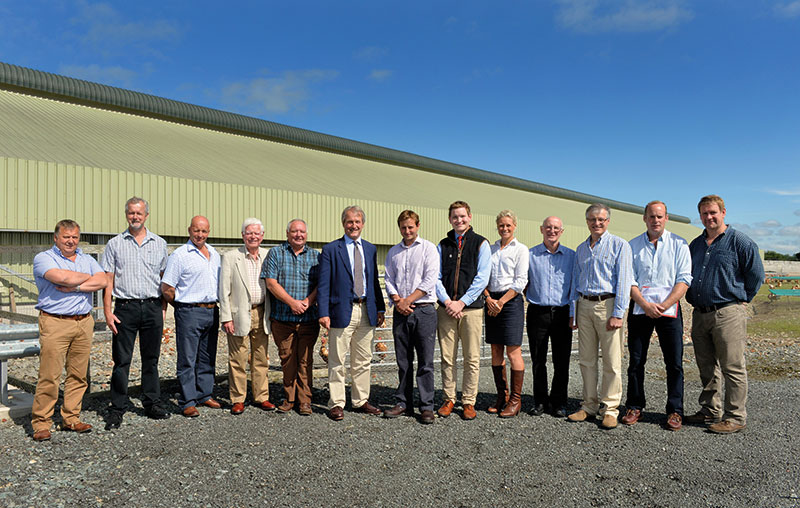 Pictured (Left To Right): Charlie Stephenson, Derek Neville, David Mills, Aled Griffiths, John Woollam, Owen Paterson, Alex Woollam, Chris Dickinson, Helen Cork, Charlie Kerr, Duncan Priestner, Myles Thomas, Simon Powell
Members of the British Free Range Egg Producers' Association (BFREPA) say they were encouraged by the reception they received from Environment Secretary Owen Paterson during a recent meeting about the proposed ban on the use of beak trimming.
The issue was raised with the Environment Secretary during a visit he made to the farm of free range egg producer, and BFREPA member, Alex Woollam in Oswestry, Shropshire. Alex, one of Owen Paterson's constituents, had written to the MP to voice his concerns about the potential impact on his business if the ban went ahead as planned in 2016 and Owen Paterson subsequently agreed to a farm visit to discuss the issue. The meeting took place during August and was attended by a number of BFREPA members.
Alex told the Ranger afterwards that he felt the meeting had gone "really well." He said he thought Owen Paterson clearly understood farming and he listened carefully to the issues raised by him and other egg producers during the meeting. "I think we succeeded in doing what we hoped to achieve when the meeting was arranged."
Another BFREPA member who was there was Myles Thomas, the vice chairman of the association, who also expressed his encouragement at the way the Secretary of State responded to producers' concerns. "He was very receptive to what we said. This is a massive issue for free range egg producers and I think we all came away from the meeting feeling very positive. The Environment Secretary told us that it was an issue that even David Cameron was aware of because of similar concerns raised by one of the Prime Minister's constituents," said Myles, who said that egg producers should continue contacting their local MPs to ensure beak trimming remained on the political agenda.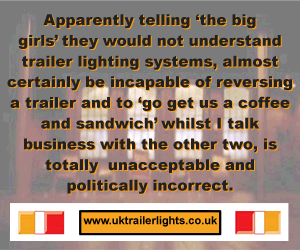 A beak trimming ban was originally due to come into force at the beginning of 2011. It was put off on the advice of the Farm Animal Welfare Council (FAWC) because of the council's concerns about feather pecking and cannibalism, although the Government did insist that the industry use only infrared beak trimming in future. However, the Government has warned that the position will be reviewed in 2015 and it intends that the ban should be introduced in 2016, even though there are serious concerns about birds suffering injuries from pecking if the ban does go ahead.
Trials are currently being undertaken to establish ways of successfully managing hens without trimming their beaks. Those trials are being run by Professor Christine Nicol and her team at the University of Bristol, but BFREPA does not believe the study will have sufficient time to observe multiple flocks on the same site, and it says that flock sizes involved in the trial are too small to be representative of current commercial flocks in the United Kingdom.
"There is no way that these trials are representative," said Myles. "They are not going to be long enough and there are a lot of small flocks involved. And for a trial to be effective you should have two sheds side by side, each populated with the same breed of bird and using exactly the same management methods. In one shed the birds would have their beaks trimmed; in the other shed they would not." Only then would it be possible to gain a true comparison, he said.
In his letter to the Environment Secretary, Alex Woollam, who has 64,000 free range layers, said that he, too, was concerned that the Bristol study would fail to provide valid evidence about beak trimming. "It does not have enough time to observe multiple flocks on the same site, flock sizes are too small to be representative of the UK flock and there is limited replication and control comparison," he said.
He said that the tip of the beak was used by a chick to break out of the egg at birth, but in adult life it was used to express the natural trait of feather-pecking of hens kept in commercial flocks. "I fear for welfare of my birds if a ban is put in place," he said. "I urge you to delay the Government's commitment to ban beak tipping until a solution is found, such as through improvements in the behavioural traits of laying hens by the poultry genetics companies."
Also at the meeting in Shropshire was Charlie Stephenson, a member of the BFREPA council and also a member of the Beak Trimming Action Group (BTAG), a body that was established to oversee the move towards a ban on beak trimming. BTAG was established in 2002 and is comprised of representatives from industry, welfare groups, veterinarians, academics and Government. The group had originally worked towards implementation of a ban in 2011. It resumed its work following the Government's decision to postpone the ban.
At a regional BFREPA meeting in Wetherby, Yorkshire last year, Charlie said publicly that he did not think the Government's current plan for the introduction of a ban in 2016 was possible. "It's unachievable," said Charlie, who said his view was shared by others on BTAG. "There is even some support from welfare people," said Charlie. "It is not realistic. We don't want to beak trim but we do it for a reason."
The Shropshire meeting was arranged with the help of the National Farmers' Union (NFU), and NFU poultry adviser Chris Dickinson said he was pleased with the outcome of the meeting. "It was good of Owen Paterson to come to the meeting and he was prepared to listen to what we had to say and take on board our concerns," said Chris. "I think it is probably more effective when you are able to arrange a face-to-face meeting like this. Letters are probably dealt with by civil servants most of the time, so it was very good to be able to meet the Secretary of State and get our concerns across directly."
The NFU, BFREPA, and the British Egg Industry Council (BEIC) have all called on the Government to think again about introducing a beak trimming ban in 2016.
Comments
No comments posted yet. Be the first to post a comment