Eurotrack releases new high specification AG tracks for European market
Eurotrack releases new high specification AG tracks for European market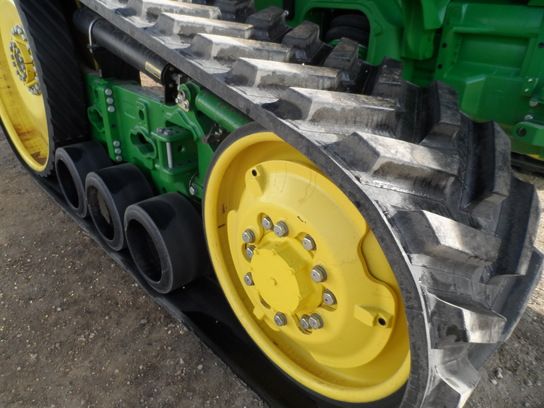 With the ever increasing pressure to get cultivations completed in a diminishing seasonal window, while protecting soil structure, larger working widths have seen tracked tractors to be the ideal prime mover of choice for overall efficiency and productivity.

Current production tracked tractors now offer higher horsepower thresholds and together with larger implements put tracks under significant stresses in demanding applications.

For further maximising track life and reducing overall running costs, Eurotrack Ltd, European distributor for Camoplast Agricultural Tracks is now releasing the new Camoplast Durabuilt 4500™ and 6500™ Friction Drive Tracks for John Deere® 8RT, 9030T and 9RT tractors.

Both Camoplast Durabuilt 4500™ General Ag Tracks and Durabuilt 6500™ Premium Heavy-Duty Track options build on features of the existing Durabuilt 3500™ and Durabuilt 5500™ series offerings with improvements to track carcass construction and guide lug design, resulting in reduction of cost of operation in the most challenging applications where tread wear out is not the primary life limiting factor.

Often track life is shortened once the internal track structure is exposed to the elements, these new higher specification Friction Drive Tracks feature Trackshield™, a puncture resistant material within the carcass which reduces damage by preventing debris and moisture from reaching the internal track structure, therefore improving life in many operational conditions with lower overall operating costs.

Trackshield™ on Durabuilt 4500™ and Durabuilt 6500™ provides a 20% and 45% improvement respectively over the previous versions.

A new guide lug design is also featured on both new offerings for reduced corner lifting and improved tear resistance of the guide lug during heavy side load applications, improving overall track life in certain operations.

Durabuilt tracks have always been providing the best overall operating costs.

The new 4500 and 6500 Series tracks improves on that promise with up to a 10% reduction in overall cost of operation can be expected.

For Challenger® MT700 / MT800 owners also wanting to further maximise track life, these new 4500 and 6500 product lines are additional options which can now be pre-ordered from Eurotrack. Existing Durabuilt 3500™ and 5500™ tracks for these tractors remain available until further notice.

For more information on the new Camoplast Durabuilt 4500™ and 6500™ Friction Drive Tracks please contact Eurotrack Ltd on Tel: 01263 711474, sales@eurotrackltd.com.

Download

No comments posted yet. Be the first to post a comment
Display name

Please enter your name

Email
(optional)
Comment

Please enter your comment

Post Comment


Your comment submitted successfully.Please wait for admin approval.

Some error on your process.Please try one more time.