Excessive HS2 land grabbing is 'ruining businesses', say farm groups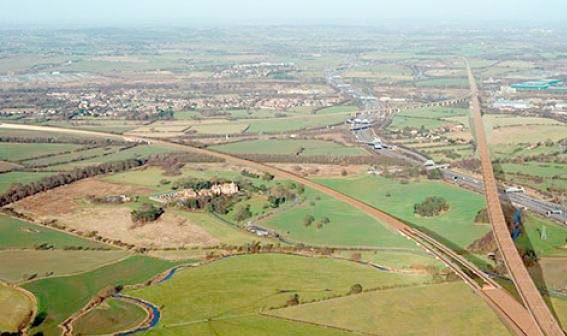 Farm groups have called on MPs to properly consider the effects of HS2 land grabbing which they say is 'devastating businesses' along the route.The Country Land and Business Association's message came ahead of a key vote taking place on Monday after the second reading of the Hybrid Bill. The vote is expected to crystalise the scheme.CLA President Henry Robinson said: "It is crunch time for MPs to raise concerns over the sheer amount of land that will be taken in the name of the High Speed rail scheme."HS2 Ltd has demonstrated a total lack of interest in the plight of landowners and businesses. Many along the route are still waiting to see if their businesses will survive."A huge amount of land is being compulsory purchased purely for environmental mitigation, yet HS2 Ltd has given an inadequate explanation of how this will ever be delivered."Had landowners been consulted, more natural locations could have been found. This would be far more environmentally beneficial than taking often the most productive agricultural land next to the railway line and attempting to create good habitats in inappropriate locations."The CLA said fair compensation backed by a Property Bond Scheme would provide efficient delivery of the scheme while properly mitigating the impact for those affected.CLA Chief Surveyor Andrew Shirley said: "Parliament needs to look hard at the way compulsory purchase treats those who lose land, businesses and property. Reasonable solutions need to be found to better address the heartache felt by so many. "It is extremely difficult to see your business ruined at the hand of an unsympathetic acquirer using antiquated compulsory purchase powers which give you no say."The NFU said it was increasingly concerned over the lack of time available to consult on how HS2 might have an impact of farmers' businesses, their ability to make allowances for the effects on habitat – such as tree planting and grass meadows -especially given there is still no clear indication as to where the route would pass between Birmingham and Crewe.Dr Andrew Clark, NFU head of policy services, said: "We recognise the importance of investing in the nation's infrastructure to ensure better communication and transfer of goods and services. However, we are worried over a distinct lack of engagement with the farming community which will be directly affected by the proposed route as well as the Government's refusal to consider prompt and adequate compensation for farming livelihoods damaged by this national project. HS2 really needs to do more to ensure all farmers and landowners are contacted and properly informed so they fully appreciate the impact on their businesses. We also know from our experience under Phase One that it is only since the publication of the Environmental Statement consultation that they have actually become fully aware of exactly how much land is likely to be taken from their holdings."The NFU is pleased to see that Sir David has stated that he has rejected any thoughts that the project should cut back on planned mitigation measures whether noise or environmental. These are vital for landowners and farmers. They will help reduce the impacts on hundreds of farming businesses and may help remaining businesses to continue during the disruption of the construction phase."Sir David also said that he is fully supporting the Government's approach to property compensation. We have already said that we'd like to see the compensation schemes that have been consulted on brought in as soon as possible so that people suffering from blight can gain from the benefits of the different schemes."The NFU also backs Sir David's call for greater connectivity. We have stated our support for the project to be integrated into the existing rail network if rural communities, which will be drastically affected by the construction, are to see any benefit from HS2."NFU President Meurig Raymond said the NFU continues to call on ministers to ensure the business case for HS2 is clarified given its impact on farms and the countryside. "We are aware from the Environmental Statement published last autumn that there are 213 agricultural holdings directly affected by HS2 Ltd developments along the proposed route from London to the West Midlands" he said. "These agricultural holdings vary hugely in size and type but are united by the uncertainty HS2 has created for the individuals and those businesses involved. "We recognise the importance of investing in the nation's transport infrastructure. However it is vital that farm businesses are treated fairly with enhanced compensation paid promptly to redress the damage done to those along the line. And we need far greater clarity from HS2 Ltd regarding the economic gains of the promised enhanced connectivity, particularly for rural communities, if our members are going to see any benefit from the building of HS2 Phase 1."We are getting to a crucial stage in this process now but there are still many grey areas. HS2 presents an unacceptable treble hit for farmers. Firstly, essential farmland is already being lost to the HS2 line; secondly, larger areas which have been highlighted for habitat creation and tree planting will take valuable food-producing land out of production; and thirdly, far more new habitat is being imposed than is being lost on a questionable 'bigger is better' principle. It is absolutely essential that government finds a balance between what is best for nature and what is best for agriculture."It is also essential, once the construction of the line has been completed, farm businesses are left in a strong, viable condition where land can still be farmed productively. Land severance must be kept to an absolute minimum and where it is unavoidable HS2 Ltd must ensure farmers have access to appropriate infrastructure such as drainage systems,
water
supply, bridges and underpasses enabling their businesses to function."HS2 Ltd also needs to do more to make sure all farmers have been contacted and properly informed so they fully appreciate the impact on their businesses. We continue to question the public investments in HS2; it should offer a positive return for all concerned," said Mr Raymond.
Download

Trending Now
Viewed
Discussed