Exhibitors hail successful show as visitors defy weather
Exhibitors hail successful show as visitors defy weather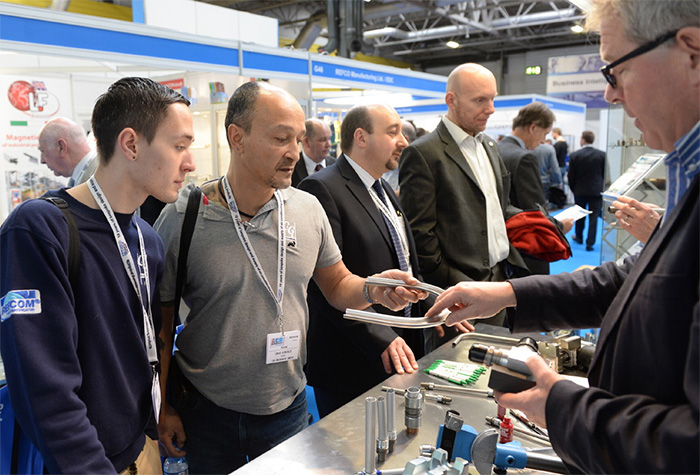 Despite extreme weather conditions affecting many parts of the country, the ACR Show 2014 proved to be a resounding success.

Final visitor numbers are currently subject to ABC audit, however the organisers report a strong attendance throughout the show's three days - even on the final day, traditionally the quietest.

Jan Thorpe, event director, said: "Despite atrocious travelling conditions, visitors were undaunted. There were packed aisles, stands and seminar theatres throughout the three days of the exhibition."

She added: "We are delighted at the positive response of exhibitors, which confirms the show's continued success. I would like to thank the industry, its organisations and end users for their support. We look forward to building on this success for the ACR Show 2016, which returns to the NEC in two years' time, on February 16 to 18."

The buzz at the show was heightened by the high profile seminar programme, featuring packed sessions led by industry experts. Particularly well attended were presentations on the recent changes to the F-Gas Regulations, The Greening of the Supermarkets, and updates on the latest advances in cooling and heat pump technology.

Headline sponsor Daikin UK used the show as the launch-pad for the latest generation of its ground-breaking air conditioning system, VRV IV Heat recovery.

It contributed to unprecedented interest from the industry's trade press. In addition to attendance of representatives from all key UK publications and web sites, editors from more than 20 overseas publications visited the show.

Giulia Draycott, Daikin UK marketing manager, said: "The show provided an excellent platform for us to launch VRV IV heat recovery. Our stand has been busy throughout, particularly on the middle day but, pleasingly, also on the third day. The show has delivered what we wanted to achieve."

Exhibitors praised the quality and buying power of visitors. Ted Berry, managing director of Gallant Air Conditioning, said: "The exhibition has been a great success for us. We have received solid enquiries, and the quality of visitors has been excellent."

In the refrigeration sector, keen visitor interest was reported in the latest high efficiency cabinets. Paul Anderson of Gram Commercial said: "It has been a great show. We have had interesting and exciting conversations that simply wouldn't have happened if we hadn't exhibited. The interest in our forthcoming launch of the Generation Five cabinets has been fantastic."

For some, the strong representation of hands-on engineers was key. John Pritchard of Johnson Controls said: "Our focus is on contractors and service companies, and we have seen some extremely good people ? and plenty of them. Our stand has been busy throughout."

With changes to F-Gas Regulations on the way, refrigerant suppliers were well-placed to brief visitors on the coming changes. Faye Maddocks, customer services manager at refrigerant specialist A-Gas, said: "The show provided a great opportunity to meet customers and suppliers. A number of major end users visited us, particularly the UK supermarkets, and it has been very valuable. We particularly appreciate the tie-up with the awards, which gives a further great reason for people to attend."

For first-time exhibitor, controls specialist Heber, the show opened up a new set of opportunities: "It has been extremely worthwhile for us," said Simon Rose, Heber's business development manager. "The quality of people has been first class. We have been able to demonstrate our remote diagnostic systems in action, and people have been quick to see the possibilities it opens up for the newly emerging field of smart servicing."

The theme was echoed by another first-time exhibitor, Strongduct. The company's Mick Dalgarno said: "It was a big act of faith for us in taking the decision to exhibit. However, we have been knocked out by the response of visitors. The quality and quantity of enquiries we have received have been superb. We have a stack of leads to follow up and are confident they will result in new business."

The quality of visitors was proven beyond doubt, according to Andy Green of condensate pump specialist Blue Diamond. "It has been a good, buzzy, productive show. I really can't fault the quality of visitors. Every lead has been excellent. We are very pleased indeed with the result."

The show delivered both hands-on practitioners and senior buyers. Steve Davies of JAVAC said. "It has been excellent for us. We have seen the top management from the wholesalers on our stand, plus our engineer customers. We actually sold five large automotive recovery machines on the first day of the show."

There was equally strong interest among visitors in consultancy and training. Mike Creamer, managing director of Business Edge, said: "It has been an exceptional show for us. We have actually been taking orders on our stand and relaying them back to the office. We have also had discussions that could lead to a major consultancy project in an exciting new area. The level of interest has been simply tremendous."

With the long term phase-down of HFC refrigerants now confirmed, the focus in the trade and among end users is falling on alternative technologies.

Richard Saunders, commercial director of GEA Heat Exchangers, said: "We have had great interest in our new CO2 technology, developed following joint research with Brunel University. Following publication of the F-Gas proposals we now have the clarity people need, and it clears the way for major investment decisions on new systems for the future."

He added: "The show has been extremely positive for us, with a good flow of high quality visitors throughout the three days ? including the last day, which was a very pleasant surprise."

Download

No comments posted yet. Be the first to post a comment
Display name

Please enter your name

Email
(optional)
Comment

Please enter your comment

Post Comment


Your comment submitted successfully.Please wait for admin approval.

Some error on your process.Please try one more time.