Farmers were advised today to check if they need a certificate of professional competence to drive heavy goods vehicles (HGVs) following new advice from the Driving Standards Agency (DSA).
Farmers' Union of Wales policy officer Andrew Gurney said it appears advice previously provided by the DSA, that farmers may be exempt, has now changed.
"The DSA's current advice is that any driving activity using a HGV (a vehicle which requires a C1/C1+E or C/C+E driving license category) that directly or indirectly results in a profit being made will mean the driver needs to obtain, and hold, a Driver Certificate of Professional Competence (CPC) before the deadline of 10th September 2014.
"Whilst there isn't any case law in respect of Driver CPC, the DSA have provided a number of examples on their website - https://www.gov.uk/driver-cpc-exemptions-examples - which outlines when they believe drivers will need to hold a CPC.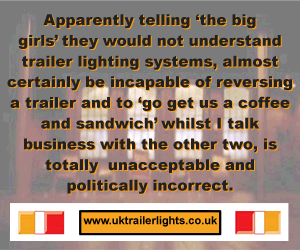 "The DSA also believes that these are the lines that would be adopted by the courts should a case be brought before them for not holding a CPC when one should have been held."
Relevant examples on the DSA website of the need to hold a CPC that principally apply to the farming sector are:
? Driver E
Driver E is a farmer. On an average of once a month, he transports some of his livestock to a local cattle market for auction. He needs to have Driver CPC when doing this, as he is not carrying materials or equipment for his use in the course of his work - he is carrying cattle intended for sale.
? Driver F
Driver F is a farmer. Twice a month he drives a lorry on public roads around his farm, repairing fences. The vehicle carries the tools and materials he needs to make these repairs. He doesn't need to have Driver CPC because he is carrying materials to be used in the course of repairing fences.
? Driver H
Driver H is a farm labourer. His normal duties include transporting livestock and crops around the farm in a lorry. He needs to have Driver CPC when driving on public roads while doing this as he is carrying goods intended for sale, as opposed to materials or equipment.
Farming Connect has confirmed that farmers are able to undertake the CPC training through the Skills Development Programme, therefore farmers can receive 80 per cent funding.
"Farming Connect have a number of approved training providers across Wales but farmers are reminded that they must receive funding approval in advance of attending a training course."
Comments
No comments posted yet. Be the first to post a comment