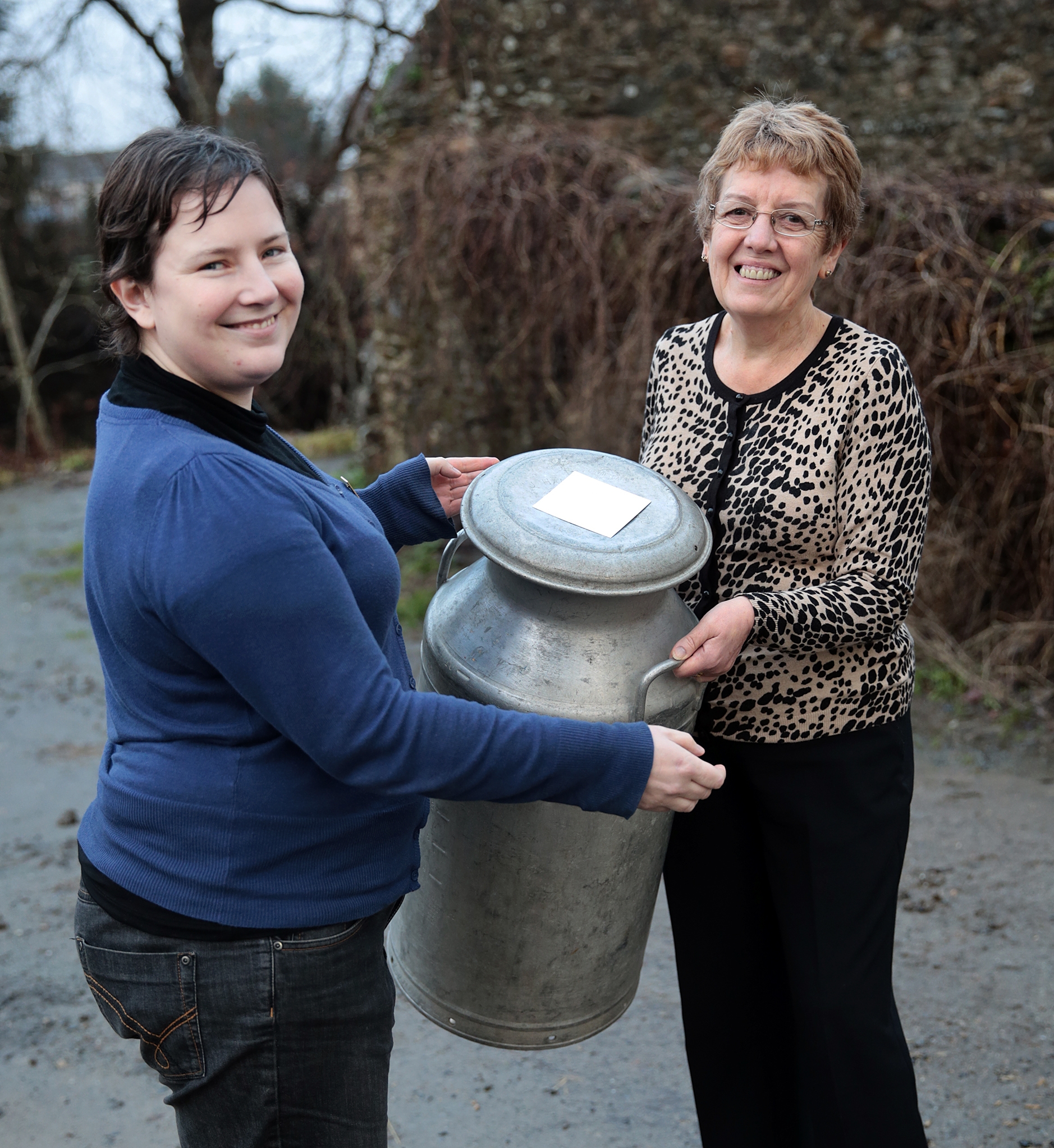 FUW Carmarthenshire county chairman Catherine Nakielny (left) presents Meinir Bartlett with her retirement milk churn present.
Loyal workers are often delighted on retirement to receive a memento of their service such as a watch or clock but Farmers' Union of Wales employee Meinir Bartlett was over the moon when members and colleagues presented her with - a traditional MMB-branded milk churn!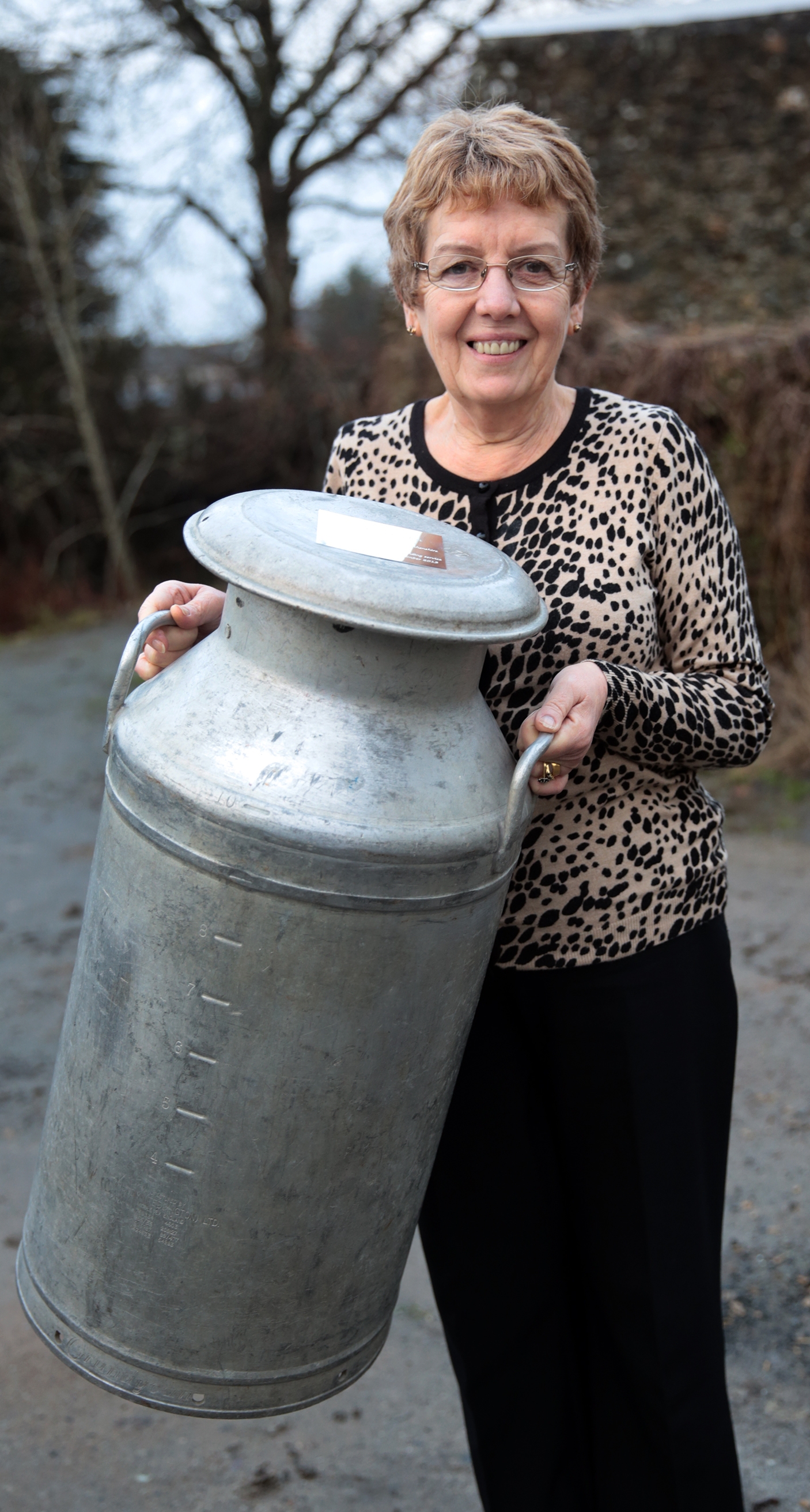 Meinir Bartlett with her milk churn.
Mrs Bartlett of Furnace, Llanelli, retires this month and colleagues bought the churn on eBay from a seller in Llandudno and paid the extra for it to be posted to the union's Carmarthen county office.
The churn will be a permanent reminder of the day she started her career in agriculture as a switchboard operator/receptionist with the then MMB (Milk Marketing Board) in Llanelli more than 40 years ago.
She has worked at the FUW's Carmarthen office for the past 17 years and recently she received this year's FUW/United Counties Agricultural & Hunters Society award for outstanding service to agriculture in Carmarthenshire.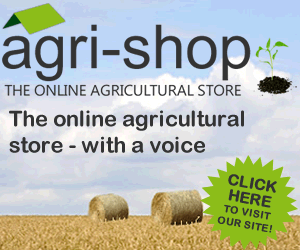 While employed by the MMB she oversaw the introduction of the automatic recording of milk litres collected from individual farms throughout South Wales.
After the MMB ceased to exist in October 1994 she worked for its successor body, Milk Marque, until October 1995 when the office in Llanelli closed.
She then worked for West Wales TEC until April 1996 when she joined the FUW as administrative assistant. She was promoted to senior administrative assistant during February 2001 and to county executive officer in November 2006.
FUW president Emyr Jones said: "Meinir has been an outstanding success in her role as county executive officer and has made a significant contribution to agriculture in Carmarthenshire. She is an excellent ambassador and spokesman for agriculture."
For many years, Mrs Bartlett has organised a number of important agricultural events in the county including the FUW/HSBC Bank plc eve of the Welsh Dairy Show function and award for outstanding service to the Welsh dairy industry.
She also organised a dinner at Parc y Scarlets, Llanelli, in 2010 which raised £2,660 for the Royal Agricultural Benevolent Institution (RABI).
Mrs Bartlett's successor as Carmarthenshire county executive officer is David Waters, past operational police sergeant based at Carmarthen, who has worked for Dyfed Powys Police for nearly 27 years.
He is from a local farming family and both his father and brother are still farming. He left farming to concentrate on a police career and still assist the family in all activities involving the farming business.
Before joining the police he worked for Dyfed County Council for five years in the highways department involved in road design and conformity with subsidised bus routes.
Comments
No comments posted yet. Be the first to post a comment