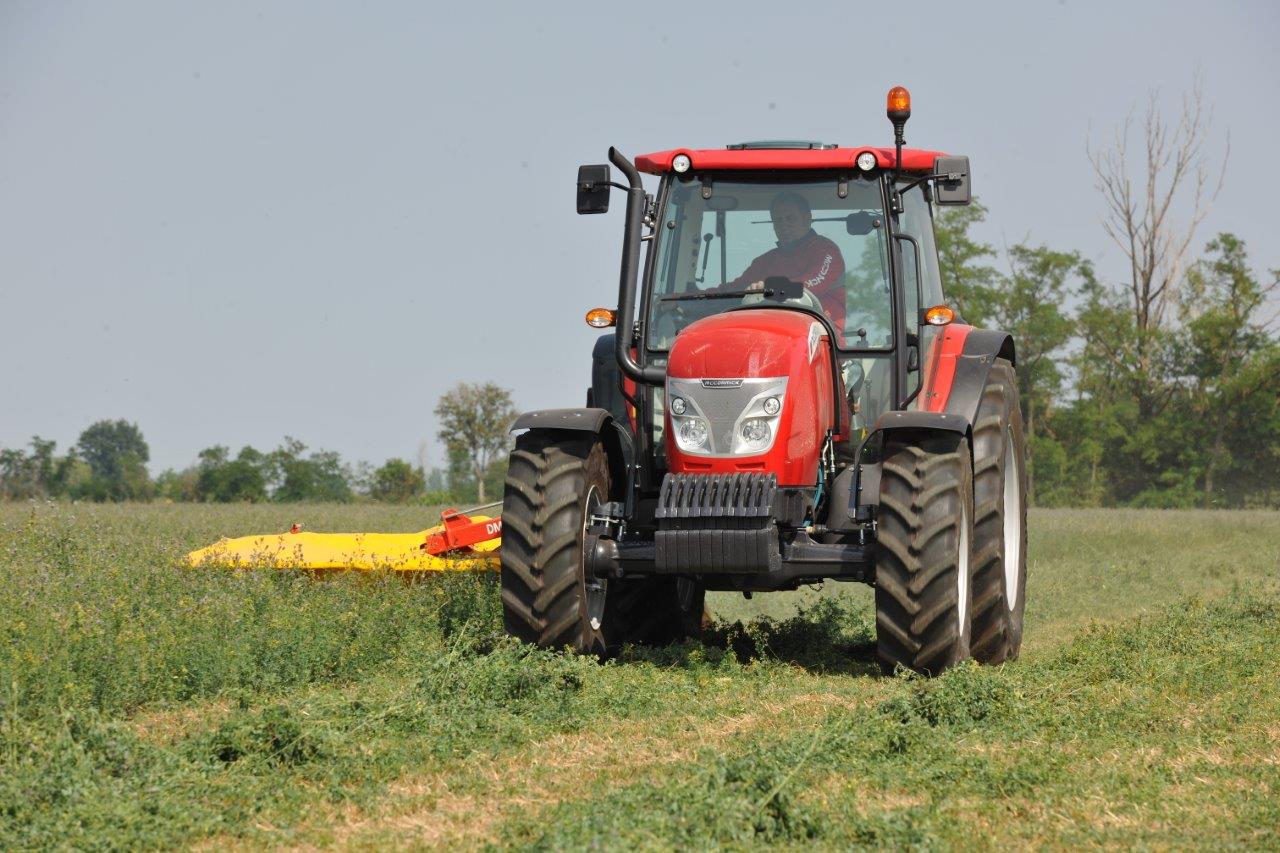 The Power Plus version of the McCormick X50.40 has engine outputs of 105hp for draft work and 113hp for pto and transport operations.
Livestock farmers in the market for a lively yard and field-work tractor will get a power bonus if they opt for the power shuttle version of the new McCormick X50 tractor.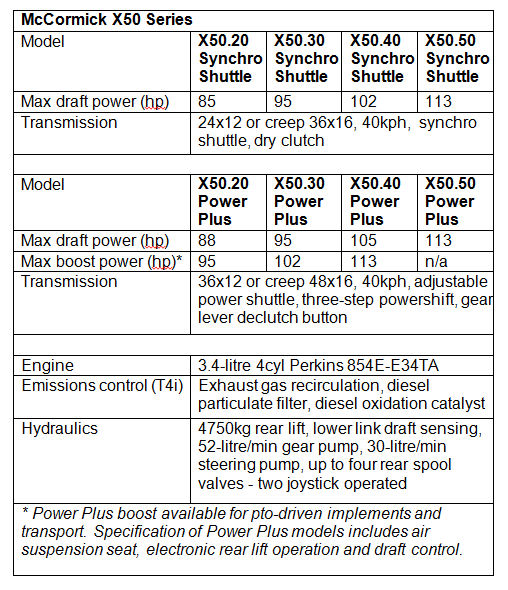 Three of the four models in the line-up spanning 85-113hp have Power Plus, an electronic engine management system that releases additional power when operating a pto-driven implement or hauling a trailer, tanker or spreader on the road.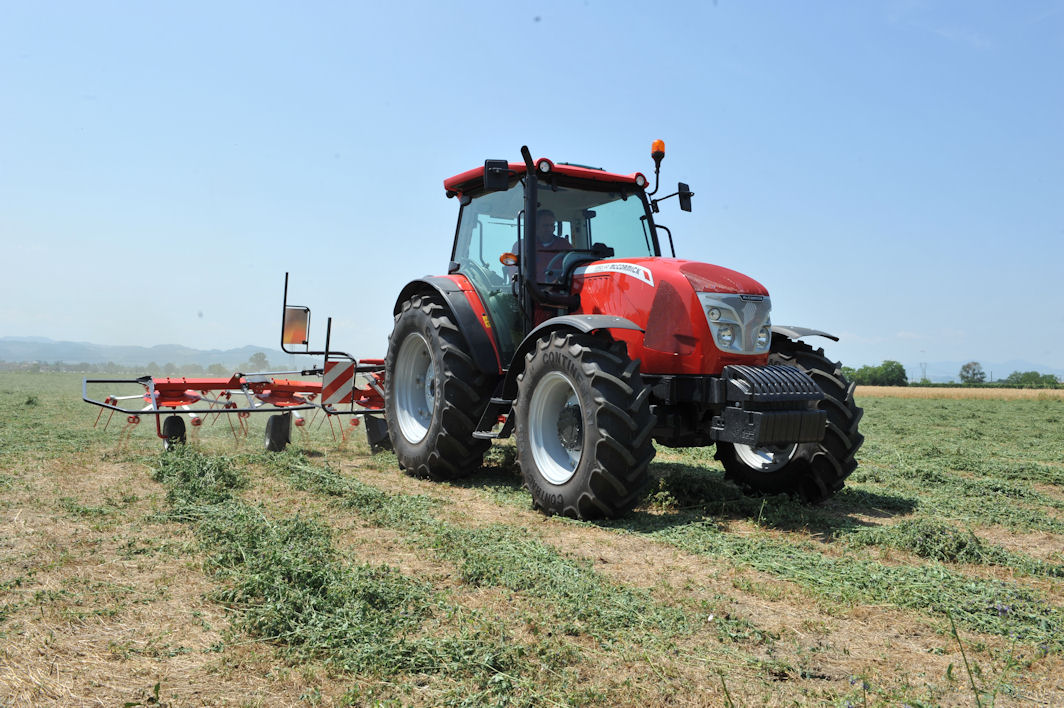 The standard transmission is 36x12 with power shuttle and three power shift steps.
"This is a unique feature on a tractor of this size," points out Paul Wade, product specialist at McCormick distributor AgriArgo UK. "A farmer wanting a 95hp tractor will get that power with the McCormick X50.30 for jobs like cultivating and ploughing; but when it comes to operating a diet feeder or towing a muck spreader, he'll have the performance of a tractor with 7% more power."
Add the increased torque, improved throttle response and better fuel economy provided by the all-new Perkins engine and the X50 Series adds up to highly attractive package underpinned by the reliability of its proven transmission.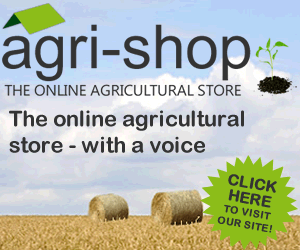 A refreshed cab interior with new instrumentation that includes a fuel consumption read-out and other useful management data adds to the appeal of the newcomer. Standard specification of the power shuttle model also includes an air suspension seat, push-back pick-up hitch, true all-wheel braking and locking front axle diff.
The X50 Series replaces the T-Max models in the McCormick line-up. Synchro shuttle versions with a 24x12 transmission, dry clutch and mechanical rear lift control have maximum power outputs of 85hp, 95hp, 102hp and 113hp.
Opting for the versatile hydraulic power shuttle transmission brings a durable wet clutch installation with gear lever-mounted declutch button, Bosch electronic rear lift and draft control, and an air seat in the cab.
With this specification, power outputs for draft work are 88hp, 95hp and 105hp for the first three models, rising to 95hp, 102hp and 113hp for pto implement and transport operations when Power Plus automatically engages. The range-topping X50.50 has 113hp on tap for all situations.
The McCormick X50 is the first tractor to use the all-new Perkins 854E-E34TA compact four-cylinder diesel engine. This 3.4-litre unit may have a smaller swept volume than the 4.4-litre Perkins 1104 series engine used in the McCormick T-Max but that certainly does not put the newcomer at a disadvantage.
"The high density power and torque output of this efficient engine makes the X50 a lively performer," says Paul Wade. "You only have to look at the torque figures for the 113hp version to see that it's more than a match for the previous engine."
With a peak output of 450Nm, the new Perkins unit has a 9% torque advantage at lower revs compared with the engine it replaces; yet Perkins engineers also report typical fuel savings of 8%.
Both advances come from improvements in combustion efficiency achieved to help meet the Euro Stage 3B / US Tier 4i emissions rules. In addition, an electronically-controlled fuel injection system with high pressure common rail distribution to the injectors provides precise metering and fine atomisation to achieve as clean a burn as possible.
The process of meeting emissions limits is completed by passing the exhaust gases through a particulate filter and oxidation catalyst contained in a single housing and installed neatly beneath the hood – another advantage of the new engine's compact size. The filter, which removes at least 90% of all 'soot' particles, is self-cleaning under normal operating cycles.
The new McCormick X50 tractors come with a flexible choice of transmissions: farmers content with a relatively simple specification can have the 24x12 synchro shuttle with optional creep gearbox. The power shuttle transmission offers a choice of 36x12 and creep 48x16 configurations, including three powershift steps for the forward gears.
"A dial next to the new instrument binnacle enables the operator to fine-tune the power shuttle and clutch pedal behaviour to suit different working situations and personal preferences," notes Paul Wade. "And unlike some designs, which confuse the operator by returning to the 'neutral' position, the X50's power shuttle lever stays in the forward or reverse positions, so the operator instinctively knows which way the tractor will go."
All transmissions can be had with two-speed (540/1000rpm) or three-speed economy (540/540E/1000rpm) power take-off, plus a ground-drive option, and with no oil loss when the six- and 21-spline stub shafts are exchanged.
The durable centre-shaft driven front axle includes a locking (not limited slip) differential engaged automatically when the rear diff lock is used. Four oil-immersed brake discs contribute to the tractor's true all-wheel braking performance and security.
Rear hydraulic lift is rated at 4750kg and an integrated front linkage and pto combination can be added. Two lever-operated spool valves are standard, with another two available – including kick-out and float/motor options – operated by a conveniently-located joystick.
"The 52-litres/min gear pump for the external services and on-board functions is supplemented by a dedicated steering pump so there is no loss of hydraulic performance when steering around buildings or at a headland," notes Paul Wade. "And the generous standard specification also includes a telescopic push-back trailer pick-up hitch."
Operators shifting up from the T-Max to the X50 will find a refreshed cab interior with a new air suspension seat on power shuttle models, re-positioned hydraulic valve levers that are easier to use, and a new, more comprehensive set of instruments mounted on the adjustable steering column.
Two large dials show core information – fuel level, coolant temperature and engine speed – while a central LCD panel displays numerous items of information, including distance, area, total fuel used and fuel consumption.
Comments
No comments posted yet. Be the first to post a comment