Farming s Ingleberry Strollers take on the London to Brighton challenge
Farming's Ingleberry Strollers take on the London to Brighton challenge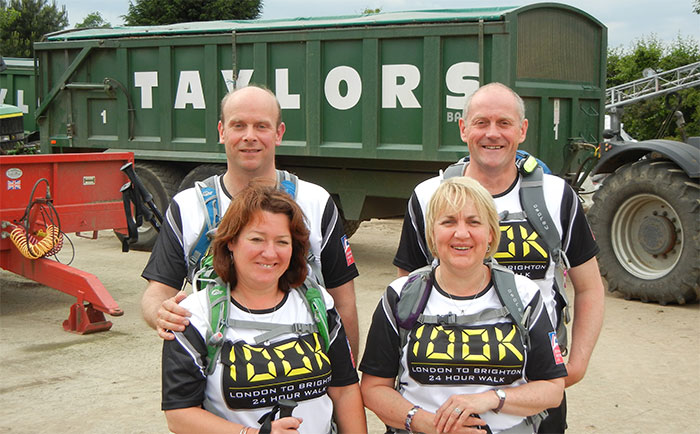 On Saturday 21 June 2014, Shaun, Adam, Tracey and Susan Taylor, who farm at Ingleberry Farm, Shepshed, Leicestershire are undertaking the 100K Challenge – walking from London to Brighton in 24 hours, in aid of Blind Veterans UK (formerly St Dunstan's).
In the centenary year of World War One, the Taylor family has chosen to take up this challenge as Shaun and Adam's grandfather, Sam Wilfred Taylor, was helped by St Dunstan's on his return from WWI, where he was wounded and left blind.
Adam Taylor explains why Blind Veterans UK (St Dunstan's) is so important to the Taylors: "Grandfather came home from the war having been wounded in April 1918 and was helped to rehabilitate and re-train by St Dunstan's. He was one of 200 men trained to be farmers by St Dunstan's and despite being totally blind, he succeeded. The charity taught him how to produce
eggs
and poultry at first, but he soon branched out into cattle and pigs and during the Second World War, bought a herd of Jerseys to produce and sell milk in the local area.
"The main thing St Dunstan's did for him, though, was to help him get his first farm tenancy, here in Shepshed and then they helped get the mortgage on the first land he bought and their invaluable support continued throughout his lifetime. Without the charity's help, our family would never have got started in farming and we wouldn't be where we are today."
Tracey Taylor adds: "We want all the support we can get to promote the work of this wonderful charity, which has such strong links to our family. If you can support us through the pain of training to walk the 100km, to give Blind Veterans some gain we would very much appreciate your sponsorship! This charity is close to our hearts as we wouldn't be farming today without the help of St Dunstan's.
"We are the third generation following Sam Wilfred into farming and taking on the 100K Challenge is an excellent way for us to give something back to the organisation which helped him rebuild his life and continues such incredible work to this day."
Adam and Shaun Taylor farm both their own land and contract farm for others in Leicestershire, Nottinghamshire and Warwickshire on just over 5,000 acres, growing wheat, barley and oilseed rape.
Download
20-06-2014 19:28 PM | Posted by: Fran Skinner
Good Luck!! Do you have a 'Just Giving' page?
20-06-2014 20:03 PM | Posted by: Fran Skinner
Following on from my good wishes for tomorrow.
Is Ingleberry Road a derivative of 'dingleberry' (sheep droppings on the wool) - as part of the Sheep heritage of the area, and Ingelberry Roiad being a 'Drovers' road (looking at it on the map). Thanks
26-06-2014 14:55 PM | Posted by: Tracey Taylor
Yes if you go to Just Giving and search for 'Ingleberry Strollers' we come up at the top of the list. Thank you

Display name

Please enter your name

Email
(optional)
Comment

Please enter your comment

Post Comment


Your comment submitted successfully.Please wait for admin approval.

Some error on your process.Please try one more time.