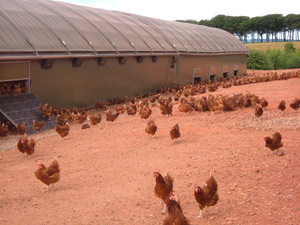 Voted Scotland's Best Small Business in 2004 Farmlay Eggs based near Strichen in Aberdeenshire have been involved in egg production, packing and marketing since 1946. Today the company, run by husband and wife team Robert and Ethel Chapman, produces and packs almost 2 million eggs a week.
Many of the eggs are sold under the Farmlay brand to local north east Scotland convenience stores although an increasing number are supplied to retail giants Morrisons, Spar and food retailer Brakes along with wholesalers throughout Scotland and Northern England. All eggs are delivered by Farmlay's own fleet of vehicles ensuring that at anyone point in time the company know exactly where a vehicle should be and drivers can advise customers of anticipated delivery times. The packing centre is in regular contact with the drivers which ensures customers are not let down but as important ensures they provide a consistent and reliable delivery service.
Although many view the success of Farmlay as a direct result of marketing expertise Robert Chapman is keen to point out that production efficiency is equally important.
" Producing top quality eggs to the highest possible standards of hygiene and bird welfare remains the core of our success," said Mr Chapman.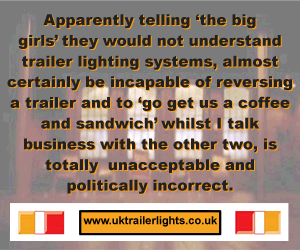 This fact was highlighted in 2004 when Farmlay were the Scottish Egg Quality Winners in 2004. In the competition samples of 60 eggs are assessed on uniformity, shell colour, internal yolk colour, albumen quality and internal facts. In addition to winning the competition FARMLAY Eggs have been highly commended by the judges on several occasions. Yet another accolade for the company was to be a finalist in the Farmers Weekly Poultry Producer of the year in 2005.
A key factor in ensuring top quality production is the correct rearing of pullets. To this end Mr Chapman rears all his own birds, some 250,000 each year. Control over rearing is seen essential to ensure that the point of lay pullet going into production has been correctly vaccinated and reared to specific breed targets. In addition to producing quality pullets rearing costs are significantly reduced.
Mr Chapman is a firm believer in naturally ventilated houses which initially are more expensive to build but have reduced running costs. However, all houses have fan ventilation fitted which is used when temperatures rise into the mid 20Cs. In addition, unlike most units, they employ a dry cleaning system at the end of each flock. This reduces the need for copious quantities of water and eliminated the potential to pollute watercourses.
The Farmlay approach has always been to examine new technology and invest in it as appropriate. To this end they were the first egg production company in Scotland to invest in enriched cages where birds are housed in colonies of 60 and have access to nesting perching and scratching areas. Mr Chapman reckons the system has major welfare benefits since the birds can display their natural instincts.
However, with the future in doubt regarding the long term future of any type of cage egg production Mr Chapman sees the future for the egg industry very much in free range.
Such is his confidence that at the time of writing the finishing touches were being made to a new 12,000 bird Big Dutchman free range unit supplied, erected and equipped by Newquip.
Continual investment has been made in packing and grading with a new packing station completed just over a year ago which includes an area where routine quality rests on eggs are made. These tests include taste, the quality of the shell in terms of thickness as well as internal quality. Tests are taken right up to sell by date which means that Farmlay know exactly what to expect in terms of egg quality for any age of egg.
Innovation in the packing centre allows specific messages to be printed on egg packs and on the eggs in addition to the Lion Logo and mandatory information. With regard to the Lion scheme Mr Chapman is a keen supporter believing the scheme has worked wonders in improving the profile of eggs to the consumer as well as ensuring production standards on farm are maintained. In addition he also supports the Scottish Egg Producers Retail Association 'Only the Shell can Tell' campaign.
Four breeds dominate the Farmlay flock Hy-Line, ISA Warren, ISABROWN and Goldline. Feed is sourced from two outlets ABN and mixed on farm by Harbro using a Harbro Tropper mobile feed mill and mixer that can mix six tonnes of feed in 25 minutes. The unit is fully computerised and produces a print out of the ingredients used and a costing at the end of each batch.
The laying flock consists of 46,000 birds on free range, 150,000 in conventional cages and 45,000 in enriched cages. Eggs supply is also contracted from a further 120,000 layers.
While bird welfare is seen as top of the agenda Mr Chapman has always taken staff welfare seriously. Flexibility with the workforce is important with working hours that suit working parents and school hours. In addition employees are encouraged to attain all the relevant qualifications and accreditations being fully supported to improve themselves through college courses and attending technical seminars. Regular staff meetings are held with an 'open door' policy to management with on site training and monthly incentive awards.
Summing up the success of the business Mr Chapman cites the fact that they offer a very personal service to their customers and maintain close links with them. All customers are visited at least once a year and encouraged to visit their premises.
Comments
No comments posted yet. Be the first to post a comment