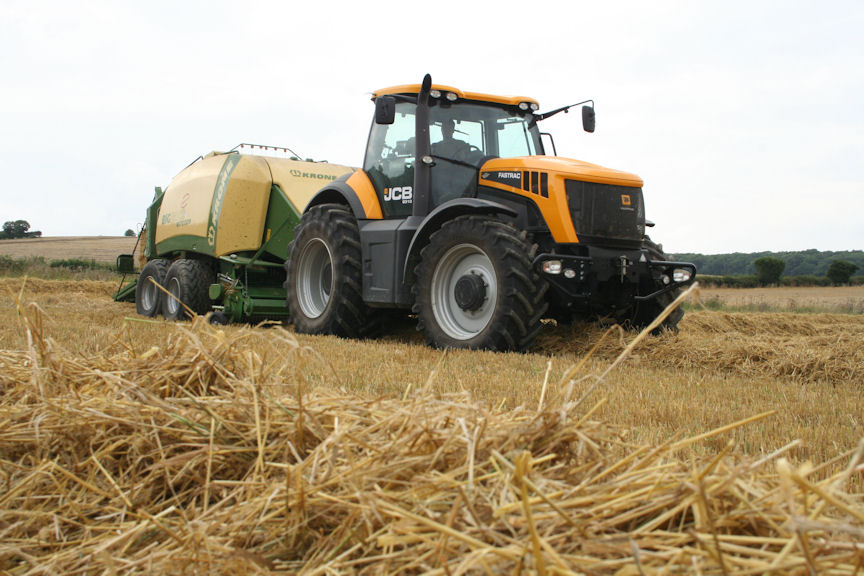 A good slug of power and torque, a CVT transmission for the ideal baling pace, unequalled ride comfort and a fast turn of speed between jobs make the JCB Fastrac 8310 an ideal contract baling tractor.
With many fields left rough and rutted after last year's appalling autumn weather, Graham Lawman has come to really appreciate the value of a tractor with all-round axle suspension.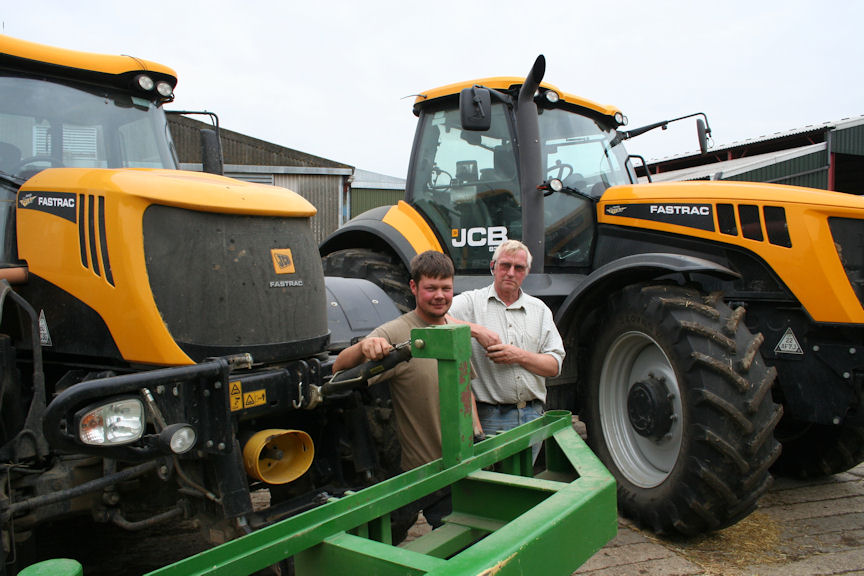 Graham Lawman and his son Andrew with their Fastrac tractors supplied by G & J Peck's Ramsey branch.
As a baling contractor and straw merchant who spends long hours in the seat at harvest, Mr Lawman says ride comfort was one of the main factors that brought his JCB Fastrac 8310 into the fleet.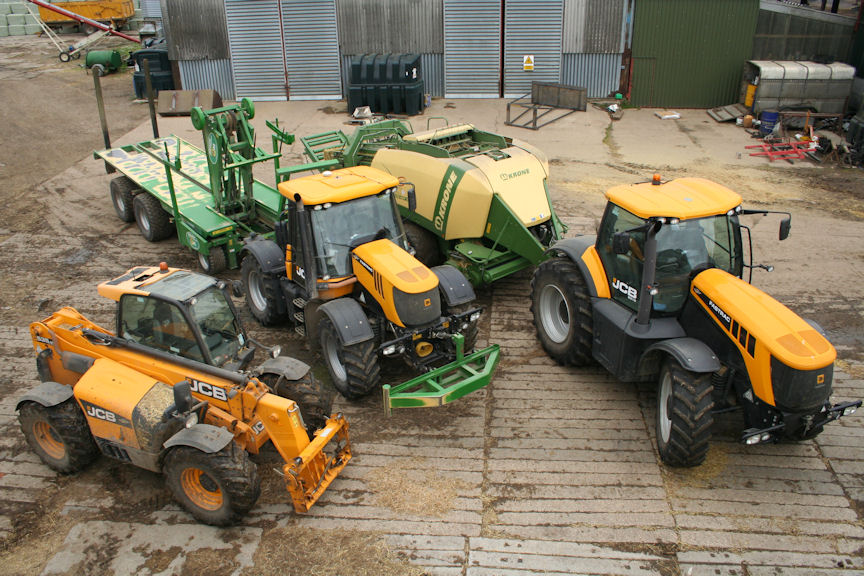 Bale crew - Fastracs for baling and chasing, Loadall for handling, stacking and loading.
"I've a bad back anyway, so anything that makes a long day more comfortable is worth a lot to me," he says. "I've really appreciated the Fastrac's ride comfort this year because fields were a lot rougher than usual after crops were muddled in last autumn."
Not that the Fastrac's comfort came as a great surprise; the benefit had already been proven by Graham Lawman's son Andrew who insisted on a Fastrac 3230 Xtra for 'chasing' bales – using a self-loading Heath Superchaser QM Extra trailer to pick-up and deposit stacks of 16 big square bales at a time.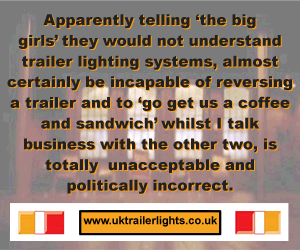 "We used to hire in ordinary tractors for the chaser work but I got fed up of being thrown about," says Andrew. "The Fastrac is so much better; it makes a real difference at the end of a long day."
Being able to press on unrestricted by the state of the field surface is a great help for both operations when there is a hefty workload and farmers understandably want to see straw removed as quickly as possible to clear the way for first cultivations.
It is efficient field operation as much as anything that has helped build a business started in the late 1970s that now involves purchasing and baling around 10,000 tonnes of straw a year. Producing 1500 tonnes of wrapped silage and haylage bales is also part of the operation, together with baling-only contracts.
"Supplying straw to the BOCM pelleting plant at Kimbolton in the mid-1970s was the basis of the straw business," Mr Lawman recalls. "We still send straw there for horse and poultry bedding and for the Drax power station, and we also supply straw bales to the Elean power station at Ely.
"But most of our straw goes west to livestock farms for bedding and feed," he adds. "That all started a bit later, in the 1980s; I bought a lorry and picked up customers in Shropshire, Staffordshire and Cheshire, then it took off from there."
Today, all this activity is centred on the 500-acre family farm at Coppingford near Huntingdon, Cambridgeshire, where much of the usual winter wheat, oilseed rape and barley cropping had to be switched into spring barley for the 2013 harvest.
"Fortunately, there's quite a good market for spring barley straw," says Mr Lawman. "Some customers prefer it, reckoning it's a bit softer than straw from winter barley."
Apart from the smaller tractors needed for the 400-head beef finishing enterprise, most of the farm's equipment fleet is geared to fast baling, clearing, stacking, loading and hauling hefty straw bales.
Heading the fleet is a pair of Krone BiG Pack 1290 HDP balers. It's the latest machine in the range and with a longer bale chamber and a heavier-duty plunger drive can produce bales that the German manufacturer claims can be up to 25% denser than from alternative machines.
"We had the first machine in the UK and then added a second because anything that packs in more material means we have fewer bales for a given tonnage," Graham Lawman points out. "We then use our undercover storage space more efficiently because we can get more straw in, and it makes road haulage more cost-effective."
Needless to say, the BiG Pack baler needs a fair bit of power; in fact, there is a hydraulic motor on the plunger drive that accelerates the 800kg flywheel before the tractor pto is engaged.
But this is just the sort of application that JCB engineers had in mind when developing the latest version of the flagship Fastrac – with 306hp and 1310Nm of torque from its 8.4-litre six-cylinder engine, the tractor certainly has plenty of grunt for the job.
Add a comfortable ride that encourages the operator to go as fast as the baler will handle and quick road travel between sites by exploiting the Fastrac's speed of up to 70kph, and it is not difficult to see the tractor's appeal to a baling contractor.
"It also has perfectly good manoeuvrability with a tight enough turning circle for what we do, and a CVT transmission that's essential for this work," Graham Lawman adds. "We want 40 flakes in each 2.4m long bale to ensure maximum density and by nudging the speed up and down a bit you can be spot on whatever the conditions."
Other jobs for the big tractor include ploughing and pulling a five-leg grassland subsoiler; it will also handle all sowing work in future if the farm upgrades to a larger drill.
The Fastrac 3230 Xtra, meanwhile, performs a key role in the silage and haylage operation by running 3m mower-conditioners front and back, with a GPS steering system added this year for automatic guidance to cut accurate bout widths with ease.
"Setting up the Headland Turn Assist sequence for the mowers is easy using the touch-screen terminal in the Fastrac's cab," says Andrew. "I don't include the gears for this job because I like to allocate different speeds to the four buttons on the face of the transmission shifter. But for lifting and lowering the front/rear hydraulics and changing engine speed, it's ideal."
The tractor's safe and secure behaviour on the road – thanks to the all-round suspension and disc brakes – comes into its own when hauling straw from field stacks to the yard or moving cattle between summer grazing or to the local abattoir.
At 500-700hrs a year, the annual workload of the two Fastrac machines is over-shadowed by the two JCB 535-95 Loadall telehandlers run by the business clocks up; they each clock up 1400hrs a year!
But in the heat of a hectic harvest, it's the way the Fastracs do their job that is important; and as far as Graham and Andrew Lawman are concerned, they cannot be beaten for speed, suspension and style.
Comments
No comments posted yet. Be the first to post a comment