Fence post failures discussed by FUW members
18 March 2013 14:58:34|
News
Fence post failures discussed by FUW members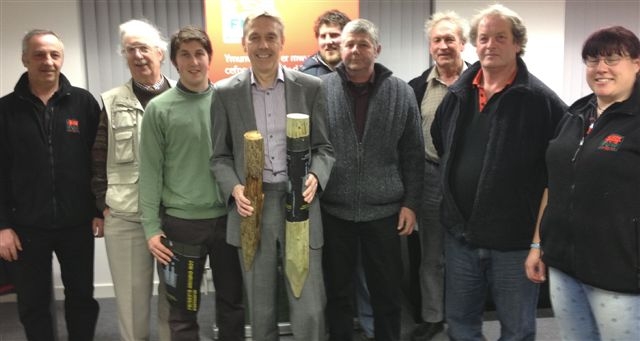 The problem of fence posts rotting was the subject of the Farmers' Union of Wales Brecon and Radnor county branch annual general meetings.
The issue, which has been constantly highlighted by members over recent years, is a costly and time consuming issue for most farmers and the guest speakers were Ian Smith, of Postsaver Europe Ltd, and Eifion Price from Llandre Sawn Wood Ltd based at Hundred House, Llandrindod Wells.
Price said: "Many farmers and landowners are unaware of the growing problem of premature fence failure associated with the ban on traditional copper, chrome and arsenic preservatives in favour of more environment-friendly options following the EU wide ban of CCA preservatives in 2004.
"These 'greener' preservatives are far less effective and mean perfectly good fences are being scrapped because timber posts have rotted through at ground level within a few years."
Price added that preservatives were improving with time since the ban in 2004. He explained that stakes need to be dried to the correct moisture content before being tanalised - white wood to 28 per cent and red wood to 38 per cent - to allow the tanalising to penetrate further into the stake.
Llandre Sawn Wood are currently upgrading their drying plant with a
biomass
generator using their own waste. The tanalising process is also remotely operated by the preservative suppliers to ensure the correct amount of chemical is in the posts.
Smith said: "Our product was designed to protect the most vulnerable part of a fence post from rotting organisms. Postsaver is a tough, double layer polythene and bituminous sleeve developed by brothers Richard and Jim George in response to changes in EU preservative legislation."
Savvy entrepreneurs Richard and Jim George, who spurned a £160,000 deal on the Dragons' Den TV series, have seen sales of their anti-rot fencing post sleeves soar by 75 per cent. The brothers, from Malvern, Worcestershire, stunned the panel of multi-millionaires on the hit BBC 2 programme when they declined four offers for a stake in their Gloucestershire-based business.
Smith said: "Postsaver's patented dual layer composite sleeves simply slide over fence posts and are easily shrunk onto the ground line section with a blow torch. They work by keeping preservatives in and the causes of decay away from the vulnerable part of the post thus dramatically extending lifespan and give substantial long term cost savings.
"They have been in production for 20 years and we've sold millions of them all over the world. Add to this 12 years of independent field tests without any material signs of decay and AWPA (American Wood Preservers Association) approval proving that Postsaver really will dramatically extend the life of your posts saving you time and money over the dramatically extended lifespan of your posts.
"Postsaver now has a working relationship with Llandre Sawn Wood to supply posts with the sleeves already applied. We were very impressed with Llandre's professional approach to timber treatment and the fact that they are putting the sleeves onto the post for virtually the same price as the sleeve itself."
Members asked about the cost of the Postsaver sleeves and Mr Price explained they added around 90 pence to a 3-4 inch post but given the extra life-span of the post and the cost of erecting a fence then it could be argued it is a very cost-effective solution.
FUW Brecon and Radnor county executive officer Aled Jones said: "Both meetings were very informative and gave members a great deal of information on the problem and possible solutions.
"Postsaver and Llandre are happy to attend similar meetings with farmers in other Welsh counties. Ian Smith, of Postsaver, can be contacted on 0791 747 5366 and Llandre on 01982 570 329."
Download

No comments posted yet. Be the first to post a comment
Display name

Please enter your name

Email (optional)
Comment

Please enter your comment

Post Comment


Your comment submitted successfully.Please wait for admin approval.

Some error on your process.Please try one more time.