Flood funding needs to recognise the value of agriculture
Flood funding 'needs to recognise the value of agriculture'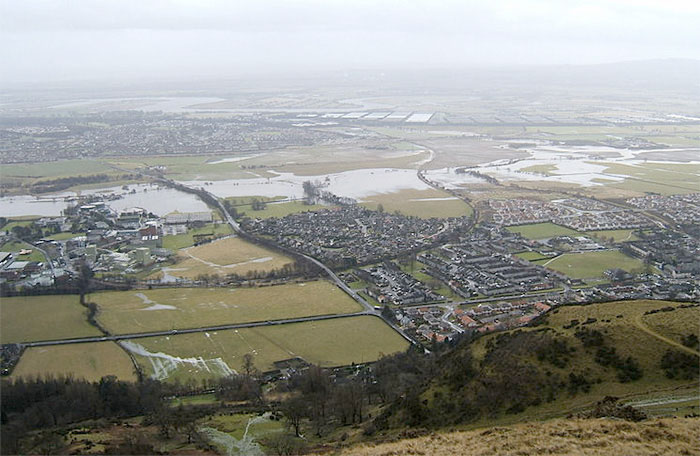 Defra has been called to act on the recommendations of the Efra Select Committee's report into this winter's flooding which severely hit farmland across England and Wales.
The report highlights the importance of watercourse and coastal defence maintenance and concerns that funding for maintenance "is at a bare minimum" and "the first thing to be cut" when budgets are tight.
NFU Deputy President Minette Batters said: "Future Government policy must ensure that farmland is prioritised in flood risk management. We are therefore pleased that the Efra Committee has called for Defra to revisit its flood funding policy to recognise the economic and social value of farming and agricultural land and ensure there is sufficient investment in maintenance work."
In a video blog produced by the NFU, mixed arable farmer John Hebditch, who farms on the Somerset Levels, said: "We understand that we need to allow some flooding on Curry Moor to protect Taunton and Wellington but that sacrifice shouldn't and needn't be long and drawn out or to the depth and extent we saw this winter. If we can accept
water
quickly onto the moor, it needs to be taken away quickly so our livelihoods and landscape aren't overly compromised. It is this balance we have lost in recent years and needs to be returned through dredging and better
water
level management."
NFU flooding adviser Ian Moodie said "There is a strong need for maintenance priorities to reflect local circumstances, and as the Efra Committee says, dredging should be part of a portfolio of measures, but not seen as the only solution. Land drainage activities must not be undervalued where they underpin local
water
level management such as in the Fens or Somerset Levels.
"To make use of the local knowledge of farmers we need Defra and the Environment Agency to reduce regulation to make it easier for farmers to de-silt main rivers if they choose to while still protecting the environment, and at the same utilise the local expertise of Internal Drainage Boards"
CLA President Henry Robinson welcomed the Winter Floods report while urging Government to take the action recommended to protect agricultural land from flooding.
Mr Robinson said: "Many farmers continue to suffer from the devastation of the winter floods, and it is critical that Defra takes action – as recommended in the report – to revisit its flood response policy and ensure that farms and the countryside are not forfeit in times of flooding.
"The report highlights that agriculture is a major industry and an important rural employer, but that the current method for allocating flood defence funding fails to recognise the value of agricultural land. This supports CLA's calls for greater recognition in flood prevention policy of agricultural land's importance for food production and for the rural economy.
"Investment in flood prevention is preferable to spending on clean up. We welcome the recommendation in the report for Government to improve resilience through regular and sustained maintenance of flood defence assets and watercourses. We are also pleased to see recognition of the importance of local knowledge and local circumstances through close co-operation between central organisations, local bodies and local people."
The report proposes that the river maintenance scheme allowing farmers and landowners in areas in England at risk of flooding to carry out work to de-silt watercourses, presently being piloted by Defra, should be rolled out nationally.
Mr Robinson continues: "Only the Environment Agency has the ability to dredge main rivers and they must do so before requiring landowners to take greater responsibility. However the recommendation in the report to streamline the system for de-silting watercourses will enable landowners to take a greater role, along with wider work to adapt land management techniques to help prevent flooding. The right support must be put in place for this greater role to be made possible."
Download

No comments posted yet. Be the first to post a comment
Display name

Please enter your name

Email
(optional)
Comment

Please enter your comment

Post Comment


Your comment submitted successfully.Please wait for admin approval.

Some error on your process.Please try one more time.