Industry must take a stepwise approach to managing untrimmed flocks
25 April 2014 11:09:51|
News
Industry must take a 'stepwise approach' to managing untrimmed flocks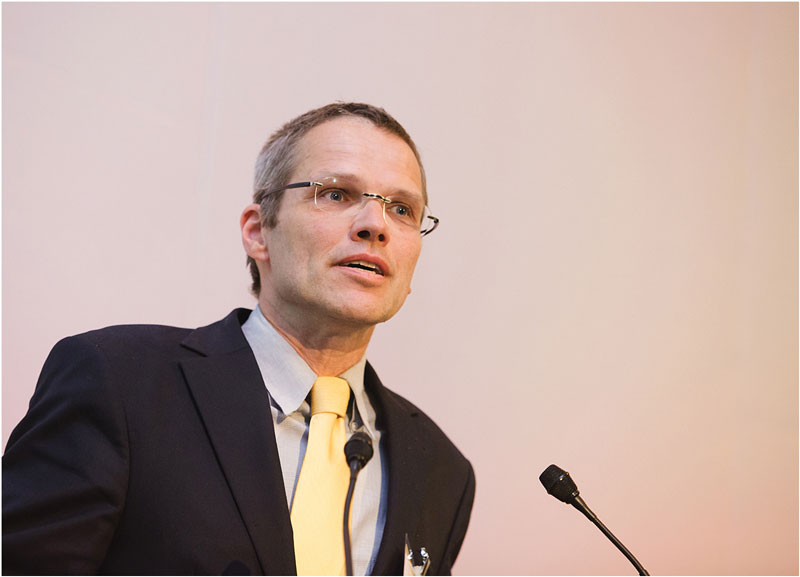 An Austrian scientist who specialises in animal husbandry says it is possible to manage commercial laying flocks without the use of beak trimming.
Dr Knut Niebuhr, an assistant professor at the Institute for Animal Husbandry and Animal Welfare at the University of Veterinary Medicine of Vienna, says that the practice of beak trimming has been successfully abandoned in his country, although he says there are still some problems with injuries amongst birds that need to be eradicated. He told delegates at the International Egg Commission (IEC) conference in Vienna that beak trimming could be ended as long as industry used a "stepwise approach" to removing its use.
The doctor said he knew that beak trimming was an issue that was raising its head in a number of countries. Here in the United Kingdom, the egg industry faces the prospect of the practice being banned in 2016 unless politicians can be persuaded that abandoning beak trimming would pose more of a threat to animal welfare than continuing with its use. The ban was originally due to come into force at the beginning of 2011 but was put off on the advice of the Farm Animal Welfare Council (FAWC) because of the council's concerns about feather pecking and cannibalism. However, the Government has warned that the position will be reviewed in 2015 and it intends that the ban should be introduced in 2016.
Dr Niebuhr told IEC delegates that although beak trimming was not forbidden by law in Austria it was in the main no longer used there because most
eggs
were sold through label schemes and those label schemes would no longer permit its use. He
said that by 2012 there were almost no beak-trimmed birds in Austria, yet he said that statistics showed that liveability was still good and laying performance matched expectations. He said there were still some problems with bird weights and with some small injuries to the birds towards the end of lay. These would need to be addressed, but he said that the experience in Austria showed that it was possible to ban beak trimming.
"Taking out beak trimming is possible if you take a stepwise approach," he said. "It is essential to set up a framework where everyone tries to work along with a common goal - producers, rearers, feed mills, veterinarians, scientists and advisers," he said. "You have to closely monitor the process because you always have to be able to intervene if necessary. But if you work together you can really optimise the process and this is really necessary to ban beak trimming."
He said that producers who abandoned beak trimming could benefit from increased economic sustainability, but he said that in order to do so they needed to receive a sufficient price for their eggs. "If your
eggs
are sold for a rubbish price you will not be able to change," he said.
Dr Niebuhr said that under the approach adopted in Austria farmers who did beak trim their birds were fined and that money was used to pay compensation to producers whose birds suffered increased mortality because of injurious pecking. He said that elaborate flock management guidelines were provided to producers and scientific monitoring was in place. However, he did concede that egg production in Austria was small scale. He displayed figures showing that the average size of a free range flock in Austria is just 1,412 birds. The average for
barn
flocks is 5,396 and for cage flocks it is 12,359.
Flock size was an issue of concern for egg industry leaders in this country when scientists at Bristol University were commissioned by the Government to carry out a study to find ways of managing commercial birds without the use of beak trimming. The British Free Range Egg Producers' Association (BFREPA) pressed for an industry compensation scheme to be set up to encourage larger commercial units to volunteer for the trials. Its creation was justified when on of the units in the trials - a 16,000-bird free range flock in East Anglia - suffered an outbreak of injurious pecking resulting in mortality of more than 20 per cent. A vet had to be called in to beak tip the remaining birds. The Ranger was told there had also been problems with a flock in Scotland, although Christine Nicol, the Bristol University professor in charge of the trials, insisted that the outbreak was confined to just one flock.
The work being conducted by Bristol University will form part of the evidence presented when a decision is taken on whether or not to press ahead with a beak trimming ban in the UK in 2016. Politicians will be advised by the Beak Trimming Action Group (BTAG) - a body comprised of representatives from industry, welfare groups, veterinarians, academics and Government.
Dr Niebuhr told IEC delegates that there were a number of factors contributing to the outbreaks of injurious pecking in laying flocks. They included genetic predisposition, feeding, the rearing system and husbandry conditions. He said that beak trimming reduced the severity of injurious pecking to a certain extent, but it did not deal with the underlying causes of the pecking. Dr Niebuhr said the industry should be looking to tackle those underlying causes.
Download

No comments posted yet. Be the first to post a comment
Display name

Please enter your name

Email (optional)
Comment

Please enter your comment

Post Comment


Your comment submitted successfully.Please wait for admin approval.

Some error on your process.Please try one more time.