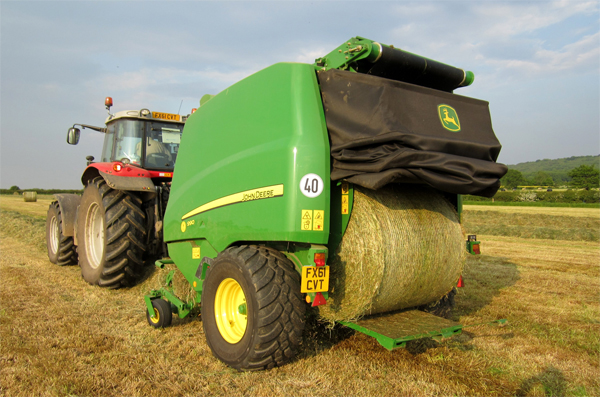 John Deere's new 900 Series round baler with Fast Release System (FRS), which can lead to savings of up to an hour a day during harvest, has had a thorough workout in UK conditions for the last three years with selected users across the country. One of these is Sharmans of Grantham customer Ernie Farren of agricultural contractor E & J Farren, who also farms locally.
Ernie bought his latest demonstration model 990 round baler, after producing over 10,000 bales in 2010 and 2011 with two pre-production development machines. He specialises in round baling, wrapping and stacking of grass and straw bales, including 2000 to 3000 silage bales a year, about two-thirds of which are wrapped using Edge to Edge netwrap. His main customers are typically suckler cow farmers, who don't need an extra man and tractor just for silage work.
As a one-man band operating in an area from Grantham to Melton and across to Bingham, Ernie has been contracting and buying John Deere round balers for 25 years. His previous employer had four 550 models, so this was the first machine he bought from Sharmans of Grantham when he started out on his own, and he's operated all the different John Deere round baler models since then.
Having experienced a few problems with his previous baler, particularly in getting the best quality bales he wanted for his customers, Ernie was offered one of the new 900 Series round balers to try out, and immediately liked it.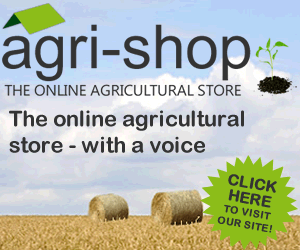 "I put my name forward for one of the early development machines for 2010, and got one of the first off the assembly line," he says.
"There's not a lot of difference in terms of the basic functions, compared to previous balers, but it is definitely quicker and easier to operate. The main benefit is that I can produce around 10 to 15 per cent more bales in the same amount of time, sometimes even up to 20 per cent.
"The pick-up's brilliant, there's a much smoother flow into the bale chamber, and the big augers on the rotor feeder are much more efficient. My current model went back to the factory and had some extra features put on at my request, including a braked axle so it's safer to operate, as I'm working on hillsides a lot of the time. I also chose the biggest tyres available, plus the Maxicut pre-chopper and automatic chain lubrication.
"I've added a CCTV camera, which I bought at the LAMMA event, and this is brilliant too – I can now see the rear of the baler clearly, using a screen fitted on top of the baler monitor in the tractor cab. Combined with the standard buzzer, this makes it that much quicker knowing when the bale has cleared the ramp. It's just a few extra seconds saved on each bale, but it really makes a difference overall.
"The baler monitor shows a diagram of the net going on, and as soon as it's done I've got my hand ready on the spool valve that opens and closes the rear curtain, so it's a very quick and easy operation. Once I can see the bale clear at the back, I then drive off and hit a lever in the cab to start up the next bale.
"Although I've operated lots of different baler makes over the years, I've generally always been very happy with John Deere balers – they're good machines. And while the local dealer service from Sharmans is very handy, I've had no mechanical issues at all with this new model.
"Having worked with it for the last two years, I knew this 990 baler was right for my business. I could take you to some of the bales I produced last year, and they've still retained their good shape. I can now get more done in a day, which means more customer satisfaction. I pride myself on doing a good job, and this baler helps me to achieve that consistently."
Comments
No comments posted yet. Be the first to post a comment