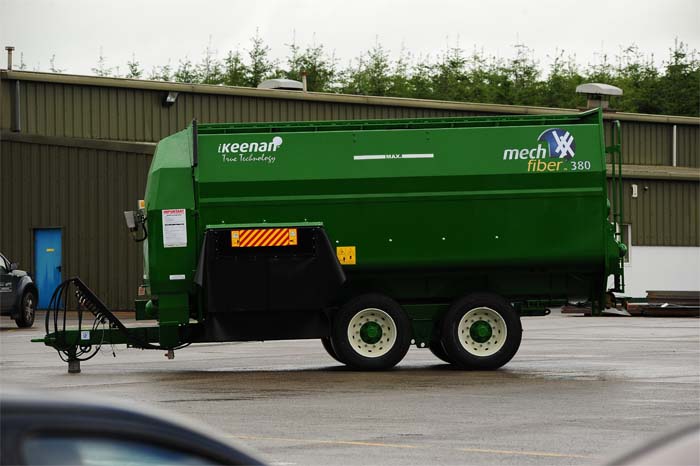 The new Keenan MF380 was developed to fill the gap between the current MF360 and MF400 models; it has a nominal rating of 24 m3 capacity and a maximum payload of 9,000Kgs to feed up to 150 dairy cows in one load so it is primarily targeted at bigger milk producers and the export market.
Overall the operation is similar to the MF400 but in a more compact design. Some differences include the use of 3 chains on 540 RPM drive and 20 litres of oil in the oil bath. The machine has all of the characteristics of the popular Mech Fiber range which have heavy duty blades fitted as standard for a long life.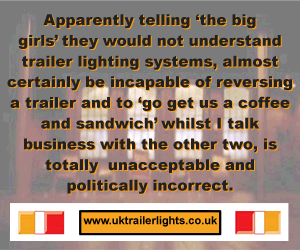 The MF range is optimised for chopping fodder beet, forage maize, grass silage, straw and a wide range of other feed ingredients to deliver a superb mix with the minimal usage of fuel and using lower HP tractors. These claims are supported by independent research reports and farm testimonials from Britain, Holland, USA etc.
According to Stephen Hennessy, Market Director for Ireland, "sales for year to date are up 20% and the export market is strong. We have more than 31,000 customers in 40 countries - France is our biggest market and China is an emerging one. About 70% of our turnover is overseas-markets include Australia, Japan, New Zealand and even Mongolia."
The chassis is similar in principle, strength and operation to the MF400, but retains a low slung design to minimise height. The axle location has also been optimised to reduce the weight on the hitch to 2.5 tonnes when fully laden. The machine uses .55. profile tyres, 385/55 R22.5, as standard to minimise height.
The body design has been optimised to carry the curve of the body around closer to the top knife. This reduces the peak power requirement and the stress on the machine. The feed out has been redesigned to minimise its effect on the overall width of the machine.
The complete oil bath for the chain drive has been retained from the MF400, but simplified for maintenance .The access to the oil bath drive line has been improved by the use of a seals oil bath, with two full depth fibreglass doors. These allow for ease of access to the complete drive line in open operation.
The body blade number, set up and location has been optimised. All blades, both standard and extra are located within the main body. The machine is manufactured with 28 blades as standard and 20 optional additional blades.
These are set up in a double herringbone arrangement and are slightly offset longitudinally to optimise chopping. The hitch uses the same 40mm deep heavy duty hitch as the MF400, but with a similar mounting arrangement to the MF300, for each of adjustment.
Comments
No comments posted yet. Be the first to post a comment