Knight to show cultivator range at Cereals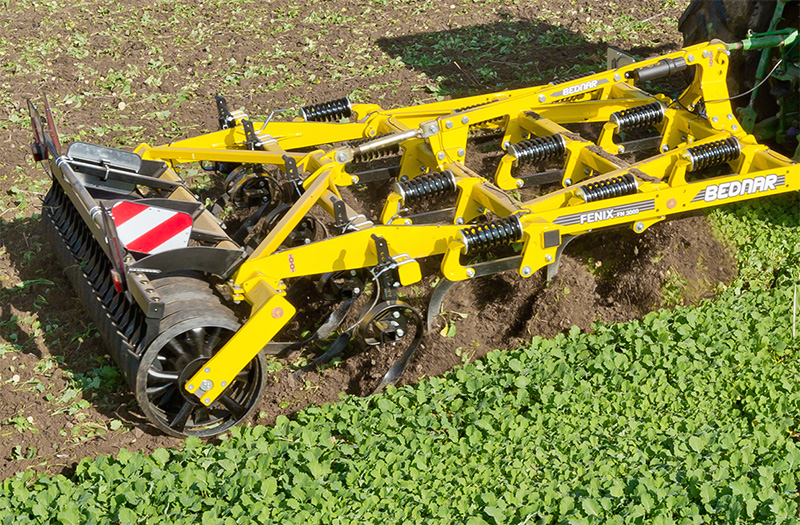 Knight Farm Machinery will be showing two new additions to the Bednar range of cultivators at Cereals 2014.Last year the company was appointed the sole UK importer of Bednar equipment, built in the Czech Republic, and four models were initially chosen to complement the existing Knight range of cultivators. For 2014 these are being joined by the Fenix FN and the Terraland TN.The Fenix FN is a simple but versatile three-point-linkage-mounted, three-row tined machine suitable for smaller and medium sized farms that can be used for various operations from shallow stubble cultivation to deep tillage. Thanks to the variety of points that can be used, a wide range of depths and tillage intensities can be achieved, and several different rear packers are also available.The Terraland TN is a chisel plough that enables inexpensive, rapid tillage to a maximum depth of 65 cm in a wide variety of soils. The machine has two rows of winged tines and a tandem-type spiked roller at the rear. Special tine design minimises horsepower requirements while achieving high outputs and also allows rapid change-over when points become worn.Knight Farm Machinery's sprayer line-up at Cereals 2014 will also include significant technological advances in engines, cab design and application control.Knight self-propelled sprayers with engines above 175hp are now available with EU Stage 4 (US EPA Tier 4) Final engines, which produce extremely low levels of emissions as specified by EU Directive 2010/22/EU. The engines, which are superior to the interim Stage 3B/Tier4i units, have an advanced exhaust gas after-treatment system as well as running with Adblue diesel exhaust fluid.The company is also offering its SP sprayers with the option of Category 4 cab filtration as classified within European Standard EN 15695, giving drivers the highest standard of protection against hazardous substances. These cabs have multi-stage filtration and are pressurised to ensure there is no access for air and contaminants other than through the filters. Knight is the only UK sprayer manufacturer offering this option.

The latest Knight sprayers are also offered with the various advanced application control systems, including the Hypro Duo React twin-outlet nozzles and single nozzle switching instead of boom section control. ISObus control via a wide variety of compatible terminals is also available, allowing customers to integrate the sprayer seamlessly with their existing control system.

Download

Trending Now
Viewed
Discussed