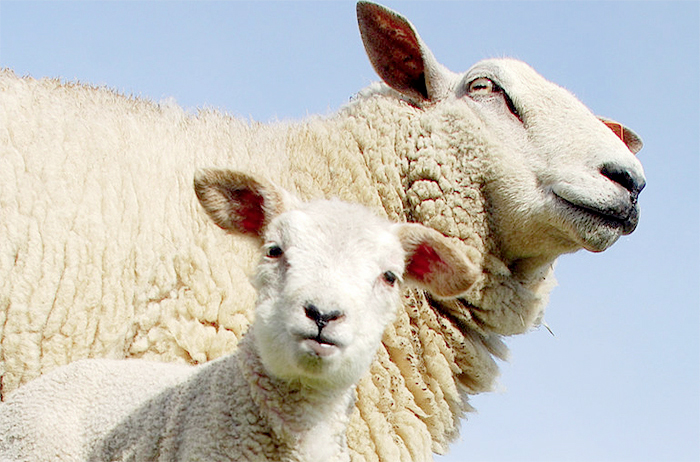 Adverse weather conditions and cheap imports are suppressing the domestic lamb market and ruining margins, according to the NFU.
The union recently called for EU organisations to stand together as farmers feel the fall in lamb prices.
"With lamb prices having been at their lowest for three years the situation for farmers has been made worse by rising production costs due to the extreme weather" said NFU Cymru's livestock board chairman Lyndon Edwards.
"We've called on retailers to demonstrate genuine commitment to their British suppliers and customers. In 2012 we saw a 22 per cent fall in the farm gate lamb price despite an increase in the price on the supermarket shelves. Now is the time for the supply chain to commit to home produced lamb."
A summit with livestock representatives which met last month said sheep farmers were being hit by poor weather, longer finishing periods, rising costs, disease challenges and a marked drop in lamb prices over the past year.
Farmers are losing £29 on average for every lamb they sell at market after new figures revealed farm gate prices have dropped by a fifth in the past year.
"This challenge is not just a UK issue, it is putting sheep farmers all over Europe under pressure and we are committed to standing with our European counterparts to address it" said NFU livestock board chairman Charles Sercombe.
Sercombe told delegates that sheep prices and margins on sheep farms have been put under severe pressure due to the disrupted marketing season brought on by the weather and the challenge of cheap imports.
He also outlined that following a UK farming unions summit last week, the organisations have called for European wide meetings in early March.
"We must promote lamb around the EU. But we must also look at the New Zealand lamb quota situation."
"The last real change to the quota was back in 1994 and the processing industry has made significant changes since then. It's important the Commission looks at the value of imports coming into the EU and not just the tonnage."
"We're calling on the European Commission to help promote lamb across the EU and address our concerns regarding the outdated quota regime."
NSA Chief Executive Phil Stocker said lambs were growing at a far slower rate due to last years' poor weather.
"The weather last summer and autumn resulted in lambs growing far slower than normal and this has delayed the normal seasonal peak of production by six to eight weeks" he said.
Schmallenberg
With Schmallenberg Virus continuing to cause concern as the lambing and calving season progresses, there was considerable interest and discussion at this week's NFU Cymru Livestock Board on progress with regards to the availability of a vaccine against the virus.
New government figures have revealed the Schmallenberg virus has spread to more than 1,500 farms in the UK with the disease moving progressively northwards. The virus has been reported in all counties of England, Wales and Northern Ireland and may begin to circulate in Scotland this year.
Reporting on recent developments Lyndon Edwards said, "the Veterinary Medicines Directorate (VMD), the agency responsible for regulating and issuing marketing authorisations, has responded to the urgency of the situation by taking the unprecedented step of providing an update on the progress of an application – that submitted by MSD for its 'Bovilis SBV' vaccine.
Dr. Rene Aerts, vice president Global Biologicals R&D Animal Health said: "Using our experience gained a few years ago during the fast-track development of the first vaccine against bluetongue 8 virus in just 21 months, we are now on track to develop a vaccine against Schmallenberg virus in an even shorter time."
Edwards said: "Whilst no date has yet been given as to when the vaccine will be commercially available, the VMD has highlighted that whilst the vaccine requires rigorous scientific assessment to ensure that the vaccine is safe for the relevant livestock it is also mindful of the impact the virus is having on individual animals and farmers who have herds and flocks affected by the disease.
"We hope that all efforts can be made to ensure that a vaccine is available in advance of the periods of peak midge activity this summer so that farmers can have the opportunity to protect their herds and flocks."
"It is also important that we build up a picture of this disease and in collaboration with seven other industry organisations we are seeking to gauge the effects of last year's poor weather and the prevalence of disease among this year's lamb crop.
"This is an online survey and it went live last month and is aimed at producers in Wales, England and Scotland as they finish lambing and can record certain key performance figures. The lamb survey will stay open until May and it will be followed by a calf crop survey in the coming weeks."
Comments
No comments posted yet. Be the first to post a comment