Lessons must be learned from severe flooding - NFU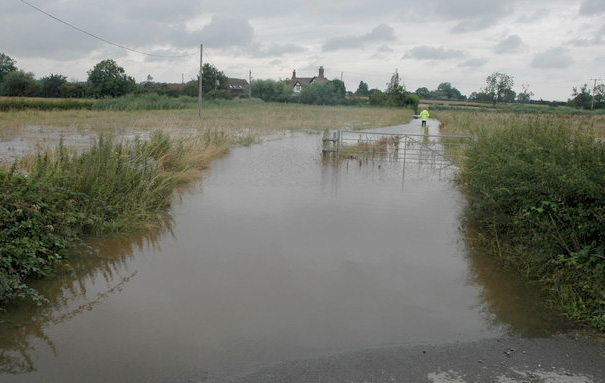 Government must learn important lessons from the severe flooding that is continuing to damage many rural communities not just in Somerset but across the country, the NFU said.Farmers are prepared to play their part in finding solutions to avoiding and managing flooding, NFU Deputy President Meurig Raymond said, but the backlog of investment needed to maintain our key rivers is the clear responsibility of public bodies such as Internal Drainage Boards and the Environment Agency, which are best placed to deliver the levels of maintenance that are so desperately needed.Weather observers at the University of Oxford have confirmed that January 2014 was the wettest since their records began in the 1760s.Dr Ian Ashpole, Radcliffe Meteorological Observer based in the University's School of Geography and the Environment, said: "This January has had a very high number of "very wet" days rather than a few "monster" ones. People who live in the Oxford area endured consistently wet weather all January this year, with only one rain-free day.""Above all, the country needs to be in a position where flooding can be managed for both urban and rural communities, to minimise the disruption and devastation that is taking place in several regions, affecting our homes, rural communities, businesses and wildlife," said Meurig Reymond."We do not expect flooding to be prevented during exceptional events, but we do expect the EA to cater for events which are happening with such frequency. We have had flooding after a dry autumn, so this just goes to show how fragile our rivers are."For too long there has been a widening imbalance between the defences offered to urban communities versus rural communities, which needs to be addressed. Why is more value placed on urban communities at the expense of rural communities? It is not an overly simplistic argument of one versus the other, as the EA's chairman Lord Smith of Finsbury suggests. We must all do our part to prevent or be better prepared for these kinds of events in the future, but that can only happen if we work together," added Mr Raymond."There is grave danger in grasping for simplistic solutions. But it's clear that dredging rivers to return them to the previous capacity levels, while not quite a panacea, has to be a very important part of solving this problem. It would also have significantly reduced the extent, duration and frequency with which floods have occurred in recent years, and significantly aided recovery efforts. We are encouraged that the Government is now moving with urgency to prepare plans for dredging in the Somerset Levels, although this is long overdue. However we are surprised that dredging may not start until September. This is, quite simply, too long for those living and working in the Levels to wait and will not give enough time to tackle those problems that have already happened or those to come. But other parts of the country outside Somerset, like the Fens which are below sea level, also need urgent action. Across southern England rural communities are experiencing massive disruption because of a backlog of river maintenance."As part of Defra learning the lessons, Ministers must be more transparent and even-handed over how they allocate flood defence budgets and explain whether red tape is preventing quicker and more effective ways of working."Any spending on flood management is welcome, but the current balance between funding for new capital projects and maintaining our rivers and existing defences seems out of step. We need more ongoing maintenance to prevent our rivers getting into the state of those in Somerset and transparency about how money is being allocated and spent. To secure the confidence of the British public the Government needs to provide clear figures on exactly how much is being spent annually on maintenance and how this has changed over the past five years."Finally, farmers recognise that they can have a strong role to play in reducing flooding. We hope that this will be supported in the future by Government through better regulation being trialled in the River Maintenance Pilots and schemes like Catchment Sensitive Farming."
CLA President Henry Robinson said: "The Government says it values food security but we are never going to maintain it if prime areas of agricultural land are at horrendous risk of flooding."In the current economic climate there is a need to cut public expenditure but Defra and the Environment Agency must review their priorities if we are to maintain and improve our ability to feed ourselves."The Government must also make it easier for landowners to maintain those defences the Environment Agency can no longer look after."In some cases individual landowners are willing to take on the responsibility for defences but they become frustrated by huge amount of red tape and cost involved."The CLA said the Government needs to look at Internal Drainage Boards which have a track record of managing flood risks efficiently and effectively.Robinson added: "They work because they are run by people with a direct interest in preventing flooding."They are a perfect example of local decision-making that works and we need more of them. The Government must do all it can to encourage their creation in areas where they do not already exist."The records show that this January was the wettest ever of any of the three winter months (December to February), beating the previous high of 143.3mm in December 1914. The most recent December and January combined total of 244.6mm of rainfall was also higher than for any other December–January period recorded by the Observatory.In the 45 days following 18 December, more rain was recorded at the Radcliffe than for any other 45-day winter period in its history, with total rainfall at 231.3mm. This is way ahead of the next highest total of 209.4mm from 1 December 1914 to 14 January 1915, according to records of nearly 9,000 such periods.January 2014 had 23 days with 2mm or higher rainfall in a day; 14 days with more than 5mm of rain recorded; and four days with more than 10mm of rainfall. It rained every day apart from 11 January. The five previous wettest Januarys were in 1852, with 138.7mm; 1995, with 131.4mm; 1948, with 127.3mm; 1877, with 115.1mm; and 1939, with 112.8mm of rainfall recorded.The Radcliffe Meteorological Station at Oxford University has the longest series of temperature and rainfall records for any one site in Britain. The records are continuous from January 1815, with irregular observations of rainfall, cloud and temperature from 1767.

Download

Trending Now
Viewed
Discussed