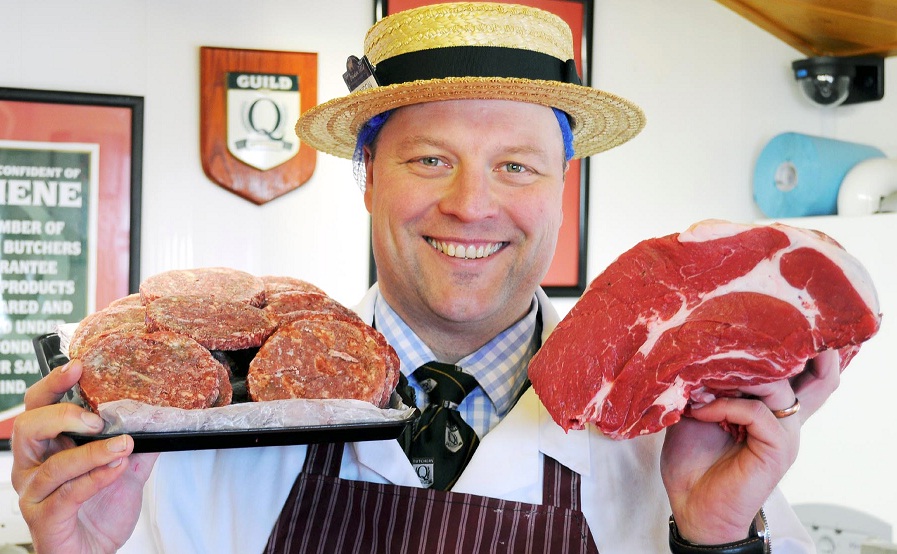 Brindon Addy
The Butchers Q Guild, a membership organisation of over 100 independent butchers around the UK, have said sales figures from all their members have increased.
Butcher Brindon Addy has seen a 10% increase in trade since the horse meat scandal was first revealed, with beef burger sales up 30%.
"Consumers are heading back to the high street following the scare, which has dented consumer trust in the major supermarkets" said Addy.
Traceability standards for beef products are the subject of debate as news emerged over the content of meat products in UK and Irish supermarkets.
But Addy, who owns J. Brindon Addy Butchers and is national chairman of the Butchers Q Guild said: "We were selling some 200 burgers per week before the horse meat scare – now it's up to around the 300 mark."
"I think consumers have become more aware that there isn't transparency in purchasing meat, burgers in particular, from their local supermarket."
The National Beef Association, who have campaigned for more stringent labeling of beef products, highlighted the issue of undervalued beef sold in larger supermarkets.
"At the moment we are led to believe that no one in the manufacturing process was aware of horse meat been sold as beef, it makes one wonder when the processors were purchasing this bargain beef raw material that no one thought how can we be getting this beef at such a bargain price?" the association queried.
Meat from local butchers are often sourced from local farms.
A pledge that beef products are free of horse meat is a promise 'supermarkets can't guarantee' Addy said.
Findus is the latest company to be caught up in the controversy surrounding contamination of meat products, which has affected companies in the UK, Irish Republic, Poland and France.
The company removed one of its products, which in some cases contained 100% horse meat rather than beef.
"We believe that these two particular cases - the frozen burgers from Tesco and the lasagne from Findus - are linked to suppliers in Ireland and France respectively" the Food Standards Agency said.
"We are working closely with the authorities in these countries to get to the root of the problem."
Addy said: "Q Guild butchers can show the provenance of all the products they sell and we pride ourselves on being able to deliver from farm to plate and in knowing every step of the process."
"More and more customers are coming through the door. This has been a real win not only for us, but the Q Guild and butchers as a whole."
Oisin Murnion of the National Beef Association said: "The horsemeat scandal is a classic example of what happens when supermarket suppliers are squeezed in cost terms and consumers are encouraged to believe that beef, which they like and love to buy, is just as cheap as chicken or other less expensive meats."
Comments
No comments posted yet. Be the first to post a comment