06-02-2013 13:01 PM
| News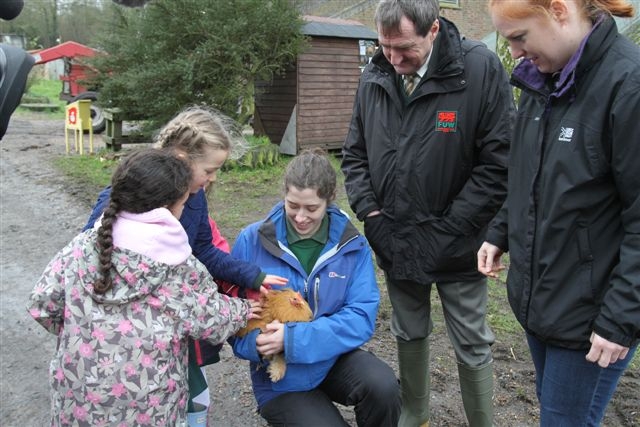 Pupils make friends with a happy hen watched by (from right) London Welsh School head teacher Julie Sullivan, FUW president Emyr Jones and Woodlands Farm Trust education officer Hannah Forshaw.
Twenty young pupils from the London Welsh School joined Farmers' Union of Wales president Emyr Jones and deputy president Glyn Roberts on a recent visit to a city farm in the south-east of London.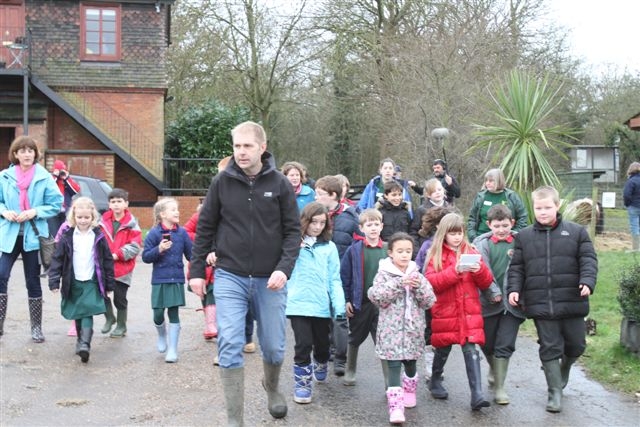 Woodland Farm Trust project manager David Jones leads pupils on their tour of the farm.
The 90-acre Woodlands Farm, on the borders of Greenwich and Bexley, is the largest city farm in Europe and represents part of London's vanishing countryside. It includes old hedgerows, fragments of ancient woodland and traditionally managed hay meadows.
"It was a pleasure to visit the farm to see how things are run on a city farm and show the children how it is managed as well as introducing them to a little bit of countryside," said Emyr Jones.
Saved from road and housing developments by local campaigners in the 1980s and 90s, the Woodlands Farm Trust (WFT) was established in 1997 to safeguard the farm and its unique environment.
FUW member and WFT project manager David Jones, originally from Llanrhystud, Ceredigion, was delighted to see the children learn about farming practises and the animals on farm.
He said: "With so many diverse habitats on the farm there is much to learn and explore, from the farmyard to the ponds, woodland and hay meadows.
"It was wonderful to have the children from the London Welsh School at the farm. They took a great interest during the whole visit and indeed showed a good knowledge of farming.
"They also had great fun in creating felt flowers from wool with our education officer Hannah Forshaw.
"The WFT supports the FUW in their campaign to support the Welsh rural economy and Welsh culture. Europe is a richer place if cultures remain diverse and strong."
The farm is managed in a way that respects habitats and enhances biodiversity, focusing on conservation and education for all the local community to enjoy.
Activities on the farm include traditional hedgerow management and making hay from the meadows with conservation grazing using rare and minority breed cattle and sheep after the hay cut.
Breeds kept on the farm include Irish Moiled and British White cattle and Lleyn, Dorset Down and Herdwick sheep.
The farm is a major community and educational resource with over 3,000 schoolchildren visiting annually.
London Welsh School head teacher Julie Sullivan, who accompanied the children on their visit, said: "This was an excellent opportunity to see the farm animals. The children got see the cows, sheep and pigs as well a meeting the farm pony.
"They enjoyed the chance to stroke the chickens and hold the guinea pigs as well as exploring the traditional farm craft of felt making, which is made from wool.
Comments
No comments posted yet. Be the first to post a comment