Meat consumption in decline following rising costs and horsemeat scandal
Meat consumption 'in decline' following rising costs and horsemeat scandal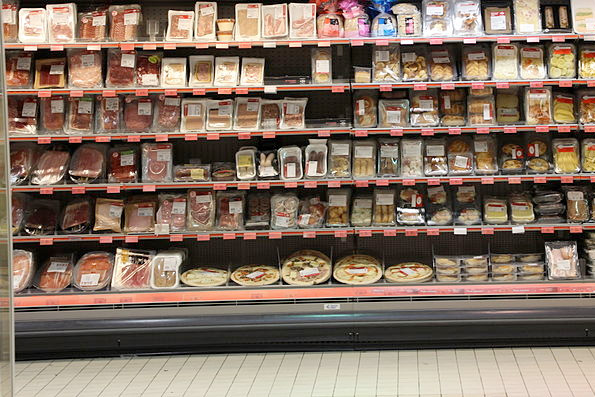 Rising prices and the exposure of the horsemeat scandal in early 2013 have contributed to a declining demand for meat in the UK, according to a new market report.

With regard to the former, the retail cost of meat for UK consumers has been has been rapidly increasing significantly above the standard rate of inflation, since the recession in 2008. Wages have not risen to the same extent and, as such, many consumers can no longer afford to eat meat on an everyday basis. Many more consumers are being forced to trade down from prime cuts of fresh meat to processed and lesser-quality products, such as minced beef.

In a Key Note commissioned survey, conducted in January 2014, 21.5% of meat-eating respondents claimed to be reducing their meat consumption to save money because of the price of meat; however, this is not yet being reflected in total market value because of inflation.

The price of beef — the second most popular type of meat in the UK after chicken — has increased particularly dramatically in 2013, in what is becoming an international crisis. Insufficient supply to meet increased global demand for beef, driven by dramatically developing nations such as the People's Republic of China (PRC), has pushed the price of beef up around the world.

Beef is gradually becoming a luxury food item in the UK because of this, with many consumers unable to afford it even as a treat. Of course, to an extent other types of meat have benefited from this development, with sales of lamb, pork and poultry increasing in 2013, but these items are also increasingly expensive, albeit to a lesser extent, forcing some consumers to simply eat less meat altogether.

The horsemeat scandal has also contributed to this gradually decreasing demand, despite the fact that the long-term effects have not been as dramatic as many first feared.

A large number of consumers altered their meat-eating habits in the immediate aftermath of the scandal, especially in relation to ready meals and processed red meats. However slashed prices in these sectors, combined with the revelation that the horsemeat was not in any way harmful to humans, have encouraged consumers back into old eating habits as time has passed.

Nevertheless, in the same Key Note commissioned survey, which was taken 12 months after the scandal, 12.3% of UK consumers still claimed to be reducing their consumption of red meat because of negative media in the previous 12 months.

While meat and meat products remain extremely popular in the UK, driven by increased demand for high quality and ethically-treated British meat, there is a growing minority of consumers who are eating less meat or avoiding it altogether.

This is partially based on negative media and partially because of the fact that vegetarianism and veganism are increasingly socially acceptable. In the coming 5 years, therefore, this decline in consumption looks set to continue, but so too does inflation, which will continue to disguise this emerging negative trend. Key Note therefore forecasts market growth of 8.3% between 2014 and 2018.

Download
17-03-2014 22:30 PM | Posted by: KT
I take exception to the statement that horse meat is not harmful. I would propose that if the horse meat came from the US it is most definitely harmful. Those horses are given drugs that never clear from their systems and are toxic to humans. Even pets that have consumed the tainted meat have had health issues and died. So, No, horse meat is NOT safe. Even horses from other countries can not be proven to be safe for slaughter. Their "passports" are easily and frequently altered to allow them to pass inspection for slaughter. There is no way I would allow my family to eat horse meat from any source. There is too much greed and criminal activity in the horse slaughter business.

17-03-2014 23:11 PM | Posted by: morgansinkc
People want to be confident that what they are buying matches what's on label. It's no surprise that consumption of beef is down.
18-03-2014 09:30 AM | Posted by: Ade
Good, go vegan and stop killing animals.
Display name

Please enter your name

Email
(optional)
Comment

Please enter your comment

Post Comment


Your comment submitted successfully.Please wait for admin approval.

Some error on your process.Please try one more time.