Meirionnydd farmers in Welsh food and EU membership boost
7 March 2014 10:49:16|
News
Meirionnydd farmers in Welsh food and EU membership boost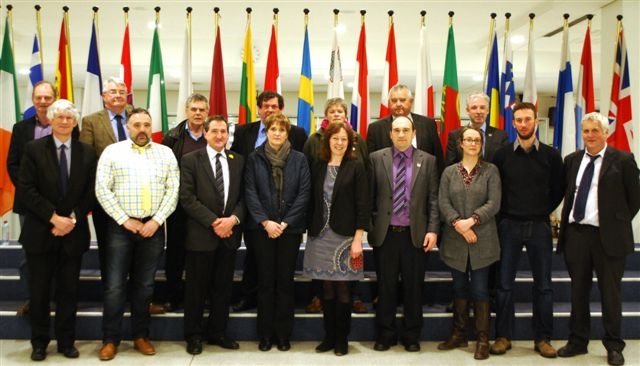 A visit to Brussels this week by a delegation of Farmers' Union of Wales national leaders and Meirionnydd members was an "excellent opportunity" to promote the interests of Wales in Europe and raise awareness of the benefits the agricultural industry in Wales receives from EU membership.
The delegation received a detailed presentation by Wales MEP Jill Evans, who facilitated the visit, about her work and her membership of the European Parliament's environment, public health and food safety committee.
The leading reputation of Welsh farm produce was also highlighted at a breakfast at the EU headquarters, sponsored by Meat Promotion Wales-Hybu Cig Cymru (HCC), where the quality of food produced in Wales was showcased.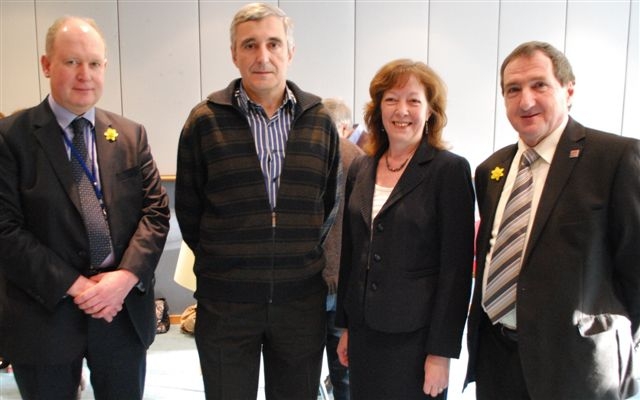 FUW president and Meirionnydd beef and sheep producer Emyr Jones reminded EU politicians and policy officials attending the function that it was very important for Wales to remain part of the EU.
"We depend so much on funding from Europe, through the Common Agricultural Policy and access to the European market, to keep our family farms alive," he added.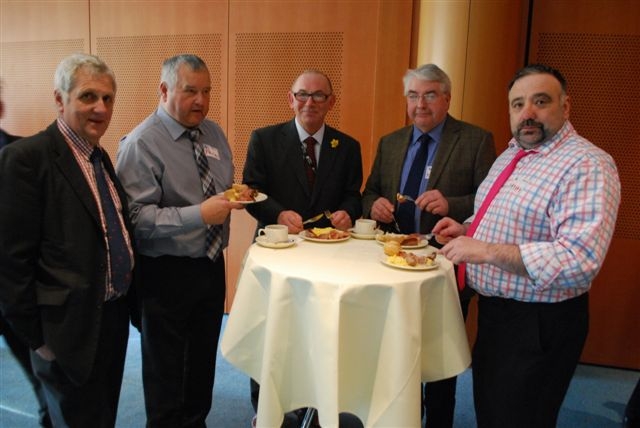 After returning from Brussels, FUW Meirionnydd county executive officer Huw Jones said: "The delegates were keen to emphasise the importance of a strong voice in Europe and were given examples of how other countries, such as Malta, are represented.
"Malta has a total of 400,000 head of population but has six MEPs in the European Parliament compared to four for Wales which has a population of more than three million."
The delegation held meetings with head of European affairs at the Welsh Government EU office Dr Robert Parry and rural policy adviser and deputy head of office Andrew Aggett, together with Foreign and Commonwealth Office second secretary, agriculture (CAP reform), Rhys Jackson.
"Our discussions provided an excellent opportunity for delegates to question the latest position on issues such as sheep EID, funding to tackle TB, and to seek clarification on the financial discipline of a 2.45 per cent deduction from Single Farm Payments in 2013 to create an emergency fund.
"There was also discussion on the Solidarity Fund from the EU which could be provided to tackle damage as a result of the recent flooding.
"Clarification was also sought on the latest position on the production of smoked skin-on sheepmeat - also known as smokies.
"This issue had been discussed at a recent meeting of the union's Meirionnydd county committee with HCC industry development manager Sion Aron Jones when he confirmed this matter was now in the hands of EFSA - the European Food Safety Authority.
"Smokies are eaten by some minority ethnic communities in the UK and are considered a potential opportunity to expand the sale of Welsh meat."
Jill Evans said: "I was delighted to host this visit by the FUW which provided a good showcase for Welsh produce and led to some very useful discussions, as Emyr Jones has said.
"Plaid Cymru believes that the farming industry is crucial to the economy and needs a viable and sustainable long term future. We voted against the cuts in the EU budget because it meant cuts in the money coming to Wales.
"EU funding through the CAP accounts for 80% of farm income in Wales, and supports over 16,000 farmers. Our priority is to work with the farming community in the interests of our food producers and our rural communities."
Download

No comments posted yet. Be the first to post a comment
Display name

Please enter your name

Email (optional)
Comment

Please enter your comment

Post Comment


Your comment submitted successfully.Please wait for admin approval.

Some error on your process.Please try one more time.