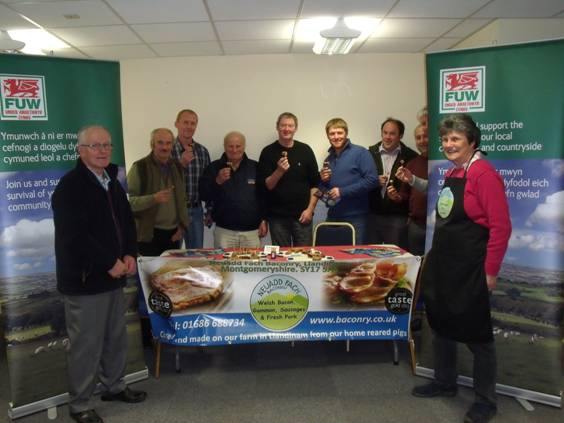 Ithel and Linda Brown with members of the FUW Montgomeryshire county executive committee who enjoyed a banquet of bangers.
Mid Wales farmers enjoyed a banquet of bangers in a special celebration of British Sausage Week laid on by Farmers' Union of Wales members Ithel and Linda Brown of Neuadd Fach Baconry at Llandinam, Montgomeryshire.
They provided samples of their quality sausage range to members of the FUW's Montgomeryshire county executive committee at their recent meeting.
Mr and Mrs Brown established the baconry over 14 years ago after giving up milk production on their small farm. Ithel had always kept pigs when they were milking, selling them direct to a nearby abattoir.
To make the most of the pig enterprise they decided to create the baconry and market their own bacon, gammon, fresh pork joints and sausage range.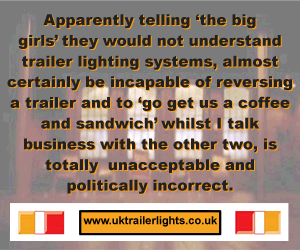 They now sell directly to local pubs, village shops, post offices and the public. They also supply two branches of local supermarket Harry Tuffins in Machynlleth and Churchstoke.
FUW Montgomeryshire county chairman Alwyn Vaughan said: "They have grown the business over the years and provide employment for a number of local people.
"Quite rightly they are very proud that their products have full traceability and that the pigs are reared on a feed ration mixed on the farm to meet their own specification.
"It's good to see a successful business being established on a small farm and I congratulate Mr and Mrs Brown on producing a quality product that fully endorses the FUW's long-standing campaign to 'Buy The Welsh One' and the union's efforts to encourage consumers to buy local and support our rural communities."
British Sausage Week is an annual celebration of the taste, quality and diversity of the traditional pork sausage when the winners of a national competition for the greatest sausages are revealed.
Ambassador for this year was Simon Rimmer, celebrity chef and host to a foodie weekend TV show. He joined a tour of sausage discovery to taste all the sausages that won through as regional finalists and then awarded the winning butcher in each region with a coveted Banger Award.
Comments
No comments posted yet. Be the first to post a comment