NFU President TB destroying farm business and it must be stopped
NFU President: TB destroying farm business and it must be stopped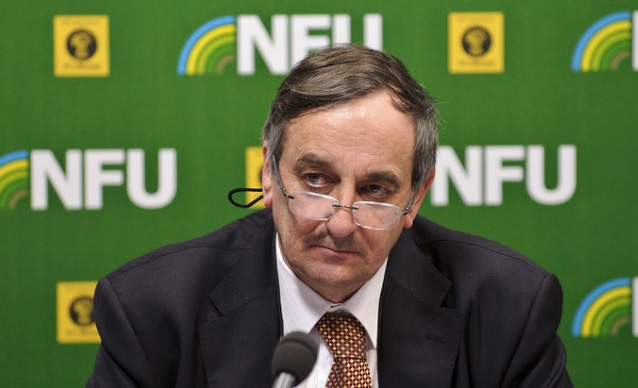 Today is just one example of what is happening on farms across endemic TB areas, it is a farm with a closed herd; no cattle are brought on to farm. The only TB disease route is the badger setts that surround these fields.

Without the ability to control these badgers farmers are fighting to protect their cattle from a terrible disease with their hands tied firmly behind their backs.

This TB breakdown only goes to emphasise the importance of controlling the reservoir of TB in wildlife. The decision not to extend the pilot culls is a bitter disappoint to farmers like Paul. Without being able to control the wildlife which is spreading disease to their cattle they are rightly hugely frustrated and angry. It has a strangle-hold on their business.

Farmers continue to bear the brunt of regulations too. More and more we are seeing tighter cattle controls introduced but they are pointless without also tackling this disease in badgers.

I remain very concerned about the conclusions drawn in Independent Expert Panel report published last week. It has skewed the government's decision on the wider use of the badger control policy.

While the IEP did outline accurately the challenges faced by those delivering the badger cull pilots, it has also made many assumptions based on anecdote, unpublished work which hasn't been peer reviewed, or selective use of evidence.

It's conclusions on humaneness and effectiveness are simply not reflected in the experiences of those people on the ground.

What is clear is that we need to look at other ways of controls badgers if we are to reduce TB in cattle. I will be visiting Ireland to look at how they have achieved success in reducing badger numbers and TB. The NFU is also committed to doing its own analysis of all of the evidence to help find a way forward for the current policy.

The pilot culls in Somerset and Gloucestershire were carried out by well-trained, experienced contractors and required huge levels of commitment in the face of unacceptable intimidation and harassment by protestors.

We remain confident that these pilots will help to deliver a reduction of TB in cattle as planned. And it is vital that they are allowed to be successfully completed so they can deliver the expected reductions in TB in cattle.

Download
12-04-2014 15:43 PM | Posted by: Clued-Up
It doesn't help farmers to claim that badgers must be responsible for bTB infections in a closed herd because cattle aren't bought in. Closed herds are at lower risk of bTB than herds where cattle are bought in - but they are still at risk.

This article appears to be about the Gould farm, reported as having bTB outbreaks over the last 7 years. Obviously SOMETHING is badly wrong on this farm (and has been for some time). This and similar articles NEVER explain what the Goulds have already done to try to root out cattle bTB amongst their animals. Many farmers would like to know.

We know the current bTB test misdiagnoses 20% cattle every time it's used; also repeated applications of the test in the same herd (like once every 2 months) increases the potential risk of misdiagnosis. We haven't been told whether the Goulds have tried using the newish, more sensitive blood test to track down any unidentified infected cattle which are continuing to infect their herd-mates. If they have used this test to cross-check the flawed bTB that repeatedly condemns their cattle, what were the results? How did they inform the Goulds' fight back against the cattle bTB problem?

We haven't been told whether the Goulds have called in a vet consultant specialising in bTB disease control for a "second opinion". That's an obvious step to take. Paying for a vet consultant's expert advice on how to clear out bTB from the farm would be a lot cheaper than paying the costs of losing 36 cows in one outbreak alone.

We haven't been told whether the Goulds have brought in a bio-security specialists to assess the particular disease risks on their farm and oversee the removal of these risks. This should have been done after the second bTB outbreak at the latest - was it?


Display name

Please enter your name

Email
(optional)
Comment

Please enter your comment

Post Comment


Your comment submitted successfully.Please wait for admin approval.

Some error on your process.Please try one more time.