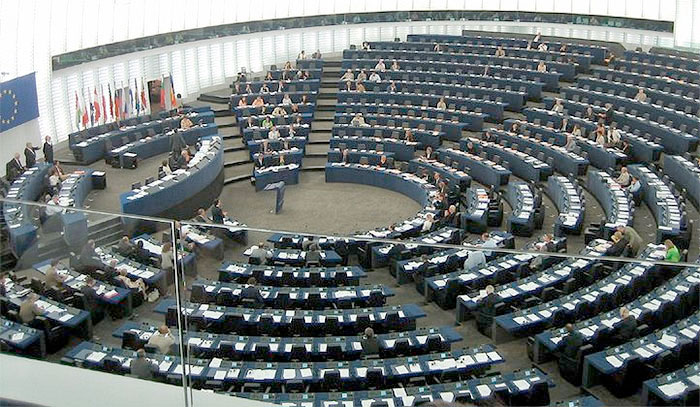 In an historic vote in Strasbourg on Wednesday, the European Parliament supported a number of changes to the European Commission's controversial Common Agricultural Policy reform proposals. The National Farmers' Union expressed 'deep concerns' over several elements of the changes.
Meurig Raymond, Deputy President of the NFU, who met with MEPs in Strasbourg this week, said he was 'extremely disappointed' that there were not enough MEPs able to support 'the good work farmers are already doing on farms.'
"MEPs failed to support any of the amendments which would have derogated many of our grassland farmers, and all of our farmers who are already undertaking agri-environment commitments, from having to do further greening requirements" he said.
"And this is despite the European Commission itself agreeing at last year's NFU Conference that the existing efforts of farmers should be recognised. I don't know if this was really the intention of the majority of MEPs but I will certainly look to the Council of Ministers and Commission to reinstate that recognition through the trilogue process."
The Country Land and Business Association said the reforms would pose good and bad results for UK agriculture.
CLA Deputy President Henry Robinson said the Association is pleased MEPs have supported amendments by the European Parliament's Agriculture Committee (COMAGRI) on the definition of the term "active farmer".
He said: "This will give member states the flexibility to make decisions about which individuals should fall under this definition."
However, the CLA raised concerns over several aspects of yesterday's CAP reform votes in the Parliament's plenary.
The CLA Deputy President said: "We are frustrated by Parliament reversing the progress made on what's known as 'equivalence' in greening. We believe English agri-environment schemes provide at least as much benefit as the Commission's three mandatory proposals, so it seems short-sighted not to include them.
"We also remain concerned by the provision to allow funds to be transferred from the Policy's agricultural pillar (Pillar One) to its rural development pillar (Pillar Two). This could easily put UK farmers at a disadvantage to their competitors in other European Union states."
The CLA will raise its concerns with Environment Secretary Owen Paterson, the UK's representative on the Agriculture Council, as the process enters its next stage with the European Parliament and the Council trying to reconcile their positions on CAP reform.
MEPs agreed that 30% of national budgets for direct payments should be made conditional upon compliance with mandatory greening measures, but they stressed that these measures must be made more flexible and gradual.
The three key measures - crop diversification, maintaining permanent pasture and grassland and creating "ecologically-focused areas", would remain but with certain exceptions, e.g. to reflect the size of the farm.
"We are somewhat relieved to see the Commission's ludicrous proposal to set-aside seven per cent of land for 'Ecological Focus Areas' slashed to three per cent by MEPs and that farm level restrictions on ploughing of permanent grassland will not be brought in, in the first instance" Raymond said.
MEPs also supported extending coupled aid to a maximum of 15 per cent of the member state envelope.
"We are deeply disappointed that MEPs have taken a step back in time by supporting increased amounts of coupled support which will lead to market distortions and reduces the industry's market orientation."
MEPs said they wanted the levels of payments to farmers to be 'rebalanced among member states slightly faster than originally proposed' by the Commission.
Parliament agreed that member states with direct payments per hectare below 70% of the EU average (down from the Commission proposal of 90%) should see the shortfall reduced by 30%.
In member states with direct payments amounting to 70% - 80% of the EU average, the shortfall should be reduced by 25% and in those with over 80% of the EU average, by 10%.
This measure should ensure that farmers in no member state receive less than 55% of the EU average in 2014 and 75% in 2019.
By contrast, to achieve greater consistency and convergence of direct payment rates within member states, Parliament slightly relaxed the rules to balance payments among farmers within any given one.
As of 2019, payments received by all farmers in any given member state are to be based on a uniform unit value, as proposed by the Commission, but could nonetheless in some cases deviate from the average by up to 20% so as to avoid sudden sharp falls in support, say MEPs.
However, where payments are reduced, their level in 2019 may not be more than 30% below that of 2014.
Raymond raised concerns over the dairy industry. He said measures could result in increased market management once the dairy quotas end in 2015.
"The industry has worked for many years on the basis that milk quotas would end and the sector would be free to respond to market demands. Introducing a measure, which would penalise farmers who had increased production while granting an aid to those who had cut production, is a retrograde step."
To ensure that the expiry of milk quotas does not lead to a serious crisis in the milk sector like that seen in 2009, MEPs suggested granting aid for at least three months to milk producers who voluntarily cut their production by at least 5%.
Amendments calling for prolongation of milk quotas, set to expire in 2015, were rejected by the House.
Comments
No comments posted yet. Be the first to post a comment