New Bobcat loader helps landscape centre keep up with demand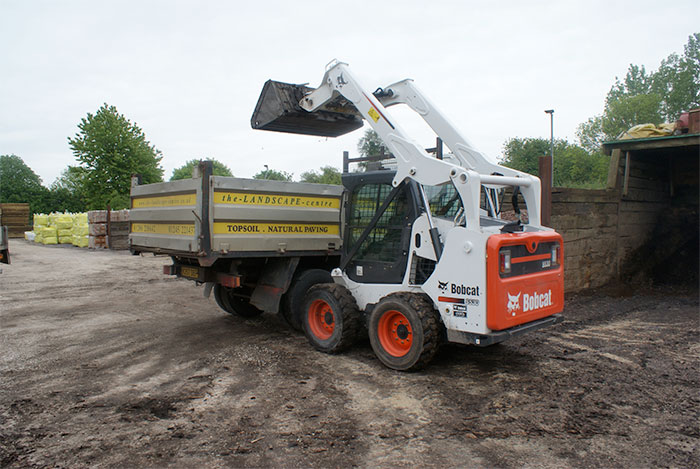 Essex-based The Landscape Centre Ltd has purchased a new Bobcat S530 skid-steer loader for the company's Chelmsford branch at Does Corner outside Hatfield Peverel. The new loader was supplied by Bobcat of London, based in West Thurrock, the authorised Bobcat dealer for London and South East England.The Bobcat range of skid-steer and compact tracked loaders is ideal for the material handling applications typically found in landscape and garden centres, nurseries, horticultural centres and associated businesses such as builders merchants. At The Landscape Centre, the S530 loader is used for a wide range of applications from loading soil and materials on to delivery lorries and customers' trucks to filling different sizes of bags of stone and aggregates including decorative products such as White Cobbles, Black Pebbles and Pentland Pebbles and construction materials such as MOT Type 1 and other aggregates.Part of the new family of 500 platform compact loaders launched by Bobcat earlier this year, offering overall performance and cycle times up by around 16% on previous models, the new S530 skid-steer loader provides operators with enhanced comfort and easier serviceability to maximise work efficiency. Powered by the Kubota V2203 4 cylinder diesel engine providing 36.4 kW of power at 2800 RPM, the S530 model has a rated operating capacity of 869 kg and tipping load of 1737 kg.Scott Walker, Assistant Manager at the Chelmsford branch of The Landscape Centre Ltd, said: "The new S530 loader has a larger capacity and higher lifting height making bagging up materials and loading trucks an easier task. The engine bay is also larger on this model, simplifying access to filters and other components such as the battery. Overall, I believe the new S530 loader shows all the advances Bobcat has brought into the range – it is smoother, more powerful and more comfortable than our previous loader as well as being easier to maintain." The S530 model features vertical lift path boom arms particularly suited to lift and carry as well as material-handling applications. The new loader offers an increased lift height compared to the previous generation machine and, combined with an optimised lift arm design, provides operators with the ability to lift heavier loads higher, making it easier to clear high-sided truck boxes and hoppers, as well as placing pallets loaded with heavy materials.Scott Walker added: "The S530 loader also has the largest cab door opening on the market. The cab door threshold has been lowered and the overall surface of the door has been increased by more than 40% to provide improved visibility and make it easier for operators to enter and exit the cab. The height of the cab has been increased to provide additional headroom, while still keeping the overall height of the machine under 2 m to operate well in confined spaces. The all wheel drive and manoeuvrability allows the S530 loader to get into and out of spaces where our forklifts might get stuck."Founded by brothers, Mat and James French, The Landscape Centre has expanded from its origins in Colchester, where the company still has a branch, to become a major supplier in Essex and beyond of a huge range of garden materials both locally from its retail centres and nationally through its website landscapesuppliesdirect.comThe company has excellent relationships with renowned suppliers such as Abordeck, Global Stone, Paynes Turf, Spax Fixings, Scottish Cobbles and Welsh Slate to name but a few and the company's products continue to find use across the country in applications as diverse as utility projects and at the BBC to the Roof Gardens in London and the Komodo Dragon enclosure at Colchester Zoo. Products available from the company include sheds and garden buildings, decking, natural stone paving, Raj paving, railway sleepers, turf,
water
features, drainage, block paving, wood bark sundries and fencing and trellis work.As an Authorised Dealer, Bobcat of London is responsible for sales and service for Bobcat skid-steer, compact tracked and all wheel steer loaders, excavators, telehandlers and utility vehicles. The company also offers for sale over 70 different types of Bobcat attachments that help to deliver versatility and time-saving efficiency across a huge range of applications. Only original Bobcat parts are used to maintain the best mechanical standards and to optimise performance, reliability and protect machines' residual values. Bobcat of London stocks a full selection of genuine Bobcat accessories and parts to support every machine in the field and backs these with flexible service agreements including 24 hours a day coverage, depending on the requirements of the customer.Bobcat of London's factory-trained engineers have many years of hands-on experience of repairs and servicing of compact and heavy plant and machinery. All the company's service vans are fully equipped with workshop tools and extensive parts for on-the-spot service work. In addition to essential spare parts stocked by Bobcat of London, there is a back-up service with overnight delivery for other items.
Download

Trending Now
Viewed
Discussed