New Kuhn farm machinery to be shown at Royal Welsh Show
New Kuhn farm machinery to be shown at Royal Welsh Show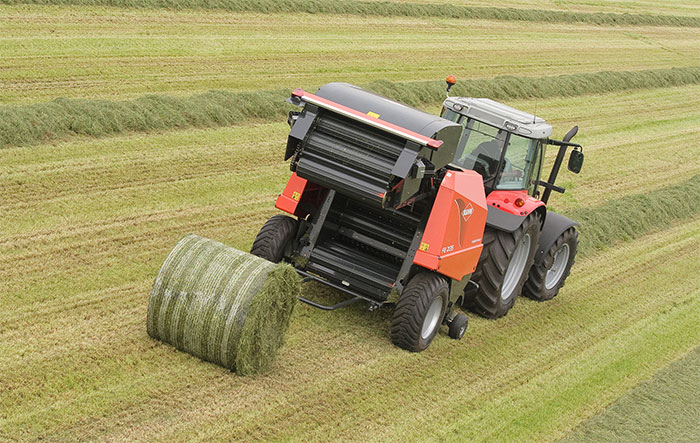 Kuhn Farm Machinery's new RW 1400 and RW 1600 bale wrappers with e-Twin wrapping functionality will be on display at this year's Royal Welsh Show at Builth Wells from Monday 21st until Thursday 24th July.
Kuhn's RW 1400 and RW 1600 trailed, self-loading round bale turntable wrappers offer users a fast and cost-effective bale wrapping solution thanks to the use of Kuhn's patented e-Twin film distribution system.
The e-Twin system applies two layers of film simultaneously, thereby reducing the amount of labour and
fuel
required to wrap a bale by up to 50%. The system makes further cost savings by pre-stretching the film by up to 90% so that one roll of film can cover a larger number of bales.
"Pre-stretching and simultaneously applying two layers of film offers farmers a twin win opportunity," explains Duncan McLeish, UK Sales Manager for Kuhn Farm Machinery. "Not only does the e-Twin system reduce film usage by almost 10%, it also halves the number of turntable revolutions needed to cover each bale thereby reducing the time taken per bale. It also creates tighter bales for improved silage quality and ease of bale handling."
Applying two layers of film together also has the added advantage of creating one thicker layer of film for better tear resistance.
The e-Twin system pre-stretches two sheets of film by 90% as standard (70% as an option) compared to a conventional single sheet of film which will typically be stretched by a maximum of 70% as standard. "For a contractor wrapping 10,000 round bales and applying 6 layers of film per bale, this could reduce the number of rolls of film used per year by an estimated 8%. At an average cost of £57 per roll that's equivalent to a saving of £1,909 per year," Mr McLeish adds.
"The savings from increased productivity are also significant and could account for a saving of an additional £2,000 per year from reduced labour and tractor and
fuel
requirements. That gives a total saving per 10,000 bales of almost £4,000, making for a rapid return on investment."
The e-Twin system can be operated manually or electronically through the use of a computer or joystick and can also be used to apply a single layer of film where necessary – for example on smaller bales or when there is just one roll of film available.
The RW 1400 is capable of handling bales up to 1.2m wide by 1.5m in diameter and up to 1,000kgs in weight, while the larger RW 1600 machine is capable of handling bales up to 1,200kgs in weight.
Kuhn will also have it's FB 2135 fixed chamber round baler on display at the Royal Welsh Show. Featuring a 2.3 metre pick-up and automated control facility, this machine is capable of high work rates without compromising on the consistent shape and density of the 120cm width and 125cm diameter bales.
The FB 2135 is available with a non-chopping Optifeed intake rotor or a 14-knife Opticut forage chopping system that allows greater bale density and the flexibility to vary chop length between 45 and 70mm depending on crop type.
The FB 2135 is also available with twine binding, net binding or a combination of both. Additional options include a bale kicker, automatic chain lubrication system, hydraulic rotor disengagement, pivoting pick-up wheels and various tyre configurations.
Download

No comments posted yet. Be the first to post a comment
Display name

Please enter your name

Email (optional)
Comment

Please enter your comment

Post Comment


Your comment submitted successfully.Please wait for admin approval.

Some error on your process.Please try one more time.