New Vredo Agri Air overseeder at Grassland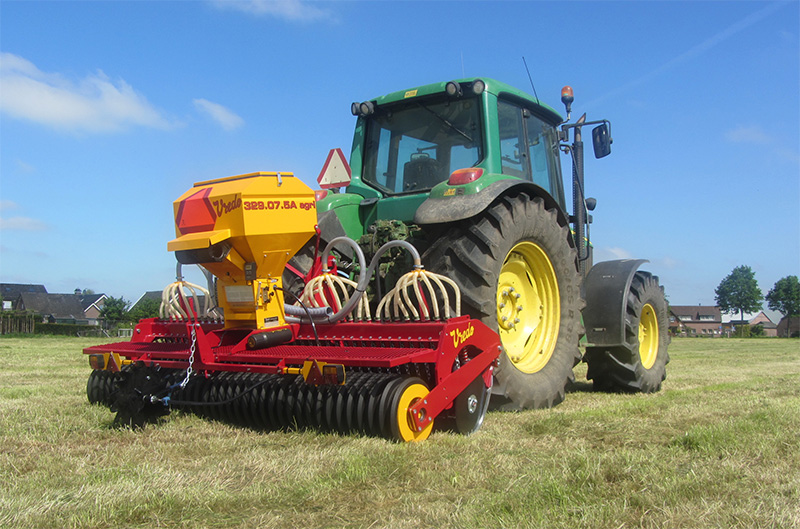 JC Machinery will be exhibiting the new Vredo Agri Air Overseeder which now comes with the same large pneumatic seed hopper as the award-winning Vredo Agri Twin Overseeder (with 4.4 and 5.8 m working widths and hydraulic pneumatic seed distribution. The combination of a doubling of the seed capacity (now 450 litres instead of 220 litres) together with the powerful hydraulically driven fan (instead of the solid electrically driven fan on the 220 litre hopper),enables the Air to handle other seed types, such as rye or barley which are increasingly sown as green manure in existing grass or stubble. The increased airflow causes these heavier seeds, often in larger quantities, to be perfectly and evenly distributed to the overseeding disc-pairs. Vredo's Agri Air overseeders are equipped with the famous proven Dual-Disc System which delivers a germination rate of 96%. The pairs of discs, set 7.5cms apart, guide seed into a V-shaped slit in to the sward, whatever the soil conditions – clay, peat, loam or sand, wet or dry. The seed is covered with soil to protect it from external predators and extreme weather conditions guaranteeing a quick germination and deep rooting of the injected seed.

The Agri Air series is especially popular for when working on slopes or when regularly sowing different seeds. The compact cam wheel is always well supplied with seed, even if the machine is working at an angle. Dosage accuracy is a vital task and so the dosage-calibration has been made even easier with this series of Overseeders.The Agri Air machines are delivered with a standing platform as standard, which allows a secure place from which to fill the seed hopper.John Campey spokesman for JC Machinery says "The Vredo Overseeders have exceeded all expectations and continue to develop to meet the challenges of the UK market."Other machines on the stand include the Vredo 3m Agri Seeder and the highly successful 4.4m Vredo Agri Twin Seeder with packer ring. This outstanding machine has changed the way grassland is over-seeded or re-seeded, providing the highest capacity for successful overseeding in all grassland areas. Also on show will be the unique VREDO cutting filters for manure handlers, designed to filter the large parts from the stream of manure. Due to the smart placement, and design of the cutting rotor, the Vredo cutting filter cuts with an absolute minimum of energy. The coarse parts that cannot be cut are filtered out to the large sump which can be emptied easily.

Download

Trending Now
Viewed
Discussed