07-07-2003 00:00 AM
| News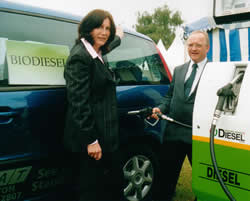 Picture: NK's Nigel Padbury and Springdale's Janice Spencer ready at the pumps for a new supply of biodiesel
A new contract for biodiesel was launched this week by Yorkshire based Springdale Crop Synergies and Syngenta Seeds. The initiative which provides growers with access to two of the highest yielding available hybrids, Royal and Nelson is accompanied by a package of agronomic advice.
Approximately 4,000ha of crop is targeted for year one, rising to a minimum of 10,000ha the following year. The harvested crop will be sold to an end user for inclusion in a biodiesel blend. Yield from the first 4,000ha could fuel more than 100,000 cars over the first 12 month period.
The Springdale Syngenta Seeds contract is based on the spot price for 2004 food grade oilseed rape as a minimum with the potential for a premium to be paid to growers over and above the spot price should the Government, in the meantime, announce further duty cuts on green fuel.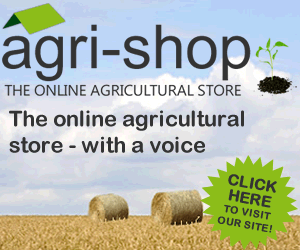 Syngenta Seeds has made Nelson exclusively available to Springdale for this contract. Nelson is a high yielding variety similar to Royal, currently the second highest yielding variety on the HGCA Recommended List with a gross output of 107%, together with Nelson a similarly high yielding variety from the same breeder.
In future, growers could also have access to more high yielding varieties from NK, which is developing types that have a fatty acid spectrum, conducive for use in biodiesel production.
The venture is fully backed by agronomic advice on each variety in order to help growers to finely tune their input to achieve maximize output. For example, in trials sponsored by Syngenta, Royal has been trialed on a commercial scale at Springdale Farms, Rudston, near Driffield over a three year period. Those trials concluded that Royal achieved a maximum yield of up to 5.2t/ha from a moderate input of 170kgN/ha.
This is the first ever large scale commercial agreement which is totally UK led says NK's Nigel Padbury. "The oilseed rape varieties were tested in the UK both in private and official trials.
"The opportunities for biodiesel have been discussed for some time, this venture is now turning those opportunities into reality for farmers. The contract is designed to provide growers with a new outlet for oilseed rape oil, consequently a new market for their product and a firmer prospect for their crop."
Springdale Crop Syngergies' Janice Spencer says: "This must be seen as a win win scenario for growers. We are offering a contract which guarantees a minimum spot price with the added potential of a premium should Government agree to a further tax rebate on biodiesel. In addition, we are offering growers the opportunity to be in at the start of a pioneering initiative that is accompanied by a full agronomic programme of advice."
Comments
No comments posted yet. Be the first to post a comment