New initiative aims to help growers protect cereal potential
New initiative aims to help growers protect cereal potential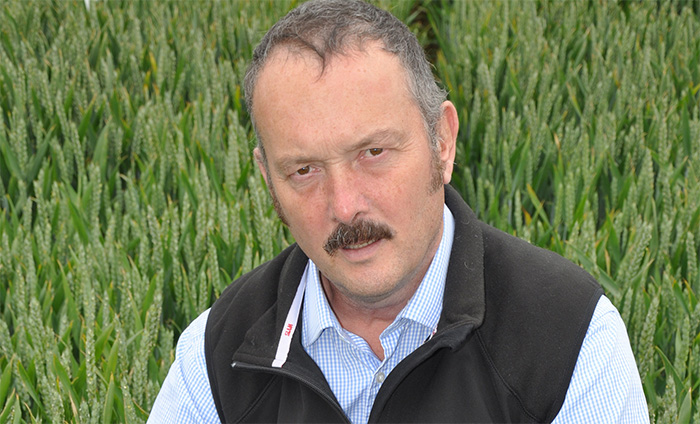 A new initiative designed to help UK farmers safeguard winter wheat and barley potential, after the last two challenging seasons, is being launched for spring by Syngenta.
'Protect Your Cereal Investment' aims to help make the most of this year's crops, says Syngenta field technical manager, Iain Hamilton, by using a preventative agronomy approach.
"After the last two difficult seasons, growers could be facing a rebuilding exercise to get farm finances back on track," says Mr Hamilton. "So good yields will be key.
"Winter cereals have generally established well this season. However, they could face several challenges. These include the early appearance of rusts and Septoria in wheat and net blotch and mildew in barley, plus difficulties eradicating some of these if they establish, and thick crop canopies that are at lodging risk.
"Protect Your Cereal Investment has been developed in response to these various financial and technical issues," he adds.
Andersons research economist, Graham Redman, affirms that maximising cereal yield could be crucial. Persistent rain from April to December in 2012 not only impacted on yield that season, he says, but also affected drilling during that autumn, resulting in a reduced area of winter cereals and reduced overall cereal output on farms in 2013.
"We now have a legacy where two years of lower harvests means lower profits than anticipated," explains Mr Redman. "So farmers need to work hard to catch up in 2014.
"Every opportunity to retain yield potential until harvest needs to be grabbed and protected. We don't know what the
grain
price is going to be after harvest. But arguably that is an even greater incentive to make sure there's more in the barn."
Among the crop management methods to consider for maximising yields, says Mr Redman, are avoiding skimping and using a preventative approach. "Saving costs throughout the season could save a pound or two at the end of the year, but the impact on yield could cost more than the saving achieved. Making sure your approach is preventative, before a problem arises, keeps you in control."
Syngenta's Iain Hamilton agrees, and says there could be several concerns this season that need addressing 'up front'. "There are concerns about eradicating Septoria tritici, following shifts in its sensitivity to triazole fungicides which have typically been relied on for curative control. Also, rust can escalate quickly in suitable conditions. So 'Protect Your Cereal Investment' is based on the principle of prevention rather than cure.
"This is to avoid yield being lost if disease gets in," says Mr Hamilton, "but also because we can't fully predict what future disease pressure will be at the time of spraying. In winter wheat, a key timing for many farmers to start such a preventative initiative will be T0, normally in March.
"With the decline in triazole curativity on Septoria tritici, early prevention has become increasingly important. So rather than relying on triazole alone against Septoria at T0, we advocate Cherokee – which has chlorothalonil built-in to provide extra protection against Septoria, and a high content of two triazoles which provide important activity against rust. In a trial last year, Cherokee gave around an extra 0.3 t/ha over a straight triazole," he adds.
Following this, with the need for high yield, SDHI fungicides have delivered extra yield over conventional chemistry, says Mr Hamilton, and he proposes the SDHI Seguris for maintaining long-lasting Septoria and rust control at the main yield-building timings of T1 and T2.
In barley, unlike wheat, Mr Hamilton says yield contribution of lower leaves is as important as upper leaves, so early retention of green leaf area is crucial to yield.
"After the early disease pressure this season, a T0 fungicide tank mix of Kayak + fenpropimorph in winter barley could be useful to prevent net blotch, Rhynchosporium and mildew levels building, and for keeping crops protected in case T1 is delayed.
"For T1 and T2 in barley, SDHI fungicides have become important to help maximise yield. Two sprays of the SDHI Cebara have given up to 0.9 t/ha more than one spray in a Hyvido winter barley hybrid. Also, the beauty of Cebara is it contains the active ingredient cyprodinil, rather than a triazole. So for resistance management it provides an alternative to repeated triazole use.
"Additionally, lodging is clearly not something that can be controlled at the end of the season, but must be managed preventatively, and the plant growth regulator Moddus targets all three causes of lodging – crop height, stem strength and root anchorage. In trials, a Moddus programme has been shown to substantially reduce lodging compared to straight chlormequat standards.
"Our general guidance is to consider a Moddus-based programme at T0 and T1 in winter wheat and winter barley. However more tailored guidelines are available in winter wheat according to variety.
"Overall, the core principles of 'Protect Your Cereal Investment' are to: Prepare – start the season with a clear input plan; Protect – remember the benefits of prevention; and Succeed – remember that you invest in crops to get a bigger return than you spend," Mr Hamilton adds.
Download

No comments posted yet. Be the first to post a comment
Display name

Please enter your name

Email
(optional)
Comment

Please enter your comment

Post Comment


Your comment submitted successfully.Please wait for admin approval.

Some error on your process.Please try one more time.