New mengele forage wagon from Reco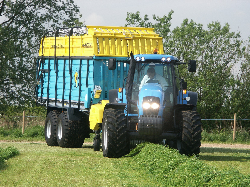 Mengele's Rotobull range of self-loading forage wagons has been expanded with the addition of a new model with a 58m³ capacity at medium compaction.
Like the existing machines in the range, the new model enables grass to be picked up, chopped and loaded in a single pass as a one-man operation and includes in-cab control of all major functions.A special height-adjustable drawbar enables ground clearance to be accurately set, and a wide flexible pick-up ensures very effective grass collection. Six rows of tines in reinforced carriers give high loading performance and carry the grass to a rotary cutting mechanism, which can be automatically adjusted to alter the chop length. A special mechanism protects blades against foreign objects.The floor conveyor has an on-board hydraulic system driving four heavy-duty chains with off-set scraper bars, resulting in continuous, fast unloading, which is assisted by the smooth, near-vertical side walls of the wagon. Unloading can be performed as a fully automatic sequenced operation started by pressing a single button in the cab, or as a series of separate operations. The machine is rated for 40 kph and has a twin-circuit air-brake system operating on all four wheels.
Download

Trending Now
Viewed
Discussed