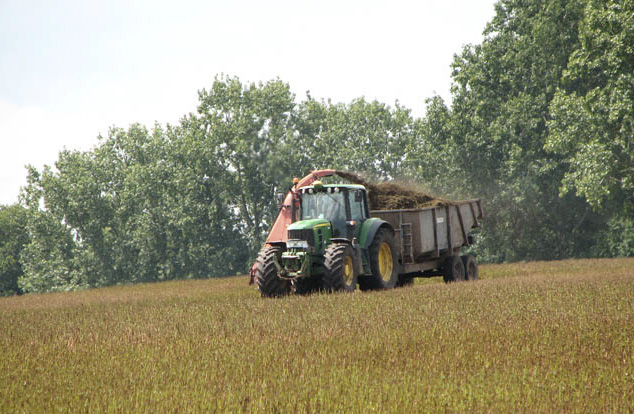 Land prices in the North East are 'gaining momentum' as opinion based prices of bare land are at approximately £7,000 with Knight Frank reporting an average of £6,882 per acre, according to regional firm George F White.
Over £70 million of agricultural bare land and equipped farms were transacted by George F White during 2013 with average values for bare land deals handled by the firm reported at £6,904 according to their recent research.
Claire Bainbridge, Director of Research commented that "The North East is clearly holding its own with the increase in land values, and with the RICS/RAU survey showing a 9% increase in the North East over the second half of the year the impact of a limited supply of good farmland is taking hold.
It will be one of the reasons for the large number of deals which have been conducted privately by the firm. Over 65% of the agricultural bare land and equipped farms transacted by George F White were done privately and more significantly 98% of bare arable land transactions were handled privately".
Michael Bell from the George F White Alnwick office commented that "with good quality land in short supply, and increased demand from within and outside the region by not only farmers but also a significant number of investor clients it's easy to understand why certain land types are increasing in value throughout the region. Bare arable land is at a premium, with some deals nearly reaching the £9k per acre mark, but also good quality pasture land holding its own. Smaller, less well equipped hill farms are not as well sought after at present yet could still prove to be a good investment for the right client".
Tom Mason from the George F White East Yorkshire office added that "the perception is that larger well equipped units are more often than not openly marketed, however we have been involved with a number of significant farms and estates that have been handled privately. Of the 10,600 acres handled by the firm in 2013 over 65% of the deals done were private transactions"
Michael also stated that the increase in private deals will be due to a number of reasons, "often clients want to handle deals off market to remove some of the pressure of selling, to keep an element of control as well as the potential for a premium price over market value."
Prices are being driven by a combination of factors, some of which became more prevalent during the second half of 2013. Commercial farmland demand, as has been the case in recent surveys, remains strong. Surveyors point out the importance of neighbouring farmer interest in pushing up the price of land.
In addition, it appears that prime commercial holdings are proving more attractive to investors than those of lesser soil quality.
The survey's transaction based measure of farmland prices (which includes a residential component where its value is estimated to be less than 50%) increased by around 8% during the period, now standing at £9,258 per acre (taken as a four quarter moving average). The survey's opinion based measure (a hypothetical estimate by surveyors of the value of bare land) rose by approximately 4% to £7,754 per acre.
"Prices for commercial arable land have continued to show impressive growth, and there was probably more market activity during the summer months than some had anticipated," said Ben Taylor, from Bidwells, Cambridge.
"Territorial bidding combined with stronger resolve from investors has seen prime commercial holdings hit new heights. We have also seen a relative return to form for moderately sized residential farms, although this remains very location-specific. Supply of top quality silt land continues to be exceptionally tight."
Tom Raynham of Knight Frank, said: "Nationally the market is still being driven by greater demand than supply. The investor market still competes strongly against farmers and there is certainly more foreign (European) interest in farmland as an investment as the financial and legal stability of the UK draws more money and the benefits not only from tax but capital appreciation that farmland in the UK provides."
David Strang Steel of Strutt and Parker, Banchory, said: "In the north east of Scotland there has been very little farmland sold in 2013 but there is a strong combination of local farmers, local business people and roll over buyers looking for farmland. We anticipate that with a strong local residential market the farmland market will improve further. Harvest 2013 was easy and to date we have had the mildest start to winter in memory."
Comments
No comments posted yet. Be the first to post a comment