Gwent's Police and Crime Commissioner (PCC) Ian Johnston has met farmers and Gwent Police's Farm Watch coordinator to hear first-hand how an online messaging system has helped reduce farm crime by over 27 per cent in just five months.Johnston met Farmers' Union of Wales member Howard Vicary and other local farmers on Mr Vicary's farm in Crumlin - that has been repeatedly targeted by thieves - to find out more about the Online Watch Link (OWL) system helping to combat farm crime.OWL sends out targeted messages via email, phone or SMS alerts about crimes and problems to members like Mr Vicary who have signed up in communities throughout Gwent.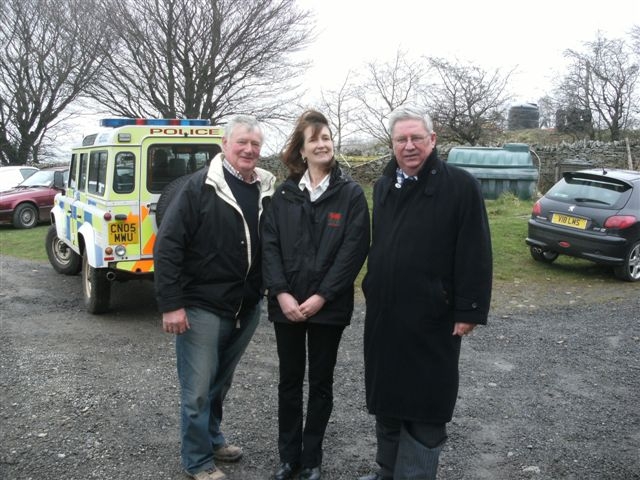 Between September 2013 and January 2014, Gwent Police Farm Watch coordinator CSO Allan Mills has helped increase Farm Watch membership using OWL from 300 to nearly 800 members. Intelligence gained from the public via Farm watch has helped Gwent Police catch a series of criminals involved in farm and rural-related crime ranging from firearm crimes, crimes against animals to the theft of farm machinery,
fuel
and metal.The system enables local policing unit commanders to have a joined up approach regarding suspects across Gwent.FUW county executive officer Glyn Davies and county chairman Chris Lewis are proud of the fact that the union has been able to assist in achieving such tremendous results and feel OWL gives farmers and other rural people a system to help police reduce crime further and give a greater sense of security.Since September 2013, CSO Mills has worked full time as the Gwent Farm Watch coordinator. He said: "Farmers are a special group as they are a bit isolated and hard to reach, but OWL helps break down those barriers and helps us coordinate policing with them."It's the way I communicate with all farmers quickly and I receive regular intelligence about suspicious activity which I wouldn't have otherwise."The system has enabled us to have a more coordinated approach to tackling farm crime in rural Gwent and allows us to gather vital information to share with the local policing unit commanders.
"The increase in membership means that we've got hundreds of extra pairs of eyes and ears out there in the farming community and the farmers now feel they are getting a better service by having instant access to us."Mr Johnston said: "The passion of Allan Mills and the other police officers working to enhance relationships with the farming community can't be denied and I would like to thank all those people making this work because it's making a big difference."Gwent utilises OWL brilliantly as a whole and we now have over 37,000 members registered across all the watches. It's a great example of police working with partners and members of the community to achieve common goal - to make Gwent a safer place."