Organic predicted to do much better in 2014 as supermarkets report shortages
Organic predicted to do much better in 2014 as supermarkets report shortages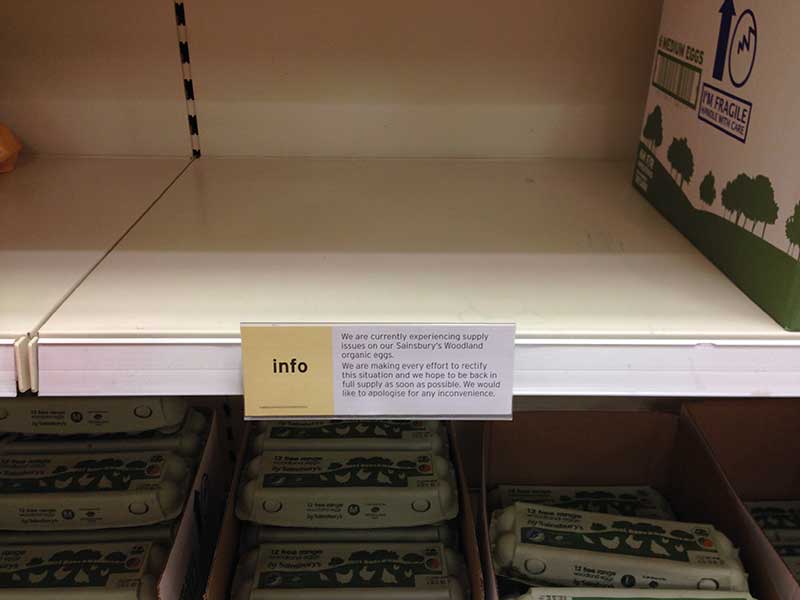 Organic egg sales could do much better in 2014 if they get the support of major retailers. That is the view of Soil Association trade director Finn Cottle, who says that consumers are ready to buy them if supermarket groups put them on their shelves.
Leading up to Christmas reports of notices appearing on supermarket shelves apologising for the lack of So Organic Woodland
eggs
shows just how many organic producers have left the market.
Sainsbury's told the Ranger,
"We are working really closely with our suppliers to resolve this issue as quickly as possible and will keep customers updated through the signage you have seen in stores."
Meanwhile packers are urgently trying to get previous Organic Woodland producers to switch back to organic.
Organic food sales overall have been enjoying a resurgence. Finn Cottle says that 2013 may come to be seen as the turning point for the organic market. "There has been steady positive growth each month in 2013, with real sales buoyancy in many sectors," she said. "Some of the key dairy categories have been driving the change, with organic milk showing +3.7 per cent value change and yoghurts +6.7 per cent," said Finn, referring to figures compiled by Nielsen for the 52-week period to November 9, 2013. However, the figures show the organic egg market down by 3.7 per cent at a time when organic market overall was up by just about one per cent.
"One wonders what has happened to the organic egg shopper in the UK?" said Finn. "Clearly many have decided to set up their own production in the back garden (although impossible to track just how many, possibly up to five per cent share of the market). Others have given up on the lack of availability on supermarket shelves and have chosen to purchase at the farm gate or farm shop or through their local box scheme. The overall loyalty to organic
eggs
is out there but that loyal customer has had to be much cleverer about their buying decisions," said Finn, who has been saying for some time that supermarkets need to give much more shelf space to organic eggs.
She said that, checking on line, she found that Tesco had just one organic egg pack for consumers to choose. Sainsbury's had two, she said, and Waitrose topped all the supermarkets with four different packs of Duchy
eggs
on offer. "Looking back five years, there were at least four packs on offer in all three supermarket groups, so it is easy to see why sales have declined – no
stock on shelf, no sales."
Despite the 12-month decline in organic egg sales, she pointed to }} another set of figures that suggested it was possible to increase sales if the circumstances were right. "During Soil Association's 'Organic September' campaign, sales of organic
eggs
increased by 1.2 per cent on the previous September, adding £50k in sales value," she said. "This confirms that the customers are out there but need to be prompted to actively search for organic options – something which is very difficult within uninspiring egg fixtures."
She said she was hoping for much greater emphasis amongst retailers in 2014. "Organic shoppers know about real quality food, they are interested in the provenance of their food and the high standards of integrity which it guarantees. They associate purchasing organic with health, while not having to pay too much of a premium. However, there still remains a lot of confusion between free range and organic."
She said that Organic Centre Wales had recently carried out some research on consumer buying. Consumers who responded said that they were buying organic
eggs
on 59 per cent of occasions, which was at odds with the 5.4 per cent market penetration that the supermarket data showed. "Supermarkets must help by finding ways to educate consumers on the different standards," she said.
Finn said that supplies of organic
eggs
would remain tight in 2014 and there would be a high premium for
eggs
on the shelf, although the farmer's share of the price was not covering their current business and future investment needs. But she said that farmers should be reassured that there was a strong market for organic
eggs
that "could be optimised even further with retailer support." She said the Soil Association was actively encouraging new producers to contact them for more information by emailing egonzalez@soilassociation.org.
Finn also flagged up current discussions about EU standards and potential tightening of regulations, which she said would have a major impact and potentially affect forward decision making. Steve Clarkson, certification and compliance manager with Organic Farmers & Growers (OF&G) also pointed to tighter organic rules.
"After a relatively calm 12 months, 2014 is going to present a number of tricky issues for the organic poultry sector," he said. "By the end of the year we will see the expiry of the 'part-organic' pullet, as the interim measure that allowed them to exist up to that point expires once and for all. This throws up a range of issues for various parts of the industry and it's a looming challenge that we at OF&G feared the sector wasn't entirely awake to."
Steve said that OF&G had pulled together a range of people from the layer sector at a meeting facilitated by the BEIC in November. With 21 representatives in the room, including a presence from the Defra organic branch, he said that OF&G had, hopefully, kick-started a process of more pro-active planning for the transition. "The results of that meeting are being shaped into a cohesive response from the industry, which will be fed back to everyone in the new year," he said.
The end of December 2014 would also bring the demise of non-organic feed percentages for pigs and poultry, he said. Once again there were concerns that the industry had not organised itself to face the challenge. "It has long been a thorny and contentious issue, but this year it has to be faced. So, we've lined up another stakeholder meeting to attempt to generate a unified and effective strategy, based on the best practice and knowledge everyone can bring to the table."
He said that everyone was awaiting a pronouncement from Europe on a more fundamental review of the wider organic regulations. "The Commission is deciding what future organic rules will look like. Will they be led by what the market demands, thereby essentially remaining the model we have now? Will they maintain the current status quo but receive enhancements to ensure they are fit for the times and the expectations of consumers? Or will they target the highest quality standards, aiming to align the regulation as far as possible to the core principles of what pure organic farming would look like? It's not hard to see that this could be monumental change and, for purely realistic and practical reasons, we do not favour the latter approach - even while we fear it is where the Commission is headed.
"Ensuring that organic food and farming is what the public expects and deserves is something we are fully supportive of. But in the real world, with entire businesses, livelihoods and animal welfare issues on the line, you can't simply opt for a clean slate and expect it to work. We favour the 'status quo with enhancements' approach, allowing us to move our sector ever forward towards the ideal, but done in a manageable way."
He said that everyone should pay close attention to the Commission's imminent announcement ahead of the subsequent consultation process. n
Download

No comments posted yet. Be the first to post a comment
Display name

Please enter your name

Email (optional)
Comment

Please enter your comment

Post Comment


Your comment submitted successfully.Please wait for admin approval.

Some error on your process.Please try one more time.