Paterson sacked as Defra Secretary in cabinet reshuffle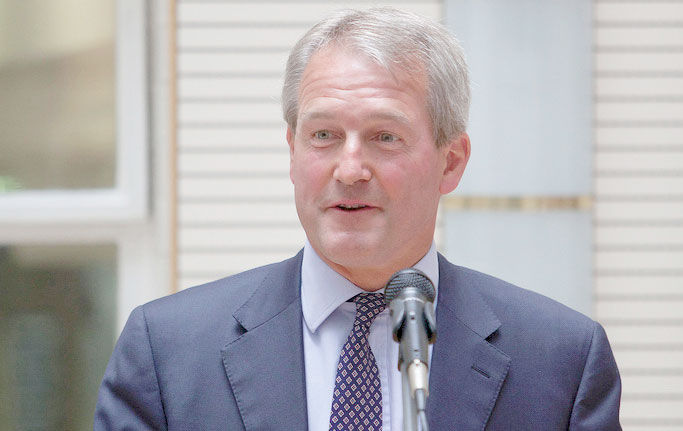 Owen Paterson has been replaced by Liz Truss as Secretary of State at Defra as part of Prime Minister David Cameron's reshuffle.Paterson came under pressure over his handling of the Somerset floods, horsemeat scandal and comments over GM wheat.Cameron confirmed that South West Norfolk MP Liz Truss, an Education Minister for two years, will replace him.Speaking immediately after the announcement of her appointment, CLA President Henry Robinson welcomed Mrs Truss into the role and said the CLA looks forward to working with her on the series challenges she will face.Robinson said: "The whole of rural England and Wales will be looking to Liz Truss to set an agenda which will assure the future of a living and working countryside. It is vital that the countryside and the businesses based there are not disadvantaged by legislation which is predominantly urban focused."We hope she wastes no time in grasping the nettle on the key issues for food and farming and presents a bold vision for our industry."We would like to see her continue the good policy work started under her predecessor particularly in areas such as animal and plant health and flood management."The CLA President said Mrs Truss would bring undoubted qualities to the job – but he also paid tribute to outgoing Environment Secretary Owen Paterson.Mr Robinson added: "Mr Paterson served with great integrity. He operated in a tough climate, and took some difficult decisions. His door has been open to the CLA and he has listened to our views."We thank him for the good work he has done during his term as Environment Secretary and we look forward to working equally constructively with the new Secretary of State."Friends of the Earth's Executive Director Andy Atkins said: "David Cameron is right to give Owen Paterson the boot – he's the worst Environment Secretary the UK has had for decades.
"Mr Paterson has wilfully ignored scientific evidence on climate change, championed pesticide firms instead of bees and massively underinvested in flood defences, leaving thousands of households at risk of future flooding.
"His successor must show they are serious about safeguarding Britain's environment and protecting the nation from the growing threat of global climate change."Earlier this year, farmers expressed their disappointment over Environment Secretary Owen Paterson's plans to abandon a roll-out of the badger cull programme.CLA President Henry Robinson said: "Mr Paterson made it clear pilot culls' roll-out has not been abandoned. Instead, the culls are being improved before being rolled out in other areas."The CLA will continue to work with the Government to ensure the aims of Defra's newly released bTB eradication strategy are met, including culling in all the affected areas, and that this takes place as soon as possible."But Mark Jones, vet & executive director of Humane Society International UK, said: "The departure of Owen Paterson as Secretary of State for Environment provides an opportunity for government to re-examine its disastrous, divisive and pointless badger cull. "Mr Paterson has consistently failed to listen to science, reason and public opinion on this issue, and by doing so he has stood in the way of progress and given farmers, taxpayers, and most of all badgers, a very bad deal. "In order to demonstrate her support for both England's wildlife and its farming community, his replacement Liz Truss should immediately abandon the badger cull and set about implementing the genuinely science-led cattle and farm-based measures to tackle bovine TB that are so urgently required. Only then will England hope to see the kind of dramatic decline in tuberculosis that we are seeing in Wales, where the infection is being brought under control without a single badger being killed."A statement on Liz Truss' website, said: "Farming is a vital industry in the constituency and Elizabeth is working hard to get the best deal for Norfolk's farmers. Concerns are being raised regarding changes in the implementation of the European Union's Common Agricultural Policy (CAP)."Elizabeth has a number of concerns about the use of agricultural land for
solar
or
biomass
plants and the subsidies for these operations. She does not want to see the UK's food security jeopardised; food and farming is the largest manufacturing industry in the UK and she is keen to see that the importance of this sector is recognised."Elizabeth has also raised with the DEFRA Secretary of State her concerns in relation to flooding in her constituency. She has long argued that the £1:£8 cost benefit ratio formula provided by the Environment Agency for the funding of flood prevention schemes do not value farmland high enough."Chairman of the Countryside Alliance, Barney White-Spunner, said: "Owen Paterson has worked extremely hard as Secretary of State and has always had the interests of the countryside and rural communities clearly at heart, but the Alliance remains concerned that no matter who is environment minister, fundamental issues within the department make this an almost impossible role."We wish Liz Truss all the best on her appointment and look forward to working with her. We hope that she, her colleagues in Government, and those in the Labour party will take the opportunity over the next 10 months to consider how the next government will deliver rural policy."
Download

Trending Now
Viewed
Discussed