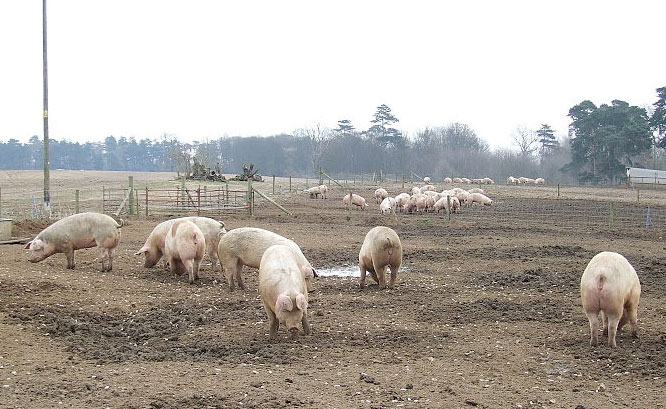 A new report from the Department for Environment, Food and Rural Affairs has estimated that pig farm incomes have fallen by around 50%, a third successive fall.
The report says that Average Farm Business Income for pig farmers has dropped despite an increase in livestock output, driven by firmer prices for finished pigs. The department measured incomes from March 2012 to February 2013.
Feed costs, which account for over half of the input costs on these farms, have continued to increase in 2012/13 as a result of higher cereal and soya prices, say Defra.
As well as a drop in farm income for pig producers, Defra also estimate that dairy farm incomes have fallen by 40% in the past year.
Soaring feed prices and the wet and cold weather experienced throughout the autumn and winter has seen average dairy farm income forecast to fall substantially to £50,000.
Defra say that average milk prices increased by around 1% over the 12 month period, while prices for cull, store and finished cattle have also increased.
However these increases have been offset by a lower throughput of cattle together with a large increase in costs, notably feed.
Andrew Heskin, a partner in Moore Thompson's Farming Sector team, said: "The report from Defra raises the issue of a substantial drop in the income of our pig producers.
"This is of great concern to all those who work with pig farmers in our communities.
"Despite an increase in pig prices, the sudden rise in feed, mainly due to the bad weather, has had an extremely negative financial impact for our farmers.
"Unless there is a substantial drop in prices for feed and other outlays, we will continue to see a drop in income.
Defra and the Government as a whole must find a solution to this problem, or risk losing thousands of pig producers altogether.
The National Pig Association said in September last year that a 'world shortage of pork and bacon' was now unavoidable unless supermarkets paid the UK's pig farmers a fair price to keep them in production.
Around the world, pig farmers are selling their herds because they can no longer afford to feed their pigs. In the United States the government introduced a pork-buying programme in a bid to keep its pig farmers in business. And the Chinese government is putting pork into cold storage, as a buffer against shortages and high prices this year.
When pig industry leaders from across the European Union met in London, they reported that pig herds were being sold because supermarkets were not raising prices to cover the cost of record-high pig feed costs.
"It usually takes at least six months for higher production costs to filter through to shop prices — but pig farmers simply haven't got that long," said National Pig Association chairman Richard Longthorp, who farms outdoor pigs in Yorkshire.
"Some have got only a few weeks left before they run out of credit at the bank and have to sell up, and this is happening all over Europe."
New data shows the EU pig herd is declining at a significant rate, and this is a trend that is being mirrored around the world. Pig farmers have been plunged into loss by high pig-feed costs, caused by the global failure of maize and soya harvests.
All main European pig-producing countries report shrinking sow herds. Falling numbers in the 12 months to June 2012 have been reported this week by Denmark (-2.3), Germany (-1.3), Ireland (-6.6), Spain (-2.8), France (-3.2), Italy (-13), Hungary (-5), the Netherlands (-3.6), Austria (-2.8), Poland (-9.6) and Sweden (-7.2).
"British supermarkets know they have to raise the price they pay Britain's pig farmers or risk empty spaces on their shelves next year," said NPA chairman Richard Longthorp. "But competition is so fierce in the high street at present, each is waiting for the other to move first."
Adverse weather conditions in many parts of the world have caused prices for wheat and soya to rise rapidly, putting severe pressure on many livestock enterprises in the UK.
Feed costs are typically the largest single expenditure items for livestock producers, accounting for approximately a third of production costs for dairy and intensive beef producers and around 60 per cent of costs in the poultry sector.
Comments
No comments posted yet. Be the first to post a comment