Potato growers urged to treat blight and Alternaria separately
Potato growers urged to treat blight and Alternaria separately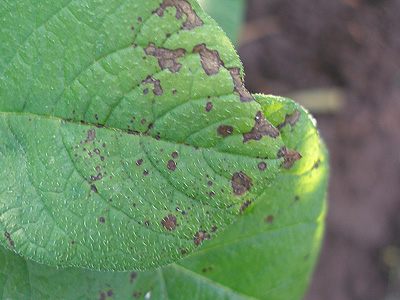 Potato growers are being warned not to compromise blight control programmes during high risk conditions when tackling the threat of Alternaria. "During the current high blight risk periods, growers need to be maintaining the best possible control with Revus-based programmes, and addressing the threat of Alternaria as a separate issue," advises Glenn Wilkinson of Syngenta.
Olympus is the only fungicide with a Specific Off-Label Approval for Alternaria control.
Mr Wilkinson highlights the potential risk of using less effective blight fungicide's that also claim some activity on Alternaria. "Independent UK trials by Eurofins and Agrisearch have shown that mancozeb-based fungicides were significantly weaker in controlling blight, compared to Revus. Compromising blight control at the crucial time of rapid canopy development would be entirely counterproductive."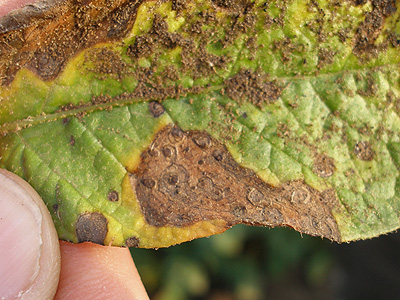 Norfolk agronomist Simon Alexander believes blight products containing mancozeb at less than the current full rate of 1500g ai per hectare have limited effect on Alternaria. He reports one grower used fungicides containing mancozeb in every application on a field of Markies over the Alternaria risk period in 2008, but the crop was still severely hit by the disease. "Using straight mancozeb, to apply sufficient ai for any possible effect on Alternaria, could compromise blight control," he adds.
"In the past we have seen Alternaria coming into the crop late in the season, typically as it is beginning to senesce and hitting older lower leaves," he says. "More recently infection has occurred far earlier in the season and affected larger patches of the crop. It can quickly spread across the whole field and lead to early leaf loss." Attacks can lead to yield loss, smaller tubers, variable dry matter and potential skin damage that reduces marketability.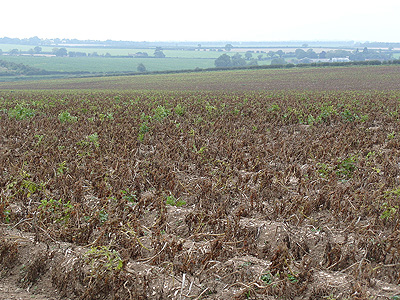 Disease risk forecast
Alternaria infection typically occurs after periods of dry weather initiate spore release, followed by humid conditions leading to infection. Crops under
water
or nutrient stress are typically more susceptible. Markies has proven the most susceptible variety, but infection has also been identified on other varieties, including Hermes, Saturna and Maris Piper.
This season Syngenta is piloting a new AlternariaCAST forecasting system with a group of growers and agronomists in the eastern counties and Shropshire, where the most severe disease attacks have been recorded. Mr Wilkinson added: "For the optimum Alternaria control treatment should take place before the typical leaf spotting signs of infection are visible. The aim is that AlternariaCAST will give a reliable forecast of conditions conducive to disease, and enable growers to time applications more effectively."
Building on the success of Syngenta's web-based BlightCAST, the AlternariaCAST service will be evaluated during the 2010 season, with the intention to make it freely available to growers for following years.
Growers using Olympus in potatoes do so at their own risk and should be in possession of a SOLA certificate before application, which can be downloaded from the Chemicals Regulation Directorate (formerly PSD) website: https://secure.pesticides.gov.uk/offlabels/search.asp
Download

No comments posted yet. Be the first to post a comment
Display name

Please enter your name

Email
(optional)
Comment

Please enter your comment

Post Comment


Your comment submitted successfully.Please wait for admin approval.

Some error on your process.Please try one more time.